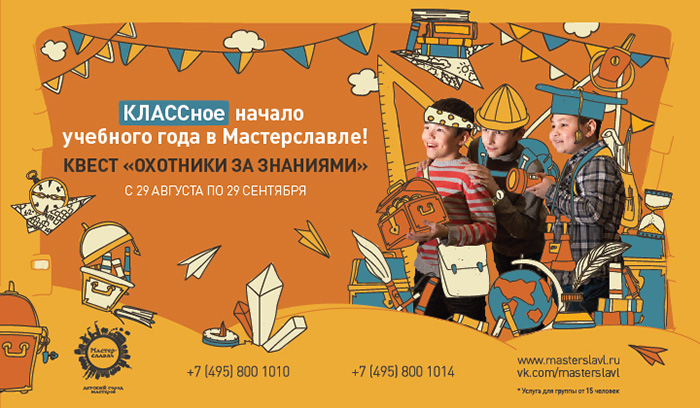 Especially for the new school year, the children's city of masters "Masterslavl" prepared for children a fun and educational program "Knowledge Hunters".
Schoolchildren waiting for an active quest game in which they have to show ingenuity and ingenuity, agility and mutual assistance, teamwork and even a sense of humor.
In the program "Knowledge Hunters" there will be Treasure Keepers already loved by the guests of "Masterslavl". And they are waiting for a completely new adventure!
The festive program includes visits to the workshops of the City "Masterslavl", congratulations and gifts, awarding well-deserved awards and a disco party.
Quests will help the entire class in an easy game form to adapt to the new school year and share their impressions of the summer holidays with friends. And for first graders this will be the beginning of the formation of the CLASS team and the consolidation of new school friends.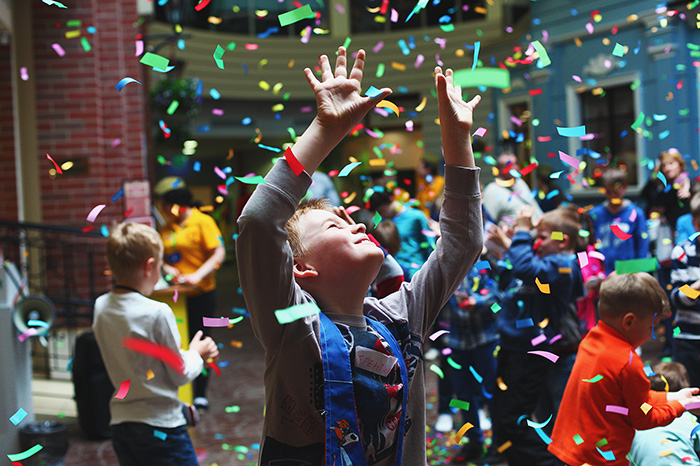 The program "Knowledge Hunters" will be held on weekdays from August 29 to September 29. The program is designed for grades 1-8
Duration of the program: 1 hour 50 minutes (quest) + 2 hours (visiting workshops)
Group size (class): from 15 people
For groups of smaller numbers, other proposals have been prepared.
"MasterSlavl" is a children's interactive developmental project in which children aged from 5 to 14 years old get acquainted with more than 150 professions. This is a real city of craftsmen, where children in the atmosphere of the game discover professions for themselves, acquire labor and life skills, study the structure of modern society, and are inspired to acquire knowledge.
Children 5-6 years old can stay on the territory of "Masterslavl" only accompanied by adults.
Masterslavl is located in the Moscow-City business district in the shopping gallery connecting the Vystavochnaya metro station and the Bagration pedestrian bridge.