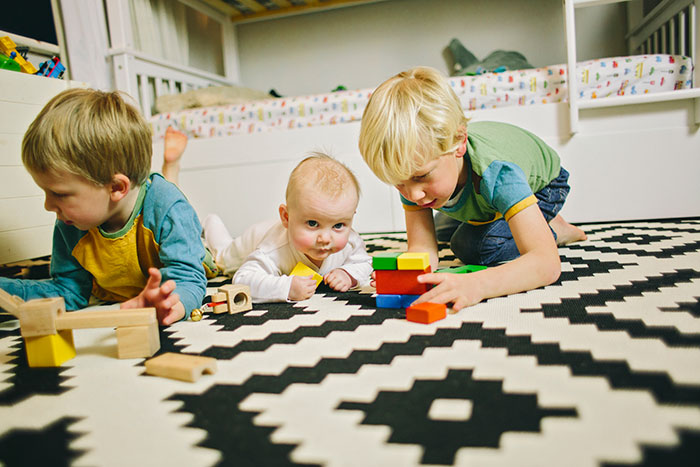 Even three-month-old babies can "communicate" with each other: a chorus of chorus and agukka, grimace, wave their hands; and if one of them cries, the other immediately picks up. A little later, from six months to a year, the kids recognize their peers and rejoice in them, crawling towards each other, stretching a toy, pacifier, cookie, they can bite or hit one another.
True, their mutual interest lasts only a short time, and their activities cannot yet be called a game.
The first joint games appear in children after 1 year: for example, they can play together for about 10 minutes together into a ball or dices. At this age, the actions and logic of the kids are clear only to themselves, so trying to control their games is a thankless task, because small players will still not understand the difference between "right" and "wrong".
All that is required from parents now is to prevent them from offending each other.
2 years. Children's entertainment becomes more complicated as their range of interests expands, movements are improved, and the child can be controlled with a large number of objects. Kids games are no longer like meaningless movements in space: now it is a chain of logically related actions.
For example, kids can fill the machine together with sand, and then carry it to another place and empty it.
At this stage, problems often arise because children want to play with one toy at a time. To prevent conflicts, stock up on several different cars, dolls, balls. Arrange games in which several children can participate at the same time so that no one will be bored.
Kids of this age will enjoy games with cars, a designer, soap bubbles, and paint with finger paints.
3 years. Playing with their peers, three-year-old children tend to "show themselves and see others." In their arsenal, there are role models, the subjects of which the kids draw from everyday life of adults, fairy tales, cartoons.
Now they are truly capable of obeying, understanding and following the rules of the game, and you can teach your baby to comply with the line, share toys, help others.
Games can not only entertain and teach, but also educate a child: for example, to help a child cope with some shortcomings, invent and discuss stories like: "Once upon a time there was a boy who offended everyone", "Once upon a time there was a girl who all crying time "etc. Encourage children to switch roles, help shy kids to take part in games.
With the help of "collective" games, you can work out skills that will be useful to kids in real life: for example, bandage a friend's finger or make a haircut, set the table beautifully or learn the rules of behavior on the road. By inviting a few children to yourself, arrange a game in the hospital, beauty salon, car park, restaurant.