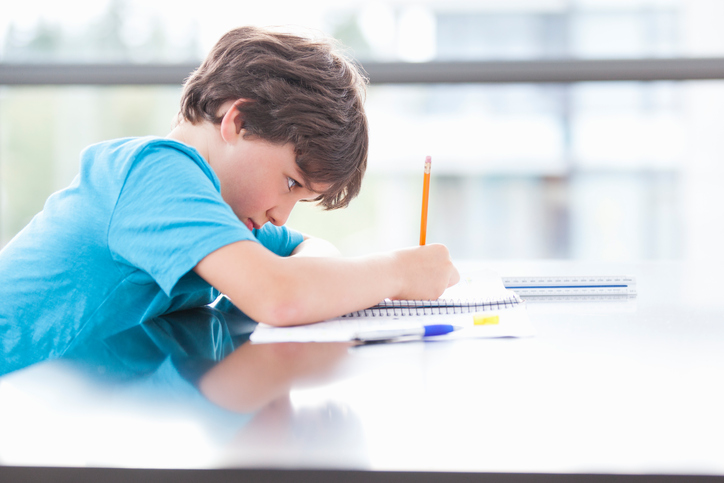 What parent does not dream of raising an independent and responsible child who would, without reminders, do homework, and also perform household duties? Only independence does not appear suddenly, at the right time (for example, from the moment of entering the school), but is gradually being formed, and from early childhood.
Independence is manifested, including, in the choice of friends, hobbies, circles, and so on. Otherwise, what is independence?
You write that the son does not do his homework on his own, that this process is completely under your control. It turns out, and the responsibility for the actions of the child, for his results lies with you.
This state of affairs, of course, inhibits the development of the boy's will and responsibility. Given the age of your son, we can assume that the situation is already quite running.
Try to start a confidential conversation with your son. Explain that the current state of affairs does not suit you.
Agree on what and in what volume the boy can perform without you on his own. For example, read and prepare a retelling of the paragraph on the "World around".
Let it start to be a small amount of work, which certainly will not cause him great difficulty. In this case, the son must be given to understand that he can count on your help.
But help will be only in the event that something does not work out after he makes due efforts.
In any case, your help should be minimal. It's better not to do all the work for your son, but to help him move from the dead center.
At the same time, treat the child attentively and with sympathy. From the moment when the son assumed the obligation to independently carry out a certain task, the responsibility for its fulfillment rests on his shoulders.
If, out of habit, the boy fails to fulfill his obligations, let him face the consequences of his inaction. Most likely, he will receive a bad mark or a reprimand from the teacher, which he is unlikely to like.
In this case, without moralizing and condemnation, continue to adhere to the established agreements.
Along the way, try to support your son, say that you believe in him, that he will cope, he will succeed. Gradually expand his responsibilities, give him the opportunity to plan the time and sequence of tasks.
You also suggest that the child's problems are related to the absence of the father. It is difficult to agree with this, since the ability to organize one's activity is not directly connected with this fact. But your personal attitudes and views may well play a role here.
Try to honestly answer yourself the questions: "What will I do when I come home from work if I don't have to do my homework with my son?" Do we have with my son joint interesting activities that could be devoted to the evening? Will I show concern for my son, his interest in his affairs in some other way besides his interest in homework?
Do I often refrain from judging and moralizing? Why I do not want my son to face the consequences of his neglect of the lessons?
What is more important for me – good marks for my son at school or schooling him for independence? "Perhaps the answers to these questions will help you understand why this situation has developed in your family.