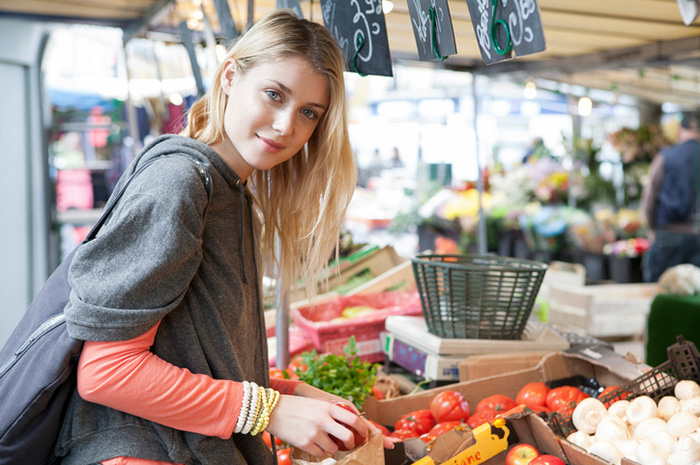 The "culinary repertoire" of an ordinary Russian family consists of an average of 11 recipes, and we spend about 30 minutes in the kitchen preparing dinner. Indeed, spending less on healthy food, we still need to spend a little more time off the stove than we are accustomed to. But this does not mean at all that you will need to put all your free time on the altar of health and only be engaged in cooking.
We have collected the five most common questions that the hostesses are asked before starting to prepare dishes for their family from simple and affordable products.
Would it take a lot of time?
The idea that cooking is long and difficult has been formed by many because cooking is presented in this way in cooking books. We scroll through the glossy pages and admire photos of dishes that look like a work of art.
But let's face it: this approach is fundamentally wrong, because ordinary women do not have time to prepare complex dishes daily. Sometimes you are so tired or upset after a hard day's work that you simply don't have the strength to cook something.
But often we spend more time trying to figure out which dish to make today, and lack of time becomes more of a pretense than a cause.
Do I have to be a first-class chef?
Of course not! Forget all that culture of "culinary snobbery" inspires you: only complex ingredients, a lot of wasted time and energy.
Trying to cook new dishes, we only make a variety in our daily menu, and do not compete for the title of the best chef. Understanding this helps us improvise and develop our own cooking technique.
The only difference between confidence and uncertainty in the culinary business is practice, practice and again practice.
Feeling insecure in the kitchen?
Choose recipes in which each step of cooking is clearly spelled out.
Start with those dishes that suggest a simple side dish: chicken with vegetables, buckwheat noodles with beef, chop with vegetable salad.
Before the holiday, make a list of dishes that do not require cooking just before serving. So you will not be nervous and have time to devote time to yourself.
Buy seasonal food: fresh products are easier and faster to cook.
Cheap food – boring and tasteless?
Cheap food can be interesting, tasty and healthy. Remember: the traditional dishes of many countries are just "peasant food".
In Italy, Mexico, Asia and the Mediterranean, the national cuisine "revolves" around legumes, dough, potatoes, cereals, seasonal vegetables and fruits that have always been available to the peasants. And seasonality means cheapness.
Remember the typical dishes of these countries: pizza, pasta, noodles, rice and tacos – they are all very simple, but incredibly tasty.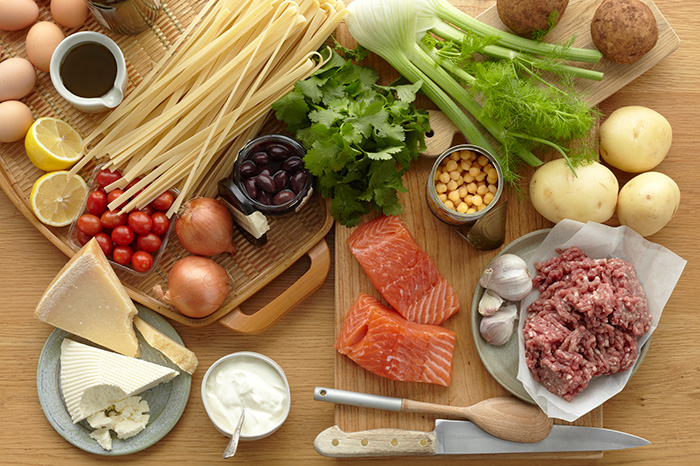 What if children won't eat such food?
Homemade food tastes better and healthier than the "shop". But many children and teenagers are so accustomed to the taste of industrial food that the taste of homemade seems to them too bland. Of course, the whole thing in large quantities of salt, fat and monosodium glutamate, which is full of semi-finished products.
As a result, the family dinner turns into an endless "I do not want, I will not," and you are forced once again to make concessions. But we hasten to reassure you: children can be "retrained", however, you will need to be patient.
Once my husband and I were presented with a bread maker, and we decided to abandon the purchased bread and go to whole-grain. The children spat and injured for a very long time, but in the end resigned, and even coming from the camp complained how awful the white bread was.
What about little pleasures?
Sometimes it is very important to allow yourself "forbidden" food: this will help prevent disruptions and live in harmony with oneself. No wonder there is a "golden rule 80 to 20": almost all the time you eat healthy and simple food, occasionally indulging yourself with something harmful (ice cream, donut or chocolate).
Most of what is now on our table every day, a decade ago, appeared on it only on holidays: cupcakes, pies, cocktails and desserts. Now we do not cause bewilderment abundance of delicacies in the kitchen cupboard.
But nutritionists are alarmed: such food should not appear there too often. Maximum once a week. Therefore, choose your "pet" and enjoy it, for example, on a day off.
It can be a cake, a hamburger or a bottle of wine in the evening with friends. You can come up with the family tradition of "sweet Saturday" when children are allowed to eat something that is not very healthy.
Having tried this method, you will notice that by the end of the month there will be much more money in the wallet than before.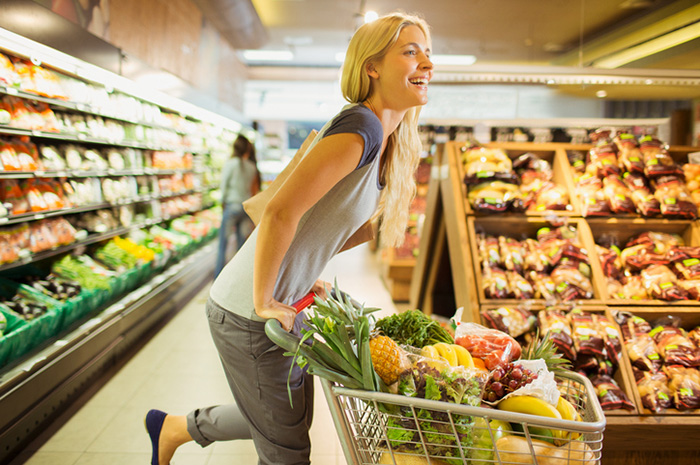 Top 10 life hacking for budget grocery shopping
Be sure to write a shopping list. Start with vegetables and fruits, then go to meat and fish – all as needed. Finish with household products: powder, soap and toilet paper.
Try not to buy what you can make yourself: pasta sauces, cookies or muffins.
Buy vegetables, fruits, greens and meat in the markets.
Get a notebook in which you record prices for the same products in different supermarkets. After some time, you will not be difficult to determine the "favorite" and make purchases only there.
Try to eat mostly seasonal foods.
Cook soup for lunch, and second for dinner. Soup is much more nutritious, healthier for the stomach and cheaper than the main course.
Add more vegetables than stated in the recipe: potatoes and carrots are usually inexpensive, but increase the number of servings several times.
Try to add legumes, even if they are not listed in the list of ingredients: they are very nutritious and for a long time quench the feeling of hunger.
If you want to give the dish raisins, add a handful of berries or nuts: this will help turn an everyday dish into a festive one.
Prefer quality to quantity when it comes to meat: cheap "industrial" taste of sausages from the supermarket is easy to spoil even the most exquisite dish.