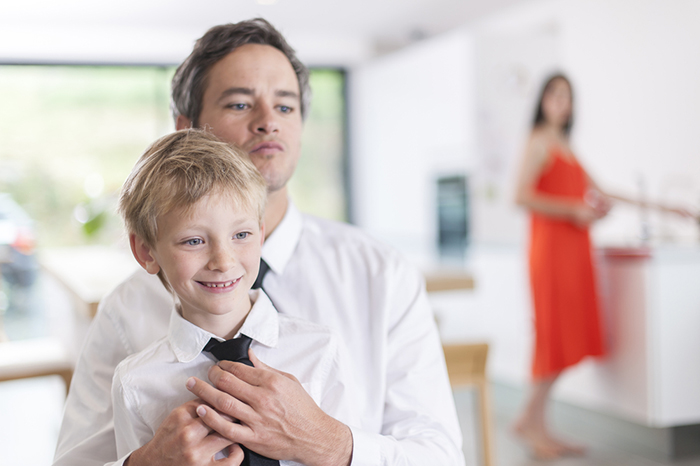 It seems to us that only having achieved something in life, we can give the child the best. And, of course, he must follow our example. What mistakes make parents who have achieved heights in career and business, wanting their child to become successful?
Consider the nine most common ones.
Often, parents focus on early intellectual development. Wanting to put as much knowledge as possible into a bright head, they concentrate too much on the goal and its achievement.
While it is the process and the pleasure (of both the child and the parent) from the process of knowing the world that are the priorities for the harmonious development of the crumbs.
What's happening? In the first year of life, we are not in a hurry: we rejoice at the first steps and the first words, we are ready to play ku-ku a hundred times a day and sincerely smile at the same time.
By two or three years of patience, there is no longer so much, the inevitable crisis of growing up "I myself!" Is heating up the situation – and now mom is becoming increasingly irritated. In most cases, by the age of three she goes to work, and dad is still not very "included" in the child and does not fully understand what to do with this beautiful creature. It is here that various methods of early development come to the rescue.
We show the baby cards, pictures, study shapes using tablets. The closer to school, the more anxiety and less time parents have to study with the child.
The main rule: play and train so that you yourself would be interested. It is precisely between the ages of 4 and 9 that it is very important to lay down basic social skills and actively develop "emotional" intelligence.
Choosing a technique, a book and even cards – choose the material that will cause you and the child the maximum emotional response. For example, if you like architecture – teach your child to count, walking along the streets of the city.
Do not be afraid to talk about what you yourself are fond of!
We speak with our children in an adult way, and they are really intellectually more often more mature than we were at their age. But in social terms, they are usually several years younger.
We often forget about it and gradually our requirements for children become the same as for adults. Without noticing ourselves, we begin not only to teach, but also to demand results.
Remember yourself at this age, your emotions – what made you happy and what upset you? How important it was for you to play with your friends! And how great it was to get into bed with my parents in the morning!
Even at age 9, children are still children, what can we say about 5-7-year-olds. Imagine that you are looking at yourself and your family from the outside.
It's like a beautiful picture: the sun is shining, you smile, put your hands, and your child runs to you, you pick it up, circle it, kiss it, hug it. But it will take quite a bit of time – and he will grow.
Until this happens, enjoy his childhood.
We have five circles, and everywhere you have to be the best. We are preparing for school.
We develop a comprehensive personality. At the very beginning, the child may even like that he has so much to do. But gradually he begins to feel that he still wants to play.
And there is no time left for the game and for self-employment. As a result, this skill is not formed.
Therefore, when suddenly "free time" emerges, the child cannot invent an occupation for himself. The saddest thing is that mom and dad will not be able to help him, because they too have forgotten how to play.
The task of the first stage is to teach the child to learn, and not to learn. Unfortunately, very few teachers can do this today. And in the constant "race" between the developing circles and sections, this is impossible.
Of course, I want to give my child only the best, but try to hear it too. What does he like, why, why?
Observe if he gets a return on these activities? Perhaps, the daughter herself takes paints and starts drawing at her free time, or her son comes to you with a request to "train" the blow he was taught or suggests to organize a family chess tournament.
It means you are on the right track. Determine the closest to your child exactly hobbies and give up too much – give him the opportunity to find their own ways.
Someone goes to work immediately after the birth of the baby, someone – a year, and someone – in three. And most often, the mother is already "running" into the service: she missed communication, business attire, topics not about children. Being a modern woman and a good specialist (or even a leader), the mother delegates most of the educational tasks to the kindergarten and / or the nurse.
This is a fact that must be taken. The period from three years to school rushes past us. But this is precisely the time when our baby becomes a child.
The worst thing is not even the fact that we see very little of our children. The main thing is that at that moment when we seem to be near and physically with them, with our thoughts, we are often "somewhere far away". It is difficult for parents who are tired at work to adapt to the regime and thinking of the child.
We are happy that our baby runs to us, hugs us. But after 20 minutes, we join in the discussion of the day or in reworking the accumulated household chores (and, possibly, in unfinished workers).
And we probably could do something with the child, but do not always know what.
Create one-on-one moments. In the life of your family there should be such moments: "one on one with mom", "one on one with dad" and "all together".
Let it be only twenty minutes a day, but at this time you will fully belong to your baby, and he – to you. What are we doing? We embrace, speak as we love, listen, and most importantly, hear and accept it for what it is.
After all, we have so little time just to be together, to tell each other about dreams, thoughts and hopes! Take your children's experiences seriously and tell about yours.
It is very important to form these relationships of trust from the very beginning even in the situation when you work. Without a mechanism of trust and acceptance, it is difficult to expect that at school (and even more so during adolescence) a child will be willing to share something with you willingly.
On weekends there is more free time, so of course we are going to have fun somewhere with the whole family. Impressions, impressions, impressions!
Kaleidoscope of impressions.
Enter the tradition – to plan the weekend all together. This can be done at dinner on Friday or at breakfast on Saturday.
Everyone expresses his wishes. You can read together the poster of city events: which exhibitions, which events in parks, etc.
Next, we pronounce all the necessary things: from buying groceries to cleaning the room and lessons (if the child is a schoolboy). Writing down all the offers, we make up a schedule.
Perhaps some entertainment will have to be abandoned, transferring them to the next week. By acting in this way, you can teach your child the basics of planning.
In addition, the adults themselves at this moment are much better aware of their desires and do not go "to the playing area of ​​the shopping center" because of the feeling of guilt caused by late returns from work during the week.
A dishwasher, a washing machine, and often also a housekeeper to help (we don't even mention the work with the land). Home affairs for the child practically does not remain.
We are glad that the life of our children has become easier. But it takes several years, and we are already outraged: "You are not doing anything, you will not even remove the dishes with you!" In fact, physical labor is the greatest salvation for man.
At the time when the hands are working, the brain works in a different mode – it digests and assimilates the information gathered during the day. The increased emotionality and excitability of today's children is caused not only by the number of viewed cartoons and computer games that have been played, but also by elementary laziness. "Labor Therapy" is the best way to build responsibility, patience and calm.
We create a list of all household chores and divide it into "mother's", "father's" and "children's." For example, a child may well water the flowers, brush the crumbs off the table, take away the toys behind him, lay down their belongings after the walk.
And the opportunity to "collect" products into the basket in the store, perceived first as a reward for exemplary behavior, will gradually become a good habit.
We consider it our duty to invest as much as possible in the child. Therefore, we record it in endless circles and constantly run: we must catch the morning "to the sport", in the evening – to the theater. And most importantly – to explain everything.
We run and on the run only have time to distribute instructions: put it on, do this. It's just that we always have no time, so you have to communicate this way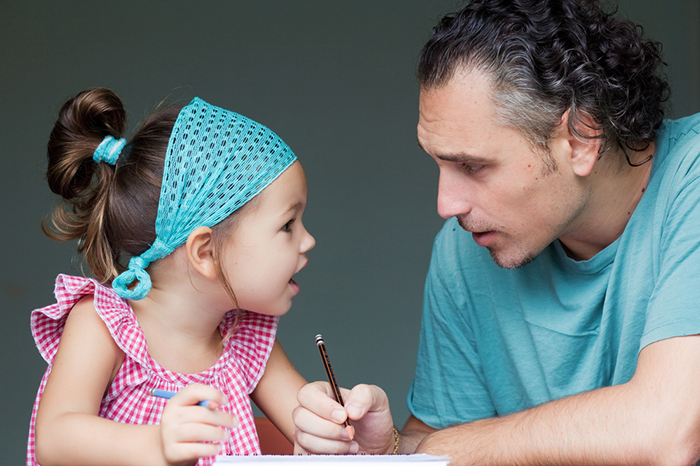 Ask the child. Give him time and opportunity to tell.
If the child spoke – just listen. Do not pour questions! We must support him, share his feelings, and rejoice that we discover a wonderful children's world with a completely unique view of things.
Teach your child from early childhood to realize their feelings and experiences and talk about them – not only good, but also difficult, and even unpleasant. This is something that will help him in life in the future.
In families, where both mom and dad took place in their careers and in business, standard role-playing functions are often erased. And the child does not always form sex role models.
Happiness in a family is possible only if the relationship between all is pairwise harmonious. First of all, it concerns mom and dad.
We must start with ourselves. Like on a plane: "First, mask yourself, and then the child."
We allocate time "for us two and common adult interests." Coming home, removing office clothes, remove all external roles. It is very important for parents to speak with each other the images and expectations from the face of women and men.
In these images they should be comfortable! For example, no matter how businesswoman a woman is, at home she will be glad to become a loving mother and wife.
From the very young age we sincerely rejoice in all the successes of our children. "Well done! You are the best!
You have done so well! "We say this often, emotionally and sincerely. Because for us, our child is the best. Only at some point he will face the fact that in some ways he is not the best: someone jumps higher, and someone reads faster.
This can lead to severe psychological trauma and frustration in oneself. And if this coincides with the period of school adaptation, when the rules and requirements change dramatically?
Instead of supporting, we begin to demand even more, and then sincerely we are surprised: "Well, how can he not succeed? He's the best! "
At this point, we can drop him in emotional development a few years ago – and now he is already beginning to cope with school exercises and tasks.
It is extremely difficult to restructure your speech (and in fact, thinking) with the wording "you are well done!" And "you are the best!". This requires daily work on oneself, but it is necessary if we want to help a child grow into an independent, happy, self-sufficient person.
We must begin with the adoption: we must learn to accept it with all the failures, failures, and oddities. Review children's photos and videos, remember how happy his first steps and words.
But it was almost yesterday! He is still a child, still the same baby.
Give him time and the right to make mistakes.