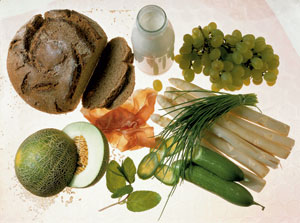 Milk and dairy products should continue to appear on the baby's table as often as possible. For example, in the form of milk formulas intended for children older than a year.
They are prepared on the basis of cow's milk and enriched with vitamins and microelements, which makes the final product much more useful than the original one.
During the day, the baby should drink about 550–600 ml of milk and dairy products (consider the share of these products in other dishes).
Offer your child 50–70 g of cottage cheese per day.
Add sour cream (5–10 g) to the soup or vegetables and give the baby non-sharp cheese.
One-year-old children are cooked with beef, lean pork, chicken, turkey, rabbit meat and offal (liver, tongue). As for sausages and sausages, it is better to postpone familiarity with them until 1.5–2 years.
If the child does not have allergies, prepare him a lean sea fish.
The baby should eat meat or fish every day. After a year, a child "laid" 60–70 g of meat or 30–40 g of fish per day.
During the week, the fish should be cooked 2-3 times, and meat – 4-5.
If you want to pamper your baby immediately with this and that product, reduce the amount of servings.
Add to the dishes vegetable oils, which, in addition to fat, contain vitamins A, D, E. From time to time, offer the child bread with butter. Do not forget about the eggs.
You can boil them, make an omelet out of them or add them to casseroles.
If your baby is not allergic, give him a whole egg, but no more than 1-2 times a week.
For breakfast or dinner, prepare the baby cereals (buckwheat and oatmeal are especially helpful). Pay attention to the porridge of industrial production, designed for children and enriched with vitamins and trace elements.
Vegetables and fruits contain carbohydrates, vitamins, minerals. Vegetables can be cooked as a separate dish, as a side dish for the second one, or combined with cereals.
As for fruit, they will be a wonderful dessert for the child.
The most useful for the baby is rye bread or made from whole-wheat flour: there are vitamins and fiber in all respects.