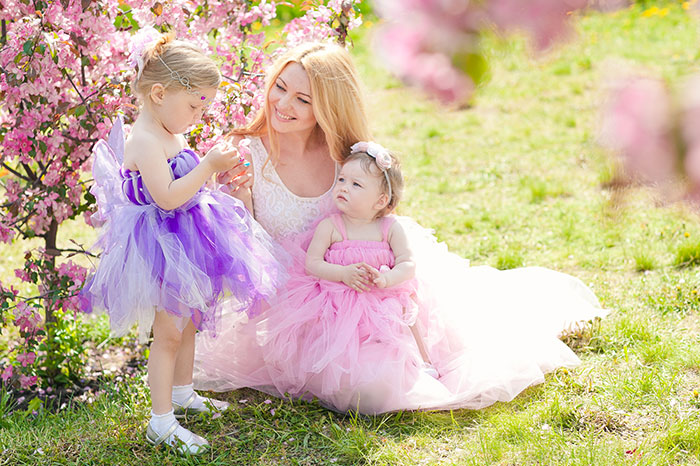 The secret to the success of a family photo shoot is quite simple: the clothes of all the participants of the shooting should be kept in the same style – classic, romantic, sporty. As for the mood, it is better if the outfits are moderately festive and rather more informal. So, for example, magnificent evening dresses sometimes look extremely ridiculous on little girls.
In addition, because of their size, they strongly hamper movement and do not allow to relax. A safe (and easily feasible) option for both a home photo shoot and a photo walk will be smart casual style – elegant and comfortable at the same time for everyday wear (polo, free-cut shirts complete with jeans, light skirts and sundresses).
We want to warn you right away: the most common mistake made by the "organizers of filming" is the mixture of styles, eras and cultures. In the photo, such a "flight of fantasy" looks more than strange, so if the soul asks for something special, it's better to play with color.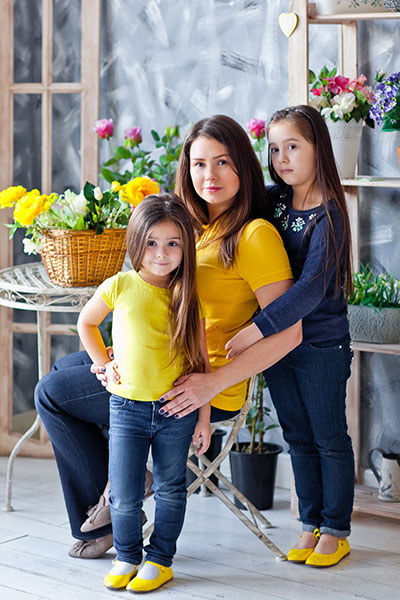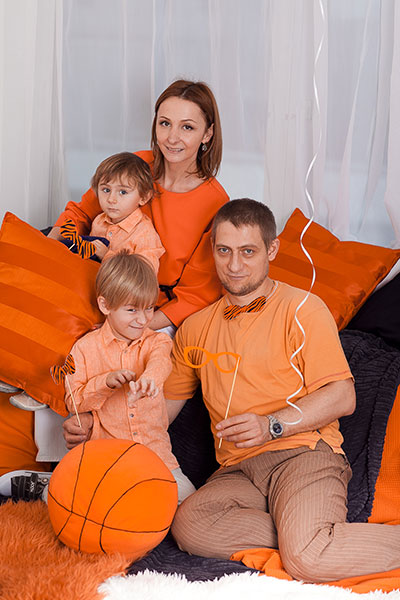 In addition to style, a good frame is built on the harmony of color. It is important that the clothing of all family members be combined, but at the same time it was not the same hue (in the photo, monotonous things look rather boring and make their "carriers" faceless).
If you want to show the unity of the whole family, complete the things whose color is close to each other (red and chestnut, yellow and orange). Feel free to combine shades of the same color, such as pink and pale pink.
If it is necessary to demonstrate the individuality of the household, mix 3-4 colors. At the same time, it is not at all necessary that the entire palette of your choice be present on every "model".
The pastel colors of different shades (blue, gray, flesh) look most advantageous, one bright color complete with neutral (green + beige + chocolate), a pair of skin tones in combination with two brighter ones (yellow and blue), and also playing on contrasts (blue + yellow; red + green).
Addition and combination (picture color wheel)
The basic principles of color combinations will help you not to get lost in the picturesque world of colors. A monochrome combination – a combination of colors that are in the same sector – the main color plus two accents.
Complementary – two colors opposed to each other: a warm shade in conjunction with the opposite cold. To find a pair, draw a straight line from one tone to another in the color wheel.
Triadic – a choice of 3 colors located at the same distance from each other. It is easy to identify "partners" – just enter an equilateral triangle in the color wheel.
Adopt options for imaging: the male half of the family is in one color, the female is in another (you can use a contrasting combination); parents – in one scale, children – in another (you can leave one palette, but for children to choose brighter shades). If you want to focus on someone specifically (on the expectant mother or the youngest member of the family) – add brightness to it using the primary color or one rich detail.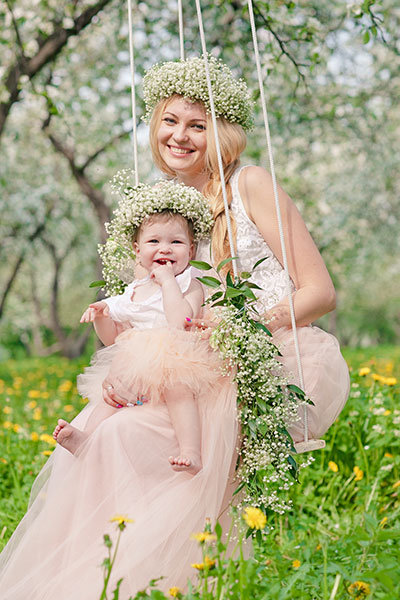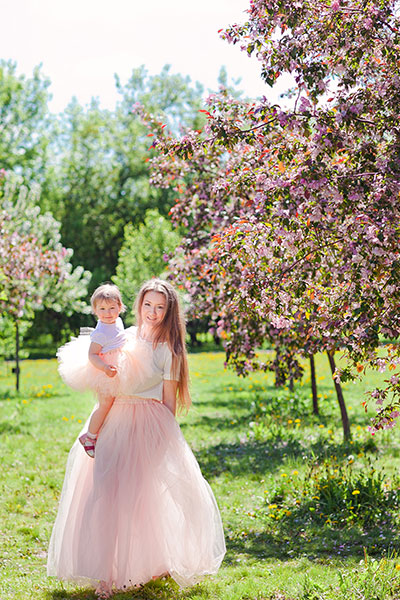 Creating a family-look, do not lose sight of the fabric and texture. Although today the most unexpected combinations of textures are in fashion (lace with leather, chiffon and suede, taffeta and denim), such experiments are the work of professional stylists.
For family photography, adhere to the principle "the simpler the better." Combine more homogeneous fabrics: wool with knitwear, silk with satin, chiffon with organza, jeans with cotton, velveteen and tweed. Do not forget that in the photo you must be one.
If one of you persistently does not want to get out of a soft and fluffy cashmere pullover, then the rest will have to pick up clothes to suit him. As for the picture, the presence of a small ornament on the fabric is not forbidden. But to wear things colorful, shiny, with large patterns or logo (not bearing the semantic load) is clearly not worth it.
Such outfits attract too much attention to themselves, which means they distract him from his face.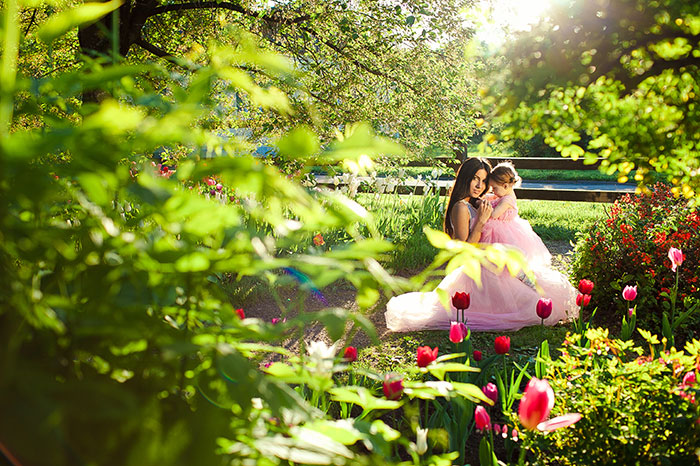 "Cherry on the cake" in your collective image will be accessories (scarves, ties, hairpins, headbands, brooches, belts) and props (toys, pillows, interior items). These "bright spots" will help add color to a boring outfit, create the proportions you need, and bring the whole family together. But only under the condition that they will harmonize and complement each other in style and color.
Use bright accessories (no more than 2‒3) in combination with clothes of neutral colors. The more decorations in the dress (embroidery, lace), the fewer additions will be required. If your suit has strict lines, then you should choose jewelery with sharp and sharp edges (square earrings, triangular pendant, buckle on shoes).
For sets with smooth outlines, decorations should be rounded.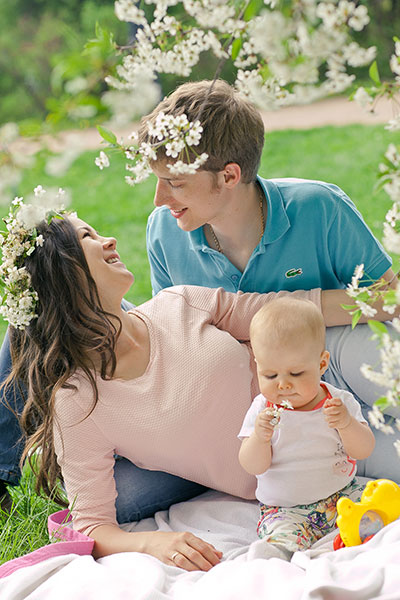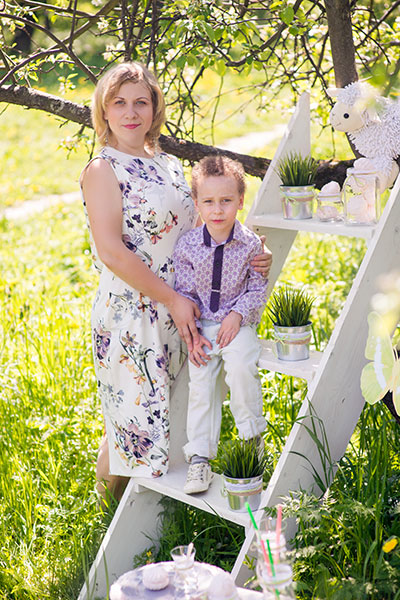 An important condition for the selection of clothes is how you (and especially children) feel yourself in it. From the point of view of comfort, it should fit in size and not hamper movements.
In it, you should be comfortable interacting: change poses, hug, kiss, and most importantly – smile. After all, in addition to the memorable photos, the shooting process itself should bring pleasure and only positive emotions to all family members. Choose things that highlight your strengths and highlight weaknesses. (Dark colors are slim, and light, on the contrary, visually add kilograms.
V-shaped notches visually lengthen the neck and make the face more elongated and thin as opposed to high turtleneck collars). And they do not necessarily have to be at the peak of popularity.
Your task is to make a beautiful photo story about your family, and not to make a report from a fashion show.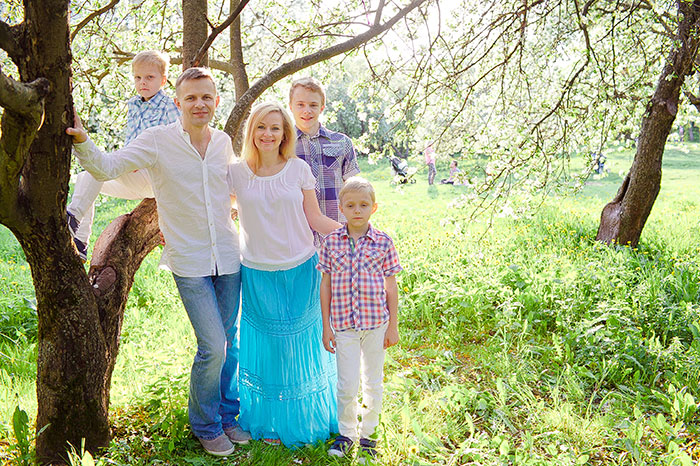 For a photo shoot on the street, give preference to monotonous things – they stand out well against the backdrop of nature with its riot of colors and textures. Milky, beige, gray, peach, pale yellow, sky blue, chocolate or terracotta shades look harmoniously.
For studio shooting, where simple monotonous backgrounds are most often used, on the contrary, more variegated clothes or spectacular accessories are appropriate. If the studio has a brightly colored zone, this may play into your hands: use fragments of this color in your clothes.
Before taking pictures, to get rid of the oily sheen, apply mineral powder on your face (it absorbs excess sebum and does not clog pores). And in the intervals between shots, blot the skin with matting wipes.
Replace the usual lipstick matte – lips will not glare, and their color will remain saturated until the end of the photo shoot.
Photos from the archive of the photo editor of the magazine "Happy Parents", photographer Elena Jun, www.detifoto.com
Photo for memory
Family photos are priceless treasures. Indeed, over time, much is erased from the memory, and the photos remain.
Therefore, treat this case as a serious mission, which is quite doable! Read more
Home photo archive
Thanks to modern digital cameras, we were able to capture any moment of life, and to erase unsuccessful photos at the touch of a button. However, with all this less and less we print photos and arrange them in albums.
Well, this is a typical case for digital photo lovers. How to store them, we'll tell you! Read more
How to create family traditions?
Inventing all sorts of rules, rituals, or symbols that unite a family is a good and useful thing that parents and children can do together. Read more