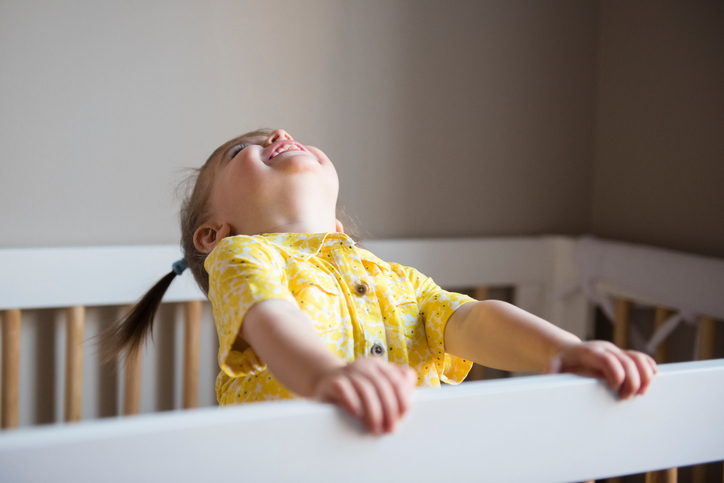 Without knowing your specific family situation, it is difficult to say what exactly makes a girl behave as you describe. The reasons may be many, and they can be the most simple: for example, the lack of daytime sleep in a child.
After all, fatigue in young children is manifested in this way: children are easily irritated, any trifle causes tears. Perhaps, dad, coming from work, is trying to compensate for his absence during the day, and playing with her father is exciting to the baby.
Evening tantrums in this case can relieve the tension accumulated during the day.
You write that the arsenal of ways of dealing with hysterics is very large: "the game, trying to distract, caress, strict tone, ignoring." Most likely, it is difficult for your daughter to understand that her behavior causes discontent among parents.
I think that any adult will be confused, if the partner is affectionate, strict, indifferent. What to say about the child?
Going to bed in small children is often accompanied by tears and moods. And this has its own explanation.
For a baby, going to bed is first of all parting with parents, favorite toys, with a sweet atmosphere, etc. Small children are not able to look into tomorrow, so they fear that while they sleep, something in the world around will change, some important events will occur. They are just scared every time to fall into the blackness of sleep.
In fact, a dream for a baby is a step into the unknown. Parental irritation only increases anxiety, and reproaches and impatience can lead a child to think that they want to get rid of him.
Strict measures are also not effective: any orders and ultimatums cause an extremely painful reaction.
In this situation, the solution may be a ritual that will accompany the process of laying the baby every day. After all, if family life is ordered, the child knows the sequence of events, then the baby will be able to anticipate each of them in advance.
The child acquires the desired sense of confidence and realizes his independence, limited by certain conditions.
Sleeping rituals can be very different, the main thing is that they correspond to the personal qualities and interests of the child, and be long-awaited and loved. And to fulfill them should be nice and baby, and parents.
After dinner, you can declare an hour of quiet games, before bedtime, say "bye-bye" to the baby's favorite things. And, wishing good-night toys, parents and children can act in turns, which will certainly lead to their rapprochement, in addition will stimulate the development of speech skills in the baby. Putting the girl in bed, you can sing a lullaby, read a book that she chooses herself, or listen to soothing music.
Also, children love to listen to invented tales in which the events experienced during the day are reproduced, and they themselves are the main characters. To complete the ritual should be a reminder that the parents will not go anywhere.
Bedtime rituals must end before the child falls asleep. Otherwise they will create a dependency, which will be difficult to get rid of.
Therefore, it is necessary to leave the baby's room before he falls asleep.