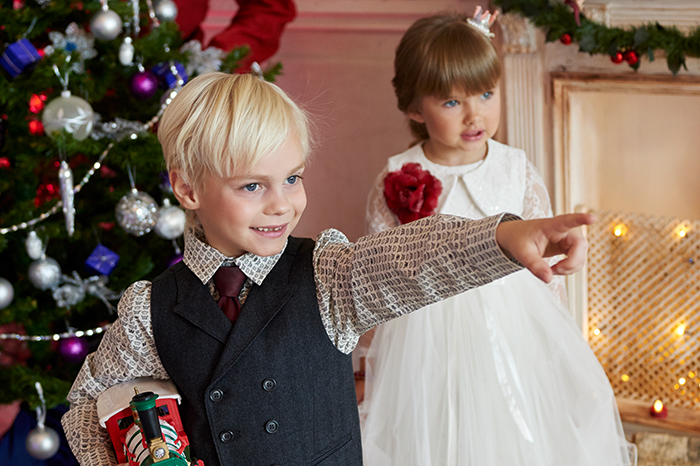 Perhaps every mother wants her child to become the "star" of the upcoming holiday. This desire is absolutely natural and, moreover, quite realizable. Fortunately, a rich arsenal of resources is now available that are ready to assist us in this.
Counters of shops dazzle with various options of elegant clothes for every taste and a purse. How not to get lost in all the diversity of this magnificence and create a successful image in all respects, read below.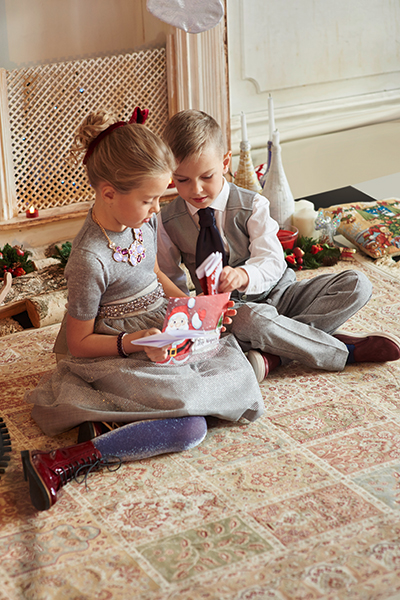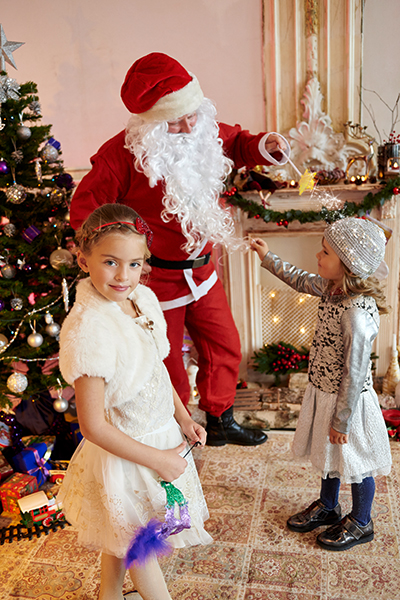 First of all, it is important to determine the place and subject of the upcoming event. If the holiday promises to be active and includes outdoor games, then the most important rule – the clothes of the little fidget should be not only beautiful, but first of all as comfortable as possible. Namely – not to be confused under your feet and not hold down movements.
Especially it concerns magnificent evening dresses for young women of fashion. For an active pastime, they are not suitable.
Prefer more modest outfits – dresses "baby doll" style from soft fabrics (velor, velvet, satin) of medium length (just above the knee). To give the image a more festive look (especially if the princess goes almost to the ball) will help extremely relevant in this season cardigans of faux fur and feather capes.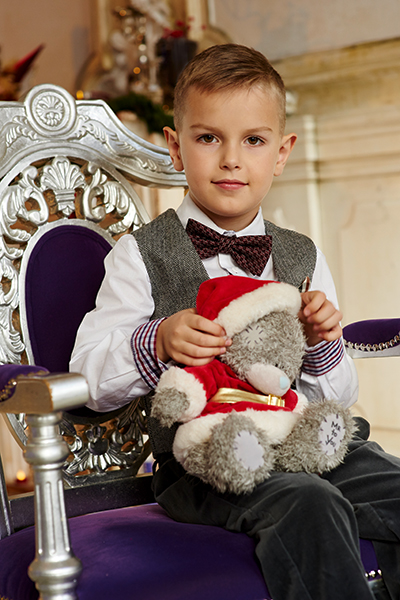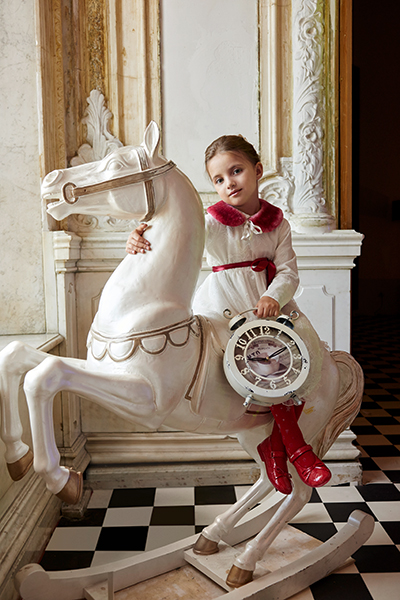 Photo session of the magazine "Happy Parents" (December 2015, №203).
Photographers: Alexey Bashmakov, Igor Khuzbashich.
Stylist: Marina Orlova. Assistant stylist: Victoria Lebedeva.
Makeup artist: Irina Louis. Decorator: Catherine Beilina.
Models: Ekaterina Starodubtseva, Milan Kudryashova, Khristina Vystropova, Dmitry Antonov / President Kids Model Agency, Matvey Havenko.
A more democratic version of the festive attire from the series "in the feast and in the world" – tutu skirts. Weighty plus of the latter – they are easy to combine with plain t-shirts with bright prints or appliqué sequins, which can be worn in everyday life. In this form, you can safely go on a children's holiday, and at the matinee in the garden, and on the Christmas tree.
Boys pick sets from velveteen and tweed. And instead of traditional shirts with a bow tie and a tie, pay attention to more democratic and comfortable T-shirts with prints imitating them. To replace the jacket, get a more practical and comfortable vest.
Theme party is an excellent occasion to show your imagination and, perhaps, even hone skills of needlework. Since 3 years, it is not necessary to exclude the hero of the occasion from the creative process.
Be sure to consider the opinion of the child, his preferences and wishes. As the baby matures, he forms his own ideas about the style, which is important to take into account.
Modern boys will feel at ease in a superhero costume, knight, wizard or pirate. And it is not necessary to buy a ready-made suit. You can rent it, and even better – try to come up with an outfit and bring it to life with your child. For example, for the image of a pirate, it is enough to make a good make-up on the face with the help of hypo-allergenic cosmetic paints (made on a water-based basis and designed specifically for application to the skin).
It is easy to build a tricorne from thick cardboard, or to replace it with a bandana with skulls. To complete the picture, do not forget to attach a teddy parrot on your shoulder: voila – and your pirate is ready for adventure!
Going to the carnival, girls prefer to try on the images of the princess, Barbie, oriental beauty. To create the costume of the latter, it is enough to extract a bright tippet from the depths of my mother's wardrobe, a pair of large metal ornaments, put on pants-alladinki, add an appropriate make-up to the image (and perhaps make mehendi – body painting with patterns using natural dyes, in particular henna) – and here's your the little sultana is already telling oriental tales to all those gathered.
Consider another nuance – never focus attention on the shortcomings of the child. Do not dress a full girl in multi-layered clothes (fluffy dresses, skirts with ruffles and ruffles).
Visually, they will make her figure even more massive. On a pale child should not wear very bright, contrasting outfits.
They will once again emphasize his pallor and give the face an unhealthy look.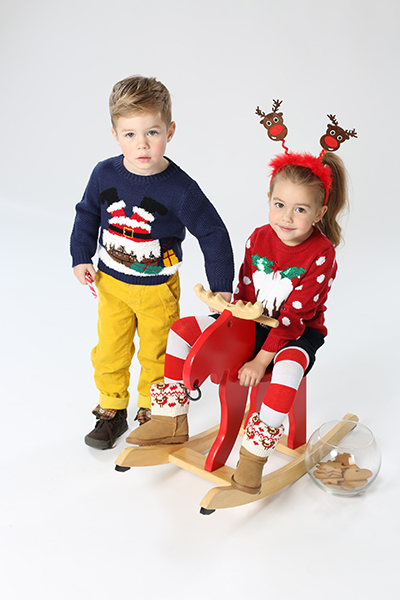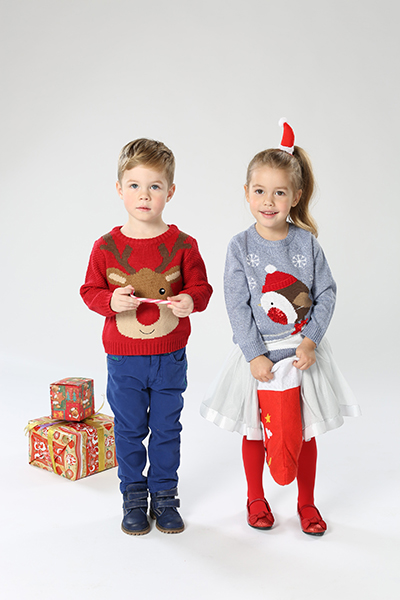 For cozy gatherings with the family, the Christmas sweaters that came to us from Europe are considered the most democratic option for holiday outfits. Starting from November 1, their wide selection is presented in the New Year collections of many European brands. Decorated with prints of fabulous New Year characters and symbols (deer, snowmen, Santa Claus, sweets), these items of clothing found a response in the hearts of the Russian public.
Moreover, on children such options look very cute and organic, perfectly matching jeans, jogging pants and flared skirts. In addition, if all the home dressed in such a New Year's "uniform" – a fun and colorful family photo session is provided!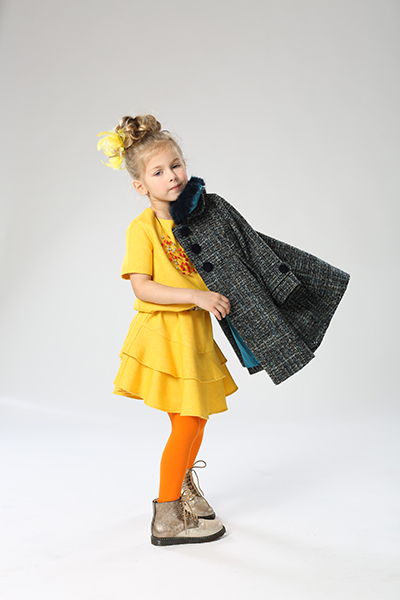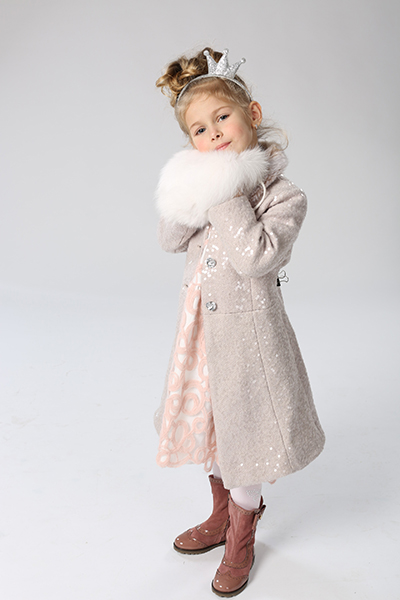 The photo session of the magazine "Happy parents" (January 2016, №204).
Photographer: Tatyana Baykova. Assistant photographer: Boris Zhitkov.
Stylist: Marina Orlova. Assistant stylist: Catherine Beilina.
Makeup artist: Tatiana Kinyakina.
Models: winners of the competition "Children in Fashion" Zlata Denisenko, Kira Kaplyanskaya, Rosarin Epstein, Vazgen Kamanchadjian, Demian Efremochkin, Maxim Karavaev.
The final touch to any image are accessories. These bright details will help add color even to the most trivial outfit.
True, provided they harmonize and complement each other in style and color. Try not to overload the image and use no more than 2‒3 accessories.
Remember, the more the clothes of the decor elements (embroidery, lace, appliqués), the less need for ornaments. A safe addition to a little fashionista's outfit will be small handbags, velvet rims, satin ribbons (can be woven into hair or tied as a belt), all kinds of brooches and hairpins – in the form of artificial flowers, snowflakes made of rhinestones, bows.
A bright butterfly, a satin tie, and an elegantly knotted scarf will add a highlight to the image of the young gentleman. Please note that accessories should be chosen either to match clothes or shoes, or, conversely, in contrasting colors.
The main thing – try not to mix in the kit more than three shades.
As for shoes, if possible, choose leather models: for girls, flats decorated with rhinestones or sequins, elegant lacquer shoes with a thin strap on the rise (Mary jane style), or decorated with sparkles ankle boots or loafers. A more mischievous person can experiment with high boots in the military style of bright colors.
Eliminate the young representatives of the stronger sex from cramped and uncomfortable model shoes. Pay attention to softer and friendlier suede or nubuck boots in a semi-sports style.
And remember – shoes must necessarily fit in size so as not to darken the festive mood with excess corns.