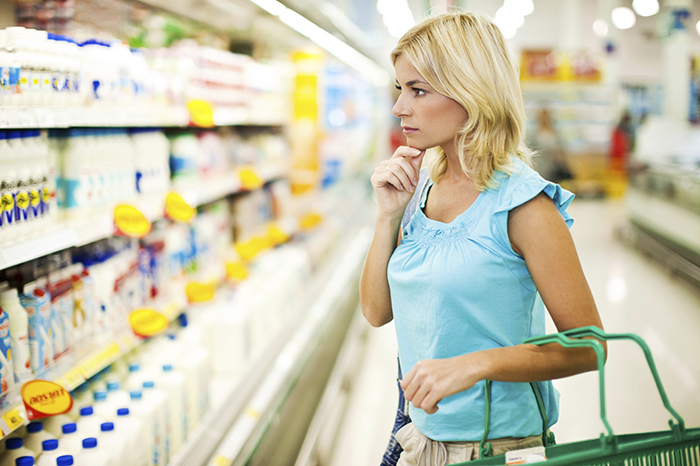 Dairy products intended for babies are produced on the basis of cow's milk, which supplies the baby's body with very important elements for growth and development. So, there is a lot of high-quality protein (3 g / 100 ml).
2 cups of milk or kefir contains about 400 mg of calcium (40–50% of the daily need of a preschooler) and 0.6 mg of vitamin B2 (30% of the daily requirement). Moreover, these substances enter the body only with milk or with products derived from it.
Milk also contains phosphorus, magnesium, zinc, selenium and other B vitamins. And it is also one of the sources of energy. Since milk fat has a low melting point, it is easily absorbed in the gastrointestinal tract.
In order for the baby not to gain extra pounds, the fat in the product should be no more than 3.5-4%.
Dairy products, in addition to the advantages already mentioned, also have the ability to favorably influence the intestinal microflora, suppressing the growth of pathogenic microorganisms in it, and thereby stimulate the immune system, increase protein digestibility and reduce its allergenicity. To fermented milk products brought the baby maximum benefit, it is recommended to alternate their different types in the baby's menu.
Milk and dairy products intended for children are produced without artificial colors and flavors. For the manufacture of children's cottage cheese and yogurt uses a natural basis – mashed berries, fruits or vegetables.
Enriched with vitamins and minerals
Almost all children's products are enriched with many vitamins and microelements, because the deficiency of these substances is found in the diet of 60–90% of babies. Usually, milk and dairy products to enhance their nutritional value are enriched with vitamins A, E, C, β-carotene, iron, calcium, iodine, fluorine, selenium.
And most often, the complex of vitamins and minerals has 8–12 nutrients, the deficiency of which is most relevant for this region.
Contains fruit, vegetable additives, cereals.
In products for children, all fillers are natural. On the one hand, they increase not only the nutritional value of the product, but also the energy value, by increasing the content of carbohydrates, vitamins, dietary fiber in it, and on the other hand, they make it possible to diversify the menu of children with selective appetite and special nutritional needs. For example, cereals reduce the glycemic index and help to provide a feeling of satiety for a long time.
Such products are recommended to be given in the morning, and in case of restless sleep – at night. It should be noted that these fillers may be contraindicated in allergies.
In the composition – thickeners, acidity regulators, flavors, dyes, stabilizers, preservatives.
In products for children, these substances are of natural origin only. Their list is approved by the relevant federal law, and safety is proven.
Dyes and preservatives such as E-101, 140, 160, 162, 164 are allowed. These ingredients improve the appearance of the product and its properties.
In yogurts and desserts with fruit fillings, stabilizers and thickeners are needed so that the product does not separate into liquid and solid parts. Fruit pectin is commonly used as a thickener.
Skimmed milk, whole milk powder, cream.
The ratio of protein and fat in foods that kids need is regulated with the help of cream and skimmed milk: for example, adding the latter reduces the percentage of fat, but does not change the protein content.
It is produced from whole (natural) milk, the fat content of which with the help of special technologies is adjusted to the values ​​specified by GOST – 2–2.5%, that is, normalized. This milk does not contain chemical impurities and additives.
Fructose is a natural sugar that is found in any sweet fruits and vegetables. Yogurts that do not contain sucrose, are useful because they reduce the risk of caries.
Enriched with pro and prebiotics
One of the advantages of fermented milk products is their enrichment with pre- and probiotics. Prebiotics are substances that serve as a nutrient medium for beneficial microorganisms (dietary fiber of various types), probiotics are living beneficial microorganisms that normalize the composition of the intestinal microflora and stimulate the activity of the immune system, increasing the body's resistance to infections.
If such products are regularly present in the child's menu, the risk of allergic reactions and intestinal infections will significantly decrease.
Shelf life of children's sour milk beverages should not exceed 2 weeks. This is due to the peculiarities of their composition: the number of useful fermented milk microorganisms in yoghurts decreases with increasing shelf life. Therefore, it is better to choose products with a minimum shelf life (5 days).
If the shelf life of a fermented milk product is more than 2 weeks, it means that it has undergone heat treatment. In this case, it can be stored at room temperature even for several months, but there are no living, beneficial microbes in it.
This does not detract from its value as a source of protein, fats, carbohydrates, vitamins and minerals.