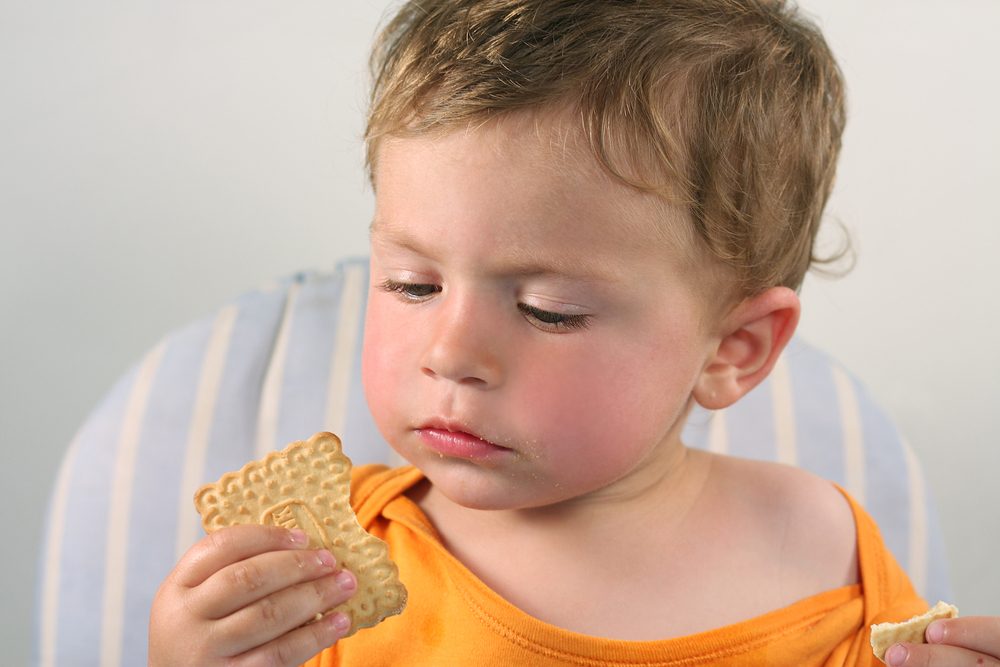 The composition of the first cookie is close to baby porridge, and if it is dissolved in breast milk or formula, you can achieve almost identical consistency. In terms of nutritional value, such a dish is no different from buckwheat or semolina, except that it is somewhat sweeter, and therefore, probably more like kids.
In this form, cookies can be offered to 5-month-old children. When the crumbs first teeth appear, he will be able to practice chewing on a dry version.
If you combine cookies with baby yogurt, kefir or fruit puree, you will get a hearty afternoon snack or second breakfast.
Of course, you can bake your baby cookies yourself, but child nutrition experts advise parents to choose specialty foods. First, their formulation is developed taking into account the capabilities of the child's body, which can vary greatly depending on age.
For example, the first cookie must necessarily be non-fat, and in home cooking it is customary to actively apply butter. Another delicacy is required to easily melt in the mouth and disintegrate into very soft crumbs so that the crumb does not choke or damage the delicate mucous membranes (for babies who already chew confidently, the cookies can be a little harder). It is difficult to achieve this result on your own.
Secondly, the products that are used to prepare industrial baby cookies are subject to rigorous selection according to strict safety criteria. Independently trace the origin and composition of the market or store goods is impossible. Thirdly, the size of each cookie must match the handle of the child.
Three of these requirements can only be guaranteed by a responsible manufacturer, however, parents always need to carefully read the composition. Some ingredients, especially honey, can trigger allergies.
Children who do not tolerate gluten or cow's milk protein will have to abandon this product until the pediatrician removes the taboo.
COMMENTARY OF THE SPECIALIST: Wheat makes the softest biscuit, so it is often used in cooking. However, for kids with gluten allergy, such a treat will not work.
EXPERT COMMENT: Milk is added to enhance nutritional value. In dry form, it is used because the cookies are made from yeast-free dough, for the preparation of which the liquid is not required.
Sometimes to increase the shelf life using skimmed raw materials. If you are allergic to cow's milk protein, cookies with such ingredients are contraindicated.
EXPERT COMMENT: Invert syrup is sweeter than regular sugar, so it is required less, due to which the number of calories is automatically reduced. Also, thanks to this component, flour products do not stale for a long time and have a soft texture.
Inversion means only the decomposition of sucrose into simple sugars (fructose and glucose).
COMMENTARY SPECIALIST: Malt gives baking a pleasant aroma and taste. The extract is obtained from barley kernels, sometimes adding other grains.
The technology of preparation of the extract eliminates extraneous additives, so that the malt in this form retains all the beneficial properties of germinated grain.
COMMENTARY EXPERTS: Prebiotics belong to the group of carbohydrates. These substances support the growth of beneficial microflora, stimulate peristalsis and improve the absorption of minerals – calcium and magnesium. Great benefit from them for the immune system.
Fructooligosaccharides, galactooligosaccharides, lactulose, and inulin are used in baby food.
COMMENTARY OF THE SPECIALIST: Additional substances are introduced into the baby food products, the deficiency of which is most often found in babies at a given age. They are always added in an easy-to-learn form.
COMMENTARY SPECIALIST: Starch gives the liver volume, makes it more porous, facilitating the absorption. Wheat and corn are almost the same, but the former may contain traces of gluten.
If the crumb does not tolerate this substance, the bet should be placed on the corn variant. You should not be afraid of the modified starch: it is not a question of genetic modification, but of bringing the long molecule of this carbohydrate into an easily digestible form.
COMMENTARY SPECIALIST: This synthetic component is a flavor identical to natural. It is used in most children's products, giving them a distinctive flavor.
The chemical formulas of the molecules of vanillin and natural vanilla are very similar, therefore it is safe for kids and adults.
COMMENTARY SPECIALIST: This emulsifier facilitates the absorption of fats and makes the finished product softer. In addition to leticin, phosphatides are used in baby food – natural complex fats made from sunflower or soybean oil.
These include, in particular, food phosphatide concentrates, which are well absorbed and have a beneficial effect on protein-fat metabolism.
COMMENTARY OF THE SPECIALIST: All these substances make the structure of the cookies tender, crumbly, exclude the appearance of lumps in the dough and prolong the shelf life of the finished product. In baby food they are allowed, and their safety is proven.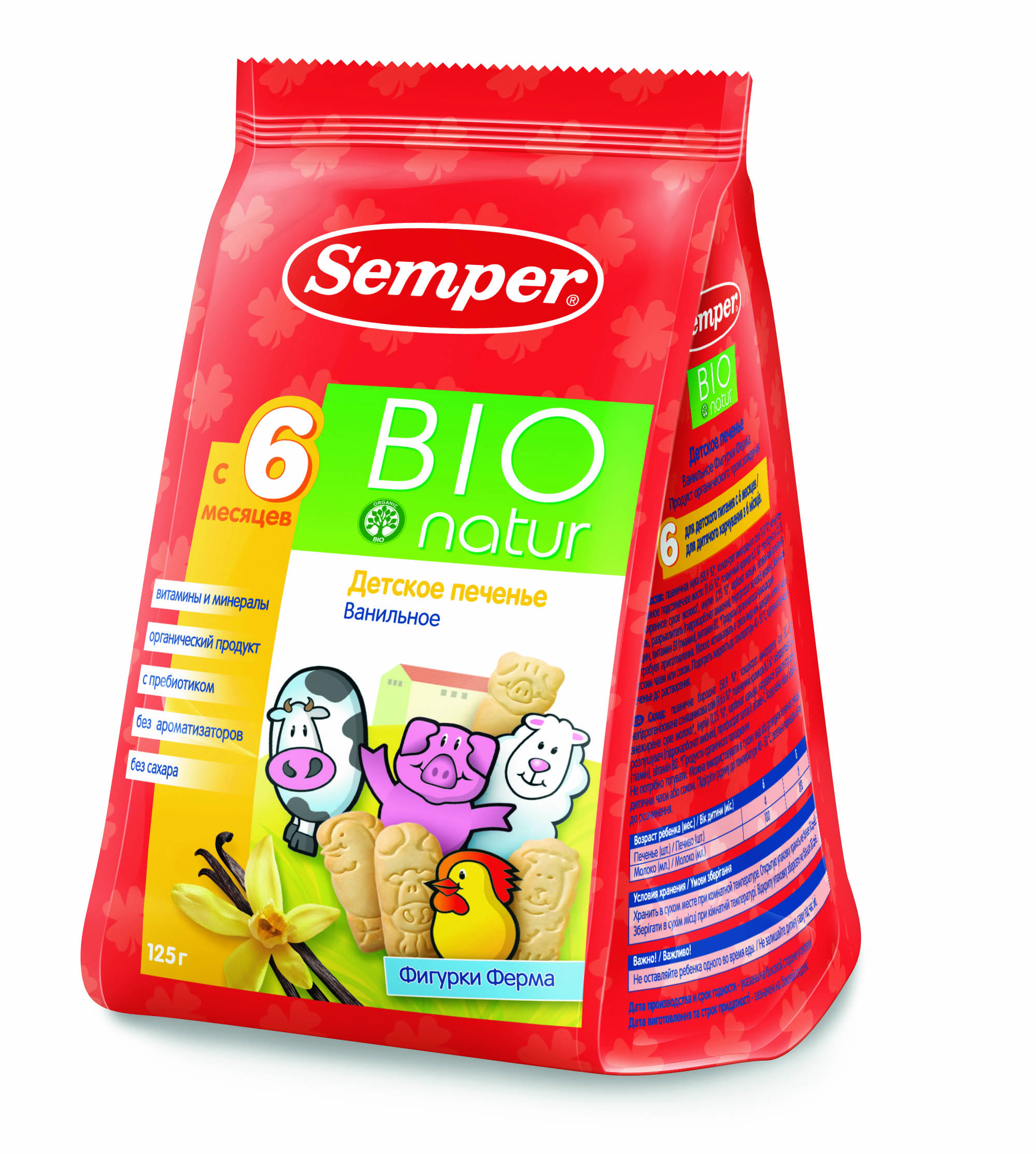 Semper, from 6 months
Ingredients – wheat flour, skimmed milk powder, wheat starch.
Grape juice concentrate, non-hydrogenated sunflower oil, oligofructose and inulin.
Contains calcium carbonate, vanilla, ammonium bicarbonate.
Vitamins (C, B1, B2, PP), iron pyrophosphate II and calcium iodide.
Without preservatives, artificial additives, nitrates, pesticides, GM components and growth hormones.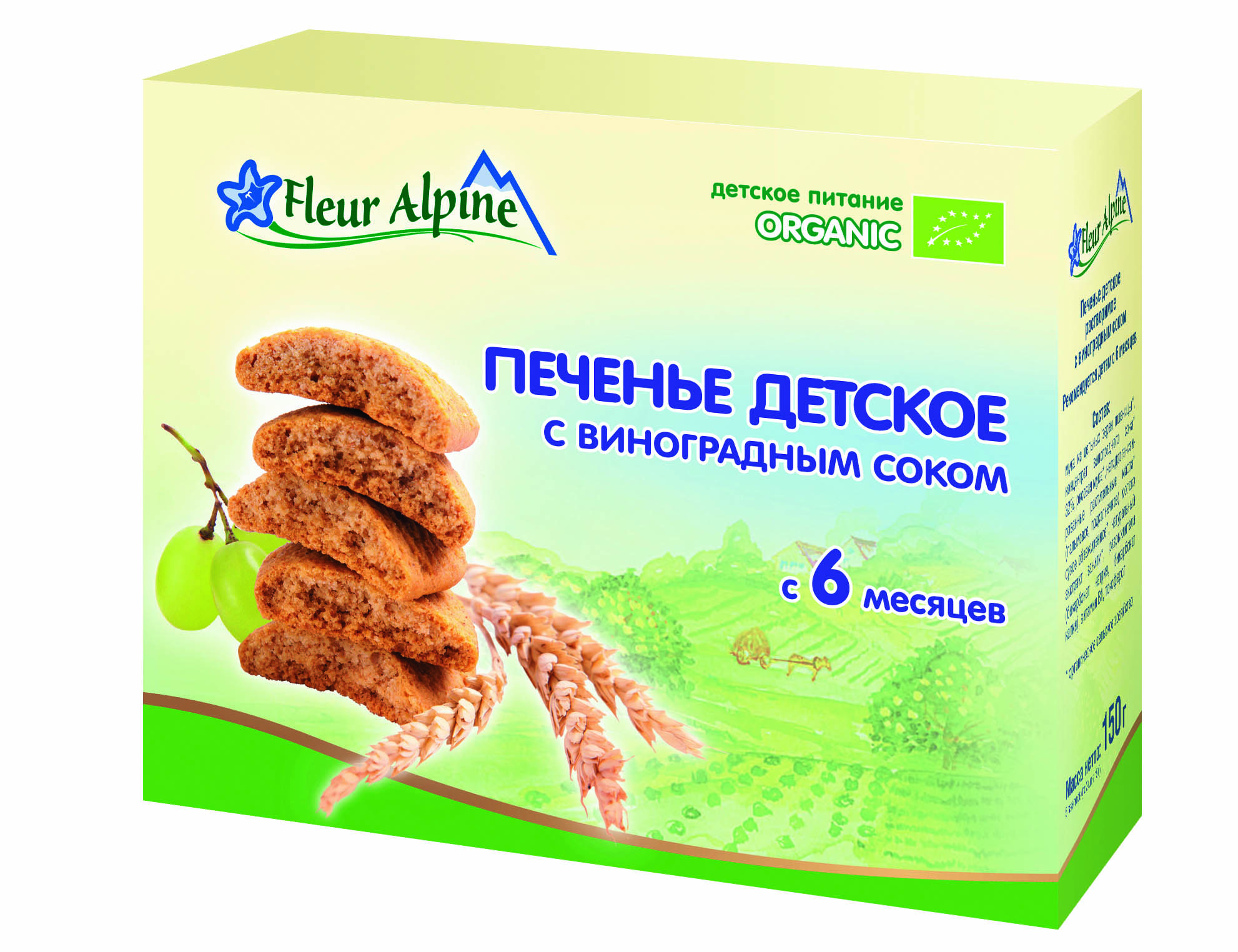 FFleur Alpine, from 6 months
Ingredients – whole wheat flour, rice flour, skimmed milk powder, grape juice concentrate 32%.
Non-hydrogenated palm and sunflower oils, vanilla extract.
Contains sodium bicarbonate, potassium bicarbonate, vitamin B1, tocopherol.
It is made from environmentally friendly products.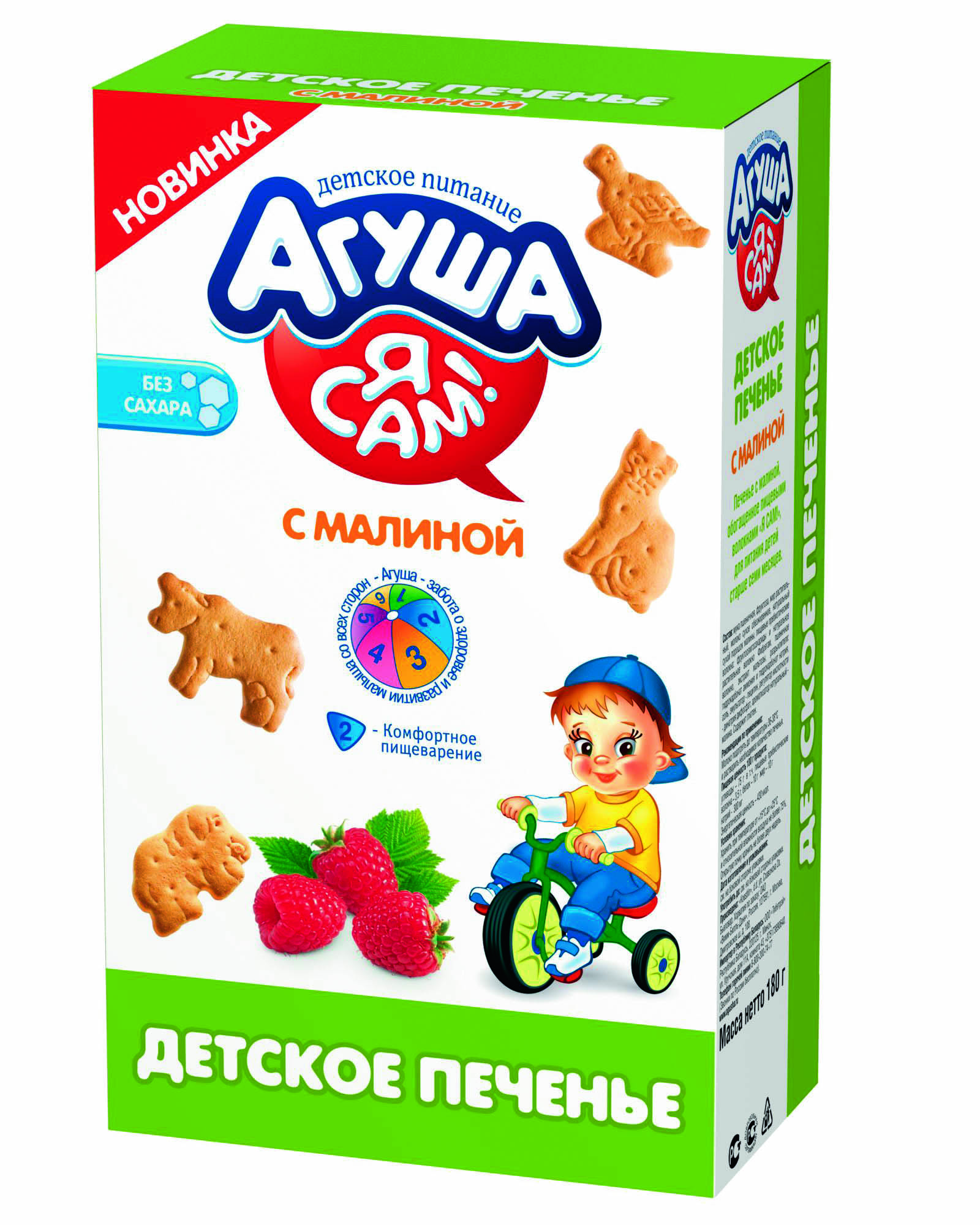 Wimm-Bill-Dann, From 7 months
Ingredients – wheat flour, skimmed milk powder, prebiotic fibers, salt.
Includes maltose extract, leavening agents – ammonium bicarbonate and sodium bicarbonate.
Emulsifier – lecithin, acidity regulator – sodium diphosphate.
Contains natural fruit and berry powders, fruit sugar.
Without sugar, starch and egg powder.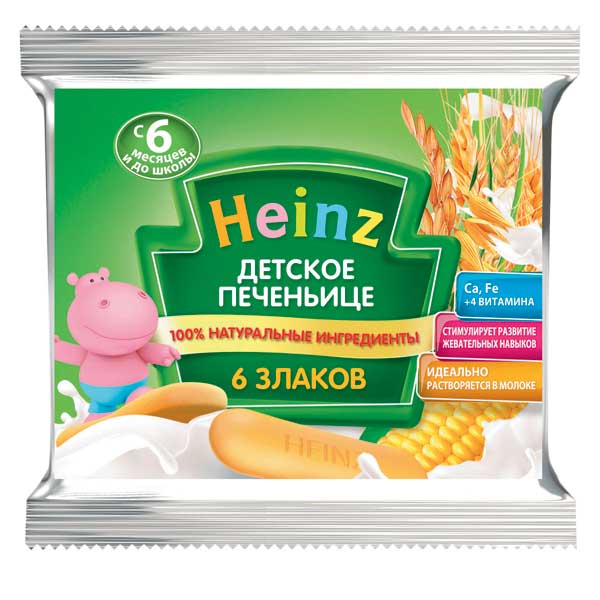 Heinz, From 6 months
Ingredients – wheat, corn, oat, barley, rye and rice flour, barley malt, sugar.
Palm oil, ammonium and sodium bicarbonates, disodium diphosphate.
Includes calcium carbonate, sodium chloride, ferrous fumarate and vitamins (B1, B2, B6, PP).
Natural flavors, vanillin.
May contain milk and soy.
Without GMO.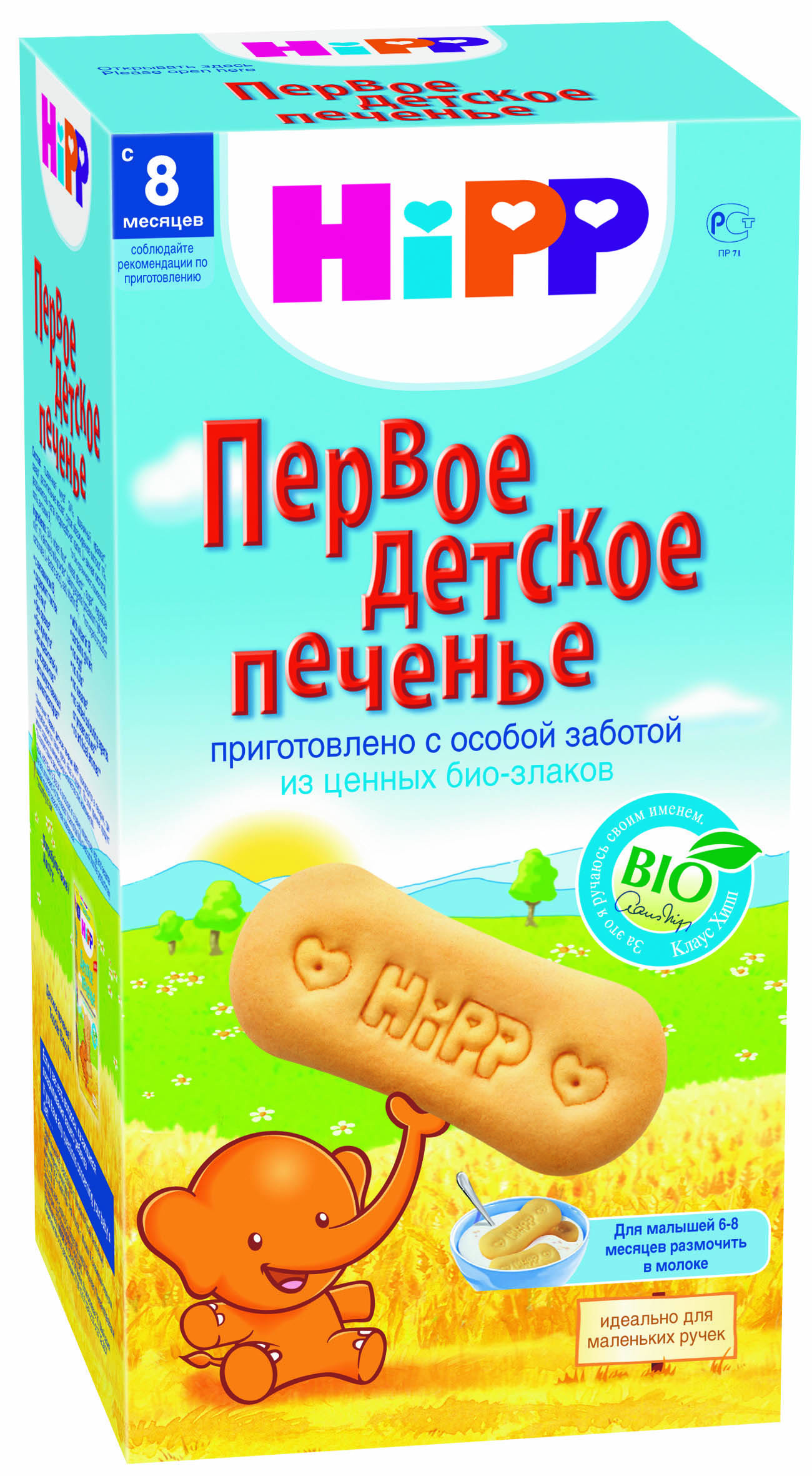 HipP, From 8 months
Ingredients – wheat flour, skimmed milk powder, wheat starch, sugar.
Vegetable oils, baking powder, vanilla extract, vitamin B1.
May contain traces of nuts, eggs and sesame.
Without dyes, preservatives and flavors.