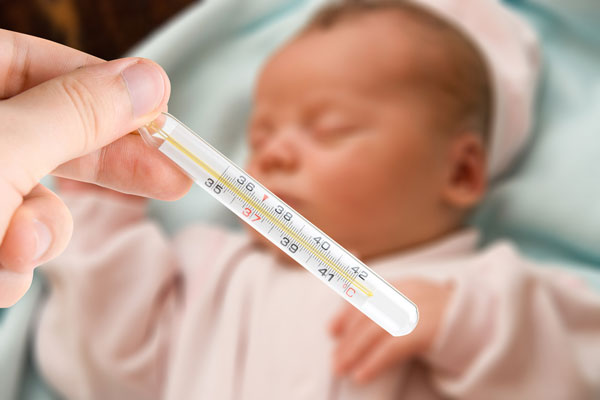 If mother and baby are healthy and the baby is breastfed, by the 1st year of life, he is by definition not sick. With mother's milk, the baby receives immunoglobulin A, which destroys viruses, bacteria, and toxic substances.
In addition, if the mother had measles, scarlet fever, diphtheria, chicken pox and other infectious diseases before the pregnancy, or was vaccinated from them, then immunoglobulins circulate in her body. The baby gets them through the placenta, and for 6–12 months after birth, they protect it from the above diseases.
Most often infants suffer from acute respiratory viral infections, because the cell wall of these viruses is almost identical in their protein composition to the epithelium of the respiratory tract. The immune cells of babies do not recognize them, and therefore can not neutralize.
Because of SARS, the baby may gain weight less and later start to sit, stand, walk, but in general they do not seriously harm the development of the baby. For children who regularly become infected with acute respiratory viruses, doctors recommend vaccinating and tempering the body.
Children who have undergone 5–6 acute respiratory viral infections in the first year of life fall into the category of frequent ills. But you need to be alert after the 2nd time (only a single infection is allowed during the epidemic). If the baby is breastfeeding, it is likely that latent or undetected infections in the mother, such as chlamydia, toxoplasmosis, hepatitis, and herpes, have most likely led to reinfection.
In this case, she needs to see a doctor and get tested.
Premature babies and toddlers who have undergone hypoxia (oxygen deprivation) or intrauterine infections that are transmitted from mother to child (for example, toxoplasmosis or chlamydia) are also at risk. Artificial children do not receive immunoglobulin A, therefore they are also more prone to respiratory diseases.
SARS in infants is often complicated by pneumonia, so it is important to notice the very first harmless symptoms.
In babies in the first year of life, because of the immaturity of the immune system, respiratory diseases first go on sluggishly, without fever and cough. The appetite is getting worse, the child is naughty, the runny nose prevents him from breathing through his nose. Such symptoms, as a rule, do not cause anxiety in parents.
However, after a while the temperature rises sharply, the voice sets, the breath becomes noisy, a strong cough opens. At the same time, the nasopharynx, the larynx, the trachea, the bronchi and even the lungs can be affected, and therefore, SARS in infants easily develops into pneumonia.
The infection spreads so rapidly that the bill literally goes on the clock, so the doctor must be called at the first warning signs.