It has long been proven that one of the serious causes of weight gain is lack of sleep and high levels of stress. Completely get rid of the stress in the New Year holidays you are unlikely to succeed.
But, getting enough sleep or at least regularly cutting out a couple of hours to rest for your soul, you will significantly reduce the risk of overeating.
What exactly you should not do during the holidays is to try to compensate for the abundant evening feasts with daily starvation. The best solution would be a moderate diet without overeating throughout the day. The main thing – do not bring yourself to a hungry state in the evening.
The variety and availability of food during the feast can overwhelm even the strongest desire to limit yourself and keep the figure. As a result, you are likely to eat more than planned, but the calories obtained in the process of food processing in the evening will be burned more slowly and deposited in the form of body fat.
Chewing gum easily solves the perennial problem of constant snacking during preparations. It is unlikely that you would like to send a spoonful of Olivier, an appetizing crust or a slice of cheese into his mouth when he is already busy with chewing gum.
And do not think that it does not matter, scientists have calculated that the volume of such snacks on average is more than 300 kcal. Chewing gum can be easily replaced with slices of fresh vegetables, for example, carrot sticks or celery.
The main thing – that they were always at your fingertips.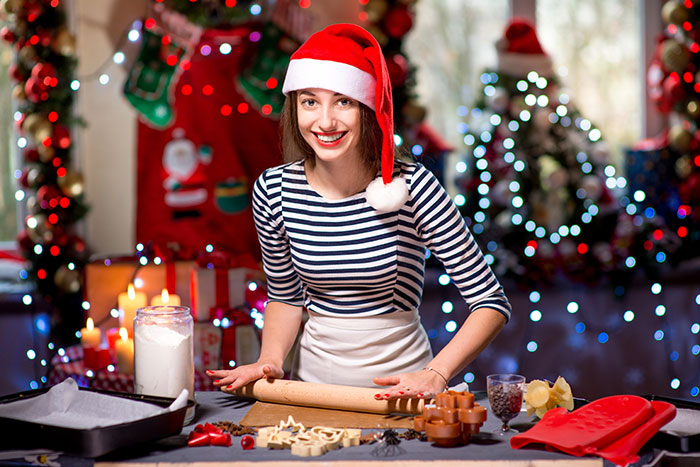 During the feast take the place as far as possible from the main courses and the most inconvenient for those who serve guests at the table. If you do not succeed, use any opportunity to move: call to bring a kettle, help the hostess to remove the table, etc. If you find yourself at the reception, just try to stay away from the tables and racks with food.
Take a walk, concentrate on communication.
If a buffet is served in front of you and your head is spinning on the number of dishes, immediately pick out a few of the most delicious dishes that you want to try more than others. Do not try to eat everything all at once, focus on what you have chosen and try to get maximum pleasure.
Eat slowly, chewing thoroughly, and enjoy the fullness of taste.
If during one holiday you need to pay a visit to several relatives or friends, and you know that a laid table will be waiting for you in each house, you should remember in advance the house specialty of each hostess. In the New Year, she will cook it for sure.
The eternal potatoes and olivie will not disappear from you, but the branded aspic is a sin to miss.
Nuts – an extremely dangerous product for those who are trying to follow the figure. They are extremely high in calories: for example, hazelnuts contain about 620 kcal, in cashews – 550 kcal, which is more than in a regular bar of milk chocolate.
At the festive table to keep track of how many nuts you have eaten and whether it is time to stop, it will become an overwhelming task, therefore it is easier to set yourself the task of not eating nuts in advance. Yes, and it is not necessary to dwell on nuts during the holidays, because the tables are full of dishes, which next time, perhaps, you will have to try only the next holiday.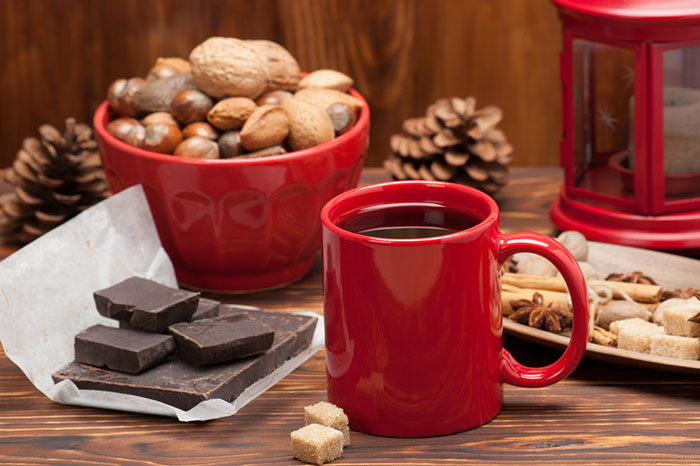 This universal advice for all who try to monitor their health and figure, becomes the immutable rule in the New Year holidays. Water and unsweetened drinks are a sure way to limit the amount of food eaten.
Make it a rule to drink a glass of warm water half an hour before the feast. So, you will blunt the feeling of hunger and help the body to start the digestive processes. During the feast, organize yourself a separate glass, in addition to a glass for alcohol or juice, which will be water.
Make sure that it does not end there, and try to keep the glass in your hands more often. If you drink red wine, feel free to dilute it with water. Alcohol dehydrates the body, besides it is calorie.
Diluting it with water or alternating drinks, you will bring significant benefits to your body.
Always leave some food on your plate. An empty plate on a festive table becomes a red rag for any hostess.
You must try to put another spoonful of Russian salad, and when you eat it, another portion of herring under a fur coat, and so on to infinity.
While others say – you eat. Moreover, while your interlocutor tells you another news, you, trying to maintain eye contact with him, pay little attention to what and how much you eat.
The same thing happens when New Year's feasts are held in front of the TV. Keep this in mind and try to be as involved in the conversation as possible.
If you are invited to help the main organizer of the feast, feel free to bring fresh notes to the holiday menu. Instead of confectionery and dishes full of cheeses and sausages, ensure that plates with chopped vegetables and fruits are always present on the dining table.
Particular attention should be paid to vegetables. They are very rich in fiber, thereby contributing to the rapid emergence of a feeling of satiety and at the same time fill the body with fluid, which is so necessary when eating large amounts of fatty, salty, dry foods and alcohol.
Habitual snacks can be diversified with various "healthy" canapes, desserts that combine fruits and berries with low-fat yogurts and creams based on them.