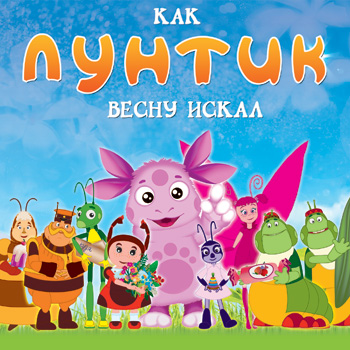 The long-awaited continuation of the stories about a small unusual creature that came to us from the moon and who calls himself the lunar bee fully corresponds to the occurring natural phenomena. The fact is that in the new performance Luntik is sent to look for spring.
After all, he absolutely does not know anything about her, naively believing that spring is a bee that breathes in drifts to melt the snow.
By tradition, the story of Luntik is informative and instructive. For example, children will learn how to navigate in the forest and how to use a compass.
How can you get pleasure from work, and how it turns out to be nice to help others. Well, and in the interactive part, not a single performance can do without it, young viewers have to think carefully and help Luntik. It is worth adding that the authors of the performance, focusing primarily on children, have not forgotten adults either.
A sensitive viewer who is able to appreciate subtle humor will surely catch the words addressed to him and the reprises written especially for him.
"The Adventures of Luntik and His Friends" – a good educational animated series for children from 0 to 6 years. It is created at the Mill animation studio with the assistance of child psychologists and teachers. Each episode is a small lesson.
Together with Luntik, children learn the world, learn to distinguish between good and evil. The image of Luntik, a kindly, naive, inquisitive creature, is especially close to young children. As conceived by the creators, each series affects a moral value.
The performance promises to be very interesting – all the costumes and scenery are made according to the author's sketches in full agreement with the television series. All voices in the performance are voiced by the actors of the series.