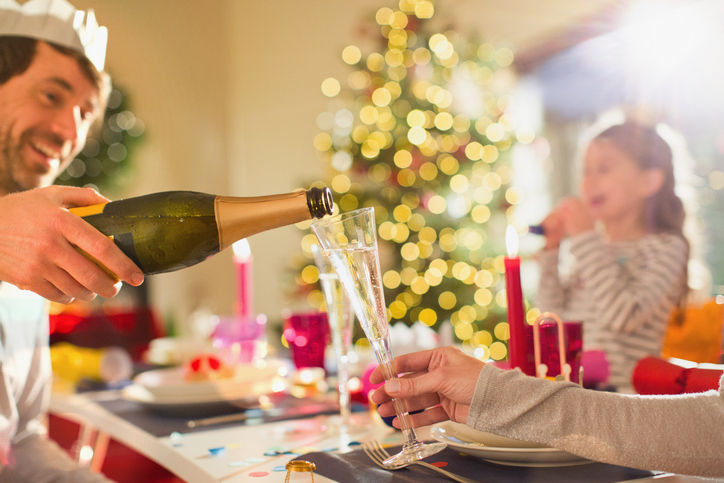 There is always a reason to uncork a bottle of champagne. In addition to calendar and national holidays, many of us celebrate birthdays with important libations, important milestones of family life, major purchases, as well as major achievements and offensive mistakes. Only now we are doing "this" with witnesses, because our offspring is constantly watching us.
On this basis, responsible parents have vague fears and even a feeling of shame, because everyone knows: children take our example, even when we don't feel like it at all. The situation is aggravated if there are alcoholics in the family or alcohol is abused by someone from close relatives. In this case, many mothers have thoughts: "What if the child also becomes an alcoholic?".
Relations with alcoholic drinks in adults are in fact very difficult, and indeed, children are able to adopt and even inherit it.
We usually drink alcohol on two bases: either because we support a certain sociocultural tradition, or to relax and relieve stress. Although very often these two pretexts merge into one, in terms of influence on children, the first option is always preferable. When there will be a holiday or a family celebration, it is always known in advance.
This is not a spontaneous, but a well-predictable event with a more or less familiar scenario. Children have an idea of ​​what will be on the table, how the holiday will take place, what condition the adults will get and how they will behave.
Even if the baby's voice is not taken into account, they read our planning strategies at an unconscious level. You are discussing the menu, including drinks, including alcohol.
And you stipulate their quantity and budget, which they are ready to spend on gastronomic pleasures. And yet, during a lively discussion, you probably remember the past holidays and their consequences, especially if the last time someone from the adults exceeded the norm and surprised everyone.
All this children listen and absorb. And that's fine!
So implicitly, they adopt a healthy example of how to plan holidays, control the sense of proportion and anticipate a pleasant event. After all, the holiday needs to be waited, it is necessary to prepare for it, and the pleasure to be postponed a bit.
Not at all the case when dad suddenly comes home from work in a foul mood, empties a half bottle in one gulp and arranges a scandal for mom, will you agree? If someone from close relatives is subject to alcohol addiction, for example, a father, grandfather or grandmother of a child, there can be only one advice: if there is such a problem, it is necessary to solve it.
Experts know that it is useless to hide bottles and expel drunk person. You can only talk with him clearly, with short phrases asking you to go to bed, move away from the child, talk more quietly.
If the husband starts to behave aggressively, your task is to ensure the safety of yourself and the child. It is clear that in a critical situation it is necessary to leave the apartment and spend the night with friends. You should talk about alcoholism and your negative emotions with your husband only when he is in a sober state and in no case is he with a child.
And for yourself you have to understand whether the spouse is aware of the problem and is he ready to solve it? If not, ask yourself: do you want to live with an alcoholic who will ruin the life of not only you, but also your children?
If alcohol appears on the table not only on holidays, but also at each friendly meeting or is an indispensable attribute of each dinner, the picture also turns out to be gloomy. It is important to understand how and in what direction the behavior of parents and their friends changes and what happens in the process and the final improvised feast. Is it a slight euphoria and fun atmosphere, or is it a terrible and dangerous element that becomes unmanageable?
Joy that ends quite well, or joy that turns into tears and gives rise to a sense of unpredictability and danger of the world around us. And what memories of an alcoholic party remain: pleasant, which are discussed in a family with humor, or bitter, when a child becomes a witness to scandals or despair of mother, her shame and helplessness?
Only you can answer these questions, and we will show you what conclusions children make in the most adverse circumstances.
There is only one way to relieve stress, and that is alcohol.
You can only ask for support if you took alcohol.
Only if dad drinks alcohol, he becomes cheerful, plays with me with pleasure, life becomes much more fun and better.
Parents discuss important issues with each other only if there is alcohol.
If mom or dad drinks alcohol, then they do not play with me, do not notice me, and I lose the pleasure
If they drink alcohol, the world becomes unpredictable.
If there is alcohol, then I do not need
If there is alcohol, then parents become overwhelming, invading my world, dangerous
A child can draw similar conclusions if one of the parents or at once mom and dad use alcohol on a regular basis, "to relax" or "relieve stress after a hard day's work". Of course, alcoholic beverages can solve both of these problems, the only question is whether adults use other methods of dealing with stress.
If they are not, it is worth considering. Alcohol use as a "sedative" reflects persistent family patterns — sustainable responses to specific situations. It is known that at the age of 3 years, children begin to identify with the parent of the same sex, as a rule.
And they adopt these habits and coping strategies, that is, conscious ways to cope with the stress that this very parent practices. We all know that children tend to remember everything they see, and when the opportunity arises, copy the actions of adults. So family scenarios are indeed inherited.
In addition, the alcoholism of one of the parents implies the existence of code addiction among all other family members. And if mom, for example, had an alcoholic dad, then having gone through all this hell and failed to cope with her childhood experiences about this, she can provoke the development of alcohol addictions in their own child. The contradictory attitude of parents to alcohol is also transmitted to children.
And any contradiction is alarming, stress, stress. And how to shoot them, the child again learns from their parents.