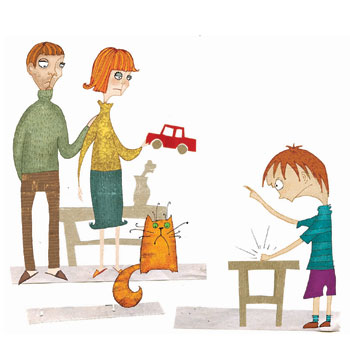 "Once, on a walk, I did not allow Vadik (1 year 8 months) to take off his shoes and run barefoot, like in summer, on the sand. The sand was quite cold, and I, naturally, was afraid that he would catch a cold.
I began to explain that you could get sick, but Vadik did not succumb to persuasion. He started pushing me with his hands, crying and shouting "Mama biaka!", Says Natalia. "What should I do in such situations, do I need to react somehow?"
Well, the crumbs really happen very disappointing. Children, and many adults, can not disguise their emotions – they say everything as it is, what they currently have in mind.
The kid may not be allowed to play with the cherished cell phone or not be allowed to stick a stick in the socket, do not buy a racing car with a remote control. Harsh words addressed to mom in this case are the same manifestation of emotions as silence, throwing toys or slamming the door. As a rule, this reason may induce the child to offend the mother, even when he is under two years old.
If the baby cannot yet speak the words, he will replace them with his fist. Up to two years, a small researcher only gropes for the boundaries of behavior, tries what he can and does not, shows the accumulated aggression.
In many ways, children just watch how parents react to their actions. And if at an early age to stop the blows, spitting, bites, harsh words, then problems will not arise in the future. Do not pay any attention can not.
To pretend that the crumb is small and does not know what it says is easy, but very dangerous. Ignoring the behavior of the child, believing that he is thus seeking your attention, is also wrong!
Indifference build a thick wall in your relationship and exacerbate the situation.
But it is not necessary to "give the child surrender," scold him and punish him. If you slap him in a fit of anger, he will only be convinced of the correctness of his statement.
Explain to the child that you can't talk to your mother like that, calm him down, make sure that the words "mother byaka!" Change to a phrase meaning that the crumb is upset and offended. Do not just pull the baby down: "You can't say that", but give examples of how he can say differently to express and explain his negative feelings and emotions. Sit down, go down one level with the child, look into his eyes, pull him close if he allows.
Tell the baby that he was upset: "I understand that you really want to run barefoot, but it's cold now. I love you and do not want you to get sick! "Repeat these words several times and keep calm.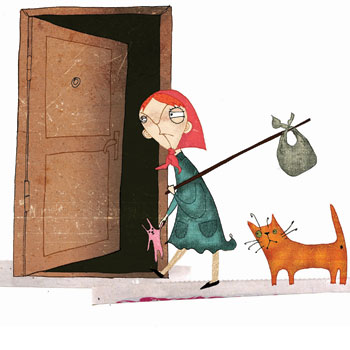 "My mother-in-law always teaches me how I should raise my child! It makes me angry, I'm a mom, and I know better what to do and how! – Elena tells. – But I have a question. When she once again came to our home, Dasha (2 years and 8 months), instead of "hello," told her to leave and not teach us how to live!
Grandmother was offended and left. Does the child really understand that she is wrong? How to explain to my daughter that she did not speak like that to adults? "
For three years, one more is added to the first cause. Psychologists call it "joining a support group."
The child calls or beats the person (and this is most often not the mother, but another adult) who conflicts with the family, for example, with the same mother. He hears what you say in the kitchen to your husband or girlfriend, he understands what you are talking about, how you speak about this person, and takes your side. Do not think that he guessed that grandmother makes too many comments on his upbringing.
No, he only expresses the opinion of the parents! The child is still small, to understand all the intricacies of the conflict and maintain neutrality.
Even if the mother is happy with such support of the child – it is not for long. Allowing yourself to snap at the elders, the baby will not forget to offend her, only a little later.
It is necessary to try as quickly as possible to deal with their adult problems, but for now do not make the child a participant. If you just forbid being rude to your grandmother, and in your heart you will not be happy with child support.
"My 3-year-old son does not tolerate comments," complains Inna. – I said that if he does not throw a stick with which he runs after other kids, I will take him home. He did not obey, and when I got ready to leave, I began to scream and call me names.
I stayed – he calmed down. And I involuntarily thought: "In the end, I would run with a stick, why did I forbid him!"
A common cause of aggression towards parents is the desire to demonstrate their offense, to influence a mom or dad, to inform parents that they are wrong. He plays the role of the offended – "sulking" for the whole world! And it does not calculate the possibility through offensive words to get what I wanted.
But with our help, he quickly understands how and when to act. "You are bad, I do not want to live with you!" – and the crumb suddenly gets what he wanted. A bewildered mother is ready to fulfill the wish of the child – to remain bad is not so pleasant.
At the age of 3, the pussy skillfully uses our weaknesses, and in the future it is only improved in this art. One of the biggest mistakes in the upbringing is to allow the child something that was forbidden, so that he would not think that you do not love him.
Observe the rule clearly: if you say you will punish, punish if you are punished, do not cancel your punishment, especially if the child begins to achieve this by shouting or swearing at you. Think over the ways of punishment well: if you know that you will not leave the walk anyway, because the child needs fresh air and you do not want to return to a stuffy apartment, do not threaten to go home!
Break stereotypes, make sure that the child understands: mom's word will not change from his screams!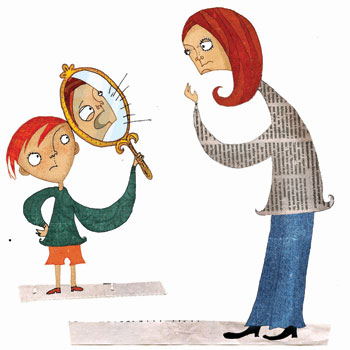 "I didn't buy Alice (2 years 9 months) a toy in the store. And she told me that I was bad, that she no longer wanted to be friends with me, would not talk, love – and that was the end! – Evgenia is indignant.
Have you ever thought that a baby can simply repeat the phrases that are used against him? When you are dissatisfied with the behavior of the baby, try to call bad not him, but the action or deed he committed.
There is, for example, a big difference between the phrases "You are bad! Why did you hit the boy? "And" To fight very badly! "
In addition, never tell your child that you do not love him or can stop loving him. Mother's love for the baby should always be unchanged, constant, it should be the basis of the life of the little man – do not ruin him in any case, the consequences will make themselves felt for many more years.
And in order not to hear insulting phrases in your address, do not tell them to the baby – he is simply copying you!
Never threaten not being able to do it: the baby will not take your words seriously.
If the child says that he does not love you, do not answer: "If so, go look for another, good mother!" In some situations, the child is ready to really go and not search for another mother! The cruelty of parents: baseless constant reproaches and punishments, beating, neglecting a child, throwing out his favorite toys in anger – gives him the right to say what he really believes.
If the mother is constantly annoyed, shouts at the baby, does not participate in his life, then the phrases that the child can cry out with resentment will be the true truth.
Love your child in words, tender touches, appreciate and cherish them! You see, there is nothing more pleasant than hearing: "Mom, I love you so much!"