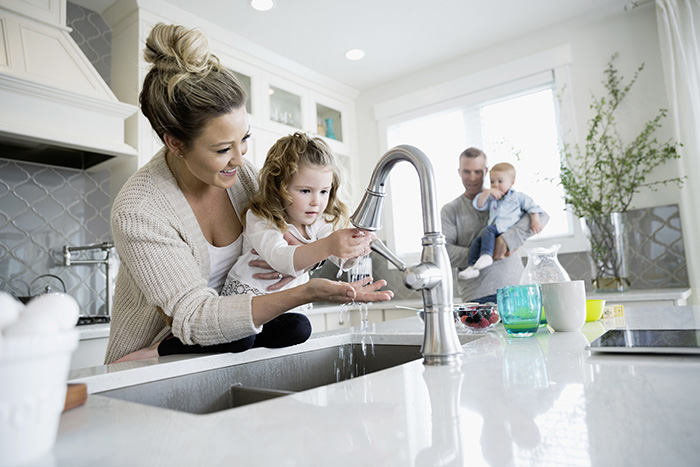 In pursuit of cleanliness, young parents sometimes go too far: they wipe furniture and door handles with antiseptics, endlessly sterilize children's dishes, disinfect kid's toys and declare a serious war to every speck of dust. But the child knows the world not only with his eyes. He gets acquainted with the world around him, trying to taste the thing that interested him, that is, by pushing it into his mouth, and to the touch, by direct contact.
Due to this, the immune system is also trained at the same time, because in order to protect its "host" from bacteria and viruses, it must know the enemy by sight and study as many varieties of microorganisms as possible.
This is confirmed by numerous studies of Russian and Western scientists. It turned out that the three-year allergy sufferers and asthmatics most often live in families where the guidance of cleanliness has been elevated to the absolute. But children without manifestations of allergy and bronchial asthma grow, as a rule, in apartments, where, if desired, you can find a lot of allergens and representatives of various microorganisms.
From here a conclusion: careful cleaning allows only to prevent attacks and an aggravation of an allergy, but does not relieve from it.
Instead of disinfecting everything in a row, simply wipe off the dust, clean the floors and other surfaces as they get dirty, and often wash the bedding, cover the sofas, armchairs, curtains and curtains, as well as your pet bedding.
Frequent airing will help to keep the home atmosphere clean: at least 5 times a day for 10 minutes and 1-2 "global" while you are walking with your baby. You can buy a humidifier. But here it is necessary to take into account that in case of excessive humidity mold fungi grow and multiply, especially in the bathroom.
Therefore pay attention to the interlayer stitches and toys with which the child bathes. In order to remove the dark patina from the tiles and seams (this is the notorious mold), it does not interfere with the scraper on the tile from time to time, and the bath toys regularly update and dry after each swim.
Ideally – on the balcony, in the sun or covered with a fabric battery. The fungus actively multiplies in warmth and dampness, but is afraid of cold, sunlight and intense heat.
Do not get involved in household chemicals. It is better to clean the floors and wipe the dust with napkins or rags soaked in ordinary water.
As they become dirty or smell unpleasant, they need to be changed. Rags made of synthetic fabrics are quite suitable.
But treat impregnations with caution: we will never be able to find out exactly what substances are used as such. Landmark one: unacceptable sharp and unpleasant smell.
If we can not do only with water, it is better to apply the detergent on the contaminated surface and then wash it off. Choosing household chemicals, pay attention to such labels as "eco", "bio", "organic" or "without synthetic fragrances and dyes".
As for the vacuum cleaner, experts recommend the use of detergent units, which combine dry and wet cleaning. It is convenient and saves time. In addition, dry filters (in conventional vacuum cleaners) even more concentrate and even ionize dust particles, which is why they do not linger in the filter, but pass through it and get into the air again.
If the filter is water, the dust particles are deposited in the water.