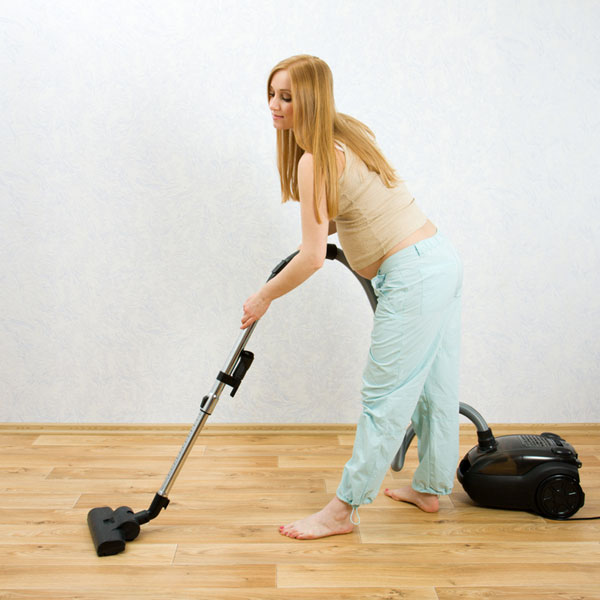 First you need to sit on a stool or fitball and set the ironing board at a suitable height – depending on the size of the abdomen. Check whether you are sitting correctly: ideally, your knees should be bent at an angle of 90 degrees, legs wide apart, back straight, shoulders lowered.
This situation "opens up" the pelvis, relieves tension from the hip joints and does not prevent blood flow from the legs to the heart, which will help prevent varicose veins.
Rubbing dust, hanging curtains or laying out clothes on the shelves, you must go to bed every 15−20 minutes, raising your legs above your head to restore blood flow from the feet to the heart.
The presence of a vacuum cleaner in the hands suggests an extremely uncomfortable posture: the shoulders are lowered, the back is ssutulen, the chest is squeezed, the hands work asymmetrically: one is involved, the other is not. To "unload" the spine, try to vacuum as much as possible with a straight back. After completing 10 movements, change the leading arm and leg to the opposite.
Every 15 minutes, turn off the vacuum cleaner and take a horizontal position to relax your back.
If you have to spend a lot of time at the stove, take out a low stool and put on it one or the other leg at intervals of 20 minutes. This technique will relax the lumbar spine and hip joints.
In addition, different angles of inclination "unload" the muscles of the perineum, which makes them more flexible (it will be easier for the baby to walk along them).
During pregnancy, comfortable at first glance floor cleaning brushes can do us a disservice. Using a mop, we have to tilt the torso in one direction all the time.
The load is distributed asymmetrically, causing excessive tension in the lower back and worsening the work of the kidneys. Paradoxically, but during pregnancy the best option is to wash the floor with your hands.
For this you need to kneel down, spread them wider and stretch your arms forward. In this position, all parts of the spine are perfectly unloaded and the pectoral muscles and shoulders become stronger, which will play a good service at the time when you have to carry the baby in your arms.