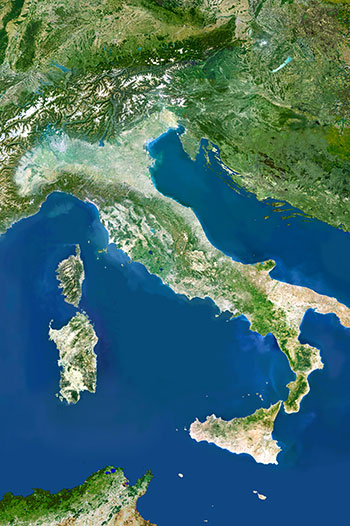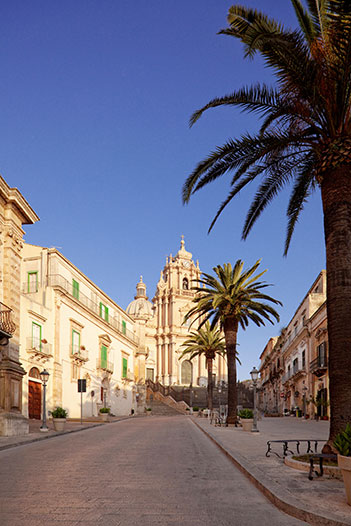 What do you associate Sicily with? Well, of course.
However, Corleone here, imagine, also exists and even thrives. But this is not a don at all, but a town in the south of the region.
So what about the once famous Sicilian mafia, sung by Coppola, only the veil of romance resembles here, soaring everywhere. The sea, the beaches, the sights, the gastronomy and, of course, the people – this is what those who are fortunate enough to be in this land now remember with a kind word.
Russian tourists are well acquainted with Sicily, but its south has so far been little mastered by them. And in vain.
Lush vegetation along the entire coast, long beaches, then sand, then abruptly alternating with rocky and completely wild. Olive groves, mountainous terrain, great for walking.
And yet – a lot of small medieval towns and authentic villages. The season opens here early, from the beginning of May until November you can have a great time with the whole family, especially since the local beaches are great for families with children: the slope is rather flat, the sea is clean.
Places to visit in the south of the region so much that it is necessary to choose in advance and stop at something, so as not to spend your vacation just on trips. The closest to the place that will be discussed further is a UNESCO monument, the city of Ragusa, the city of Santa Croce Camerina and Agrigento, and certainly the archaeological park of Cava d'Ispica.
Without a doubt, in order to feel Sicily, it is best to live in one of its towns. But so that with all the amenities, with entertainment and so that the sea is near, and restaurants, and children have fun, and that they are supervised, if that. Yes, and sport, of course – when else, if not on vacation, do they have to do it.
Well, and at least a little extrama – Sicily, after all. There are places where all this together and immediately?
There is!
If you've heard or are even familiar with Club Med, then the mere fact that the hotel complex, the Club Med Kamarina resort, is part of its network is a great recommendation. For others, it's worth explaining: Club Med is one of Europe's largest tour operators and the world leader in premium all-inclusive leisure, a French resort town network spread all over the world.
Club Med Kamarina – resort, more precisely – the whole town with the main European building and authentic bungalows, with pools, restaurants, two beaches in southern Sicily, one and a half hours from Catania airport. The road does not seem long because of the magnificent landscapes that open outside the bus window, and the meeting at the hotel is more than compensating for fatigue. Of course, guests are greeted with applause and sincere smiles!
The place is incredibly picturesque, with a long history. Ancient ancient Greek temples, fragrant orange gardens, eucalyptus groves and the hot Italian sun create an indescribable atmosphere that makes the rest here quite special. The nature here is preserved almost in the maximum immunity, for example, at night rabbits run around the territory.
And what are the sunsets here. Around the resort town there is a huge shady park, which is so nice to walk on a hot day. True, it will be difficult to bypass it regularly – the whole territory occupies as much as 96 hectares.
And all this for the time of rest belongs to you! Despite the fact that the hotel complex is quite crowded, you will not notice crowds of tourists there: they are evenly distributed throughout the village and the beach.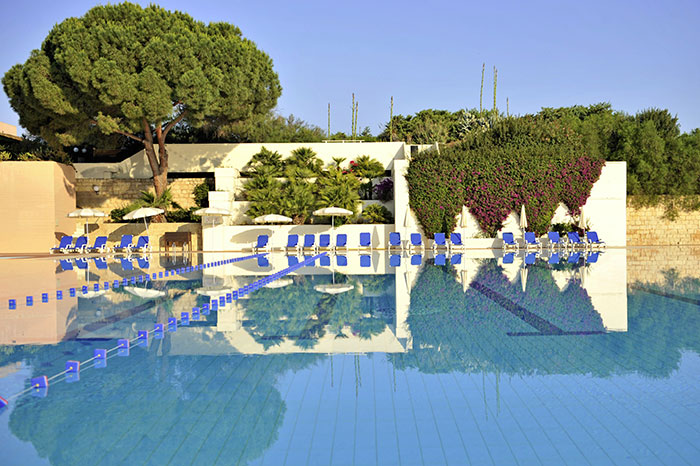 Stroll through the streets of the village, entwined with purple bouggenvileey, you can dive into one of three pools located in the middle of a flowering garden, or go to restaurants, in which the system "all inclusive" you can eat, almost without interruption. So what? Club Med Kamarina has so many opportunities to go in for sports (except, in fact, swimming in the sea and in the pools), that you can stay in shape without even refusing yourself to eat.
And the service here is built in such a thoughtful way that, even arriving at the resort with children of different ages, the rest will be a full-fledged one for each family member.
In order for parents to be calm, their children should be fine. This truth is well known in Club Med. That is why there are also babysitters, which can be hired individually, and a kids club for the youngest – such is practically a kindergarten with tutors and a club for older children.
Moreover, the animators at Club Med Kamarina are really true professionals who speak several languages ​​- even the most squeezed kids, having been in the company once, are rushing there again. Children's club opening hours (weekends only on Sunday) allow parents to have fun all day long, play sports and just relax on the beach without worrying about anything.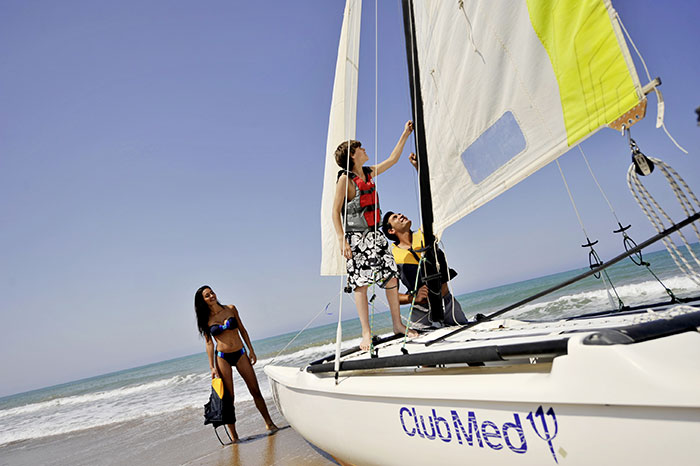 By the way, there are two beaches here. One – for a relaxed beach holiday, a few meters from the pool, with white sand and emerald blue water, with an abundance of sun beds and umbrellas.
On the beach there is a large restaurant where you can eat at any time and relax in the shade. The second beach for those who are not indifferent to the sport. Have you and your children ever sailed?
Here you will learn this! Can't play tennis? Want to shoot a bow?
Ride on catamarans, on kayaks? You are welcome!
And for sports activities, Club Med Kamarina has developed various programs for both children of different ages and adults. The sports program for everyone starts from 9 am and continues until 11 am, and from 15.30 to 18.
You can walk, for example, stretching or gymnastics, or on the body pump – a program that is the same for the whole world.
But do not think that sport is only for adult guests or grown-up children. For the smallest – from 2 to 3 years old the sports program includes gymnastics, football and even tennis (from 3 years old)!
For older guys – tennis, archery (from 6 years), sailing … And what about extreme sports? Should there be something in this paradise of tranquility, pleasantly tickling nerves, both for adults and for children?
Yes, even in Club Med Kamarina you can fly. And rarely does anyone miss the opportunity to fly on the local famous trapezoid, flying high up in the sky under the sky of Sicily.