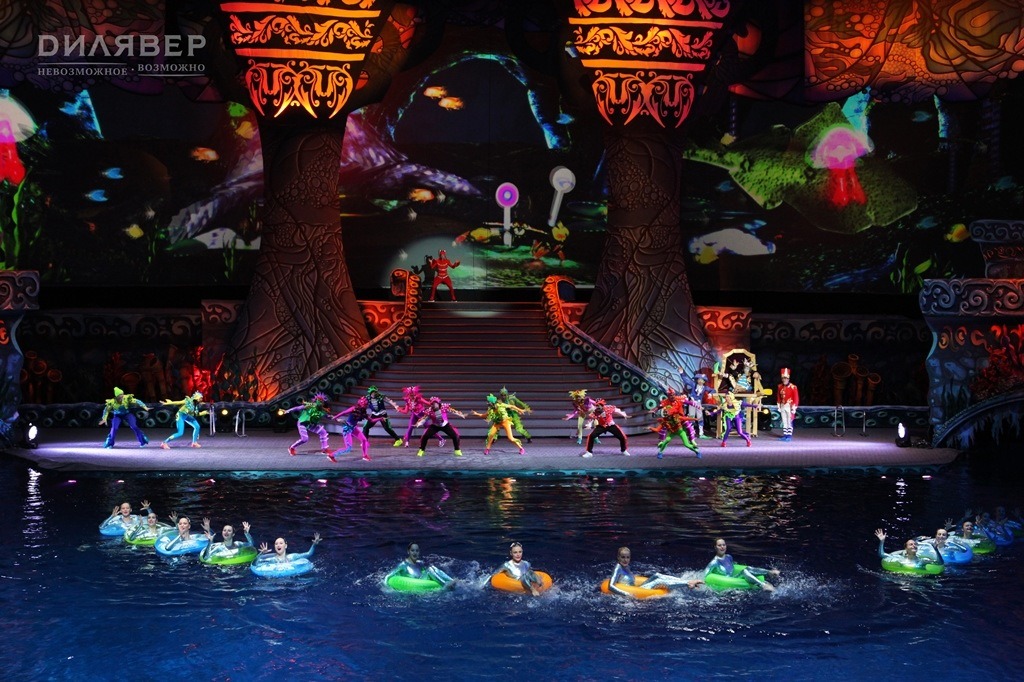 The show on the water "Pirates of the Underground Sea!" From the production center "Dilyaver" is a fairy tale about love, kindness, mutual help and courage, combining all possible genres.
The program is full of chases, bouts, stunts, dances, clowning and breathtaking performances of world-class synchronized swimming masters. Athletes and artists will demonstrate to young viewers unprecedented human capabilities, destroying the myths that people cannot fly like birds and swim like fish!
The scenery for the show is built for both the aquatic, terrestrial, and aerial parts of the performance and allows the viewer to watch the whole action at the same time.
The plot will appeal to both boys and girls. It will also intrigue parents …
The captain of the pirate ship Bandadel decided on an insidious crime, he wants to kidnap the little mermaid Penomorochku, granddaughter of the supreme ruler of the undersea depths of the High Sea! But he is defeated in a fair fight with the brave captain Morebay, the leader of the powerful "Sea Lions".
And now the treacherous Bidzhedela is eager for revenge!
45 minutes before the start of the performance of your children, an exciting entertainment program with the participation of professional artists, a costume performance with round dances, competitions, songs and dances awaits! In the foyer of children will be waiting for the festive Christmas tree.
New Year's shows are held from December 22, 2017 to January 8, 2018 at 10:30; 13:30; 2:30 pm; 19:30 in SC "Olympic".
More information can be obtained on the official website of the event.