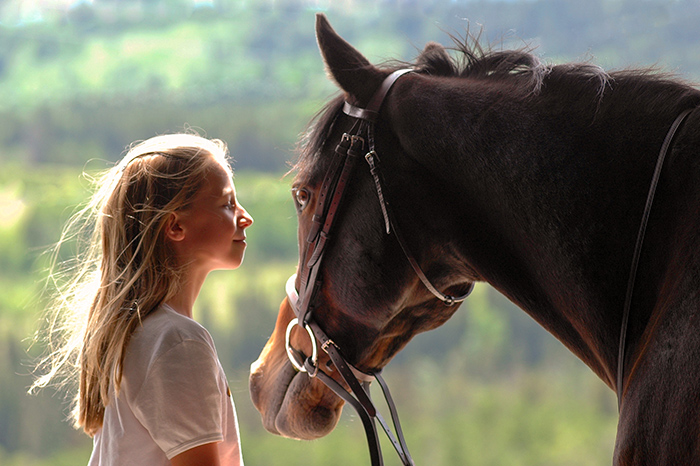 Hippotherapy is a unique method of treatment and rehabilitation with the help of a horse. Within each class, which is held by the instructor-hippotherapist, the child performs a set of exercises designed specifically for him while sitting astride, and the animal is in motion at this time. Gymnastic sticks, balls, rings and other equipment are used in training.
A more complex type of hippotherapy is therapeutic horse riding. Here the rider already controls the horse, executes the commands of the coach and learns the various gaits and schemes.
Hippotherapy is useful for children with various mental or physical developmental disorders. In the list of illnesses that can be corrected by training with a horse, cerebral palsy, multiple sclerosis, inflammatory and degenerative diseases of the nervous system, brain injury, sensory organs (vision and hearing), autism, Down syndrome, neurosis, and even some forms of schizophrenia .
Due to physiological characteristics – for example, a horse's body temperature is on average 1.5 degrees higher than that of a person – exercises have a massaging and warming effect on the muscles of the rider's legs, help to cope with spastic conditions and improve blood circulation. To achieve this effect. training is carried out without a saddle and a saddle pad – the muscles need direct contact.
Children with emotional disabilities with the help of a horse learn to communicate, and with babies with a CNS lesion chained to a wheelchair, thanks to hippotherapy, it is possible to feel how it is to walk. The motor impulses that the horseman transmits to the horse are very similar to those that we ourselves get when walking.
In addition, in one step, the horse makes about 110 different oscillatory movements, and in order to maintain balance in the saddle, the rider is forced to use such muscles, the presence of which he had not even suspected.
Hippotherapy is also used to treat bulimia, anorexia, post-traumatic syndrome.
Despite all the advantages of hippotherapy, there is a list of diseases and peculiarities in which classes with a horse are absolutely contraindicated.
Overwhelming fear of animals;
Acute allergy to an animal, not individually tolerated;
Inflammatory changes;
Spinal instability (permanent spinal bone deformities);
Subluxation of the hip joints;
Cardiovascular failure;
Severe arterial hypertension with hypertensive crises;
Hemophilia;
Acute renal disease;
Chronic diseases in the period of exacerbation;
Epilepsy and epiactivity.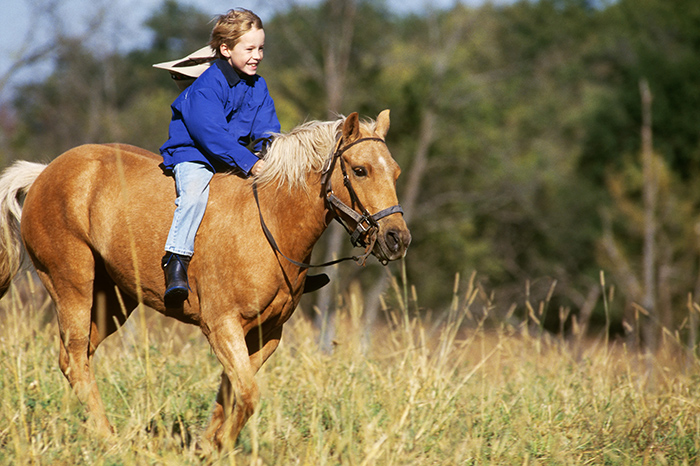 Riding has an impact not only on large groups of muscles, it also stimulates the development of fine motor skills, helps to master complex and precise movements, contributes to a harmonious perception of the surrounding world. For example, children with ASD (autism spectrum disorders) use a horse to learn to find a common language with other people, because it is easier for them to communicate with animals than with an instructor or trainer.
Such kids do not even use verbal communication, they have enough tactile sensations: horse commands can be given a pat. The result of hippotherapy for a child with ASD should be a significant reduction in symptoms and an improvement in mood, moreover, both in the children and in their parents.
While riding, the rider realizes that he can control his horse, and this is already important for those who have problems with self-confidence and work in a team – if you control five centners of live weight, you want it or not, but you feel like a leader. Of the less serious problems that can be corrected with the help of hippotherapy, we can also mention a violation of posture and difficulties with socialization.
One of the main goals of hippotherapy is to get positive emotions. The horse gives the rider a good mood, a powerful surge of energy and helps to improve the overall condition of the body.
You don't have to choose a horse for therapy yourself – the instructor-hippotherapists lead a strict selection at the stage of getting into the stable. From a "technical" point of view, it doesn't matter what breed a horse is, but it's important that it be a mare or a gelding (not a stallion!), It must also be at least 4-5 years old and no higher than 140-150 cm at the withers, so that the instructor during the training is comfortable to support the child.
The main feature of a therapeutic horse is its character. A good temper, a moderate temperament and a calm reaction to a person are what a future four-legged healer must have.
On the arena, the animal will encounter unusual objects and special people, so that before the start of classes, the horse therapist will be waited by a specially-developed intensive training. Only after its successful passage will it be admitted to children.
Not all equestrian clubs have therapeutic horses and, especially, special hippotherapy programs. We recommend that you consider choosing a place to practice carefully, because very much depends on their result, in some cases.
DEC "Live thread", Running avenue, house 22, building 1 (based on the Central Moscow Hippodrome)
KSK "Bitsa", Balaklavsky Avenue, Building 33
RBOO "Moscow equestrian club of disabled people", Moscow region, Khimki, mkrn. "Planernaya", possession 1 (on the basis of the Olympic training and sports center "Planernaya")
Equestrian Club "Lada", the 30th kilometer of the Vyborg highway
RPO Center for Mutual Integration "Accord", p. Levashovo, st. Labor, building 4 (on the basis of KSK "Neva")
Social Rehabilitation Center "Hippotherapy", st. 9th glade
Equestrian Club "Centaur", st. Unions, house 3
Equestrian club "Tandem", st. Driving, house 265
Equestrian club "Capriol", pos. Verkh-Neyvinsky