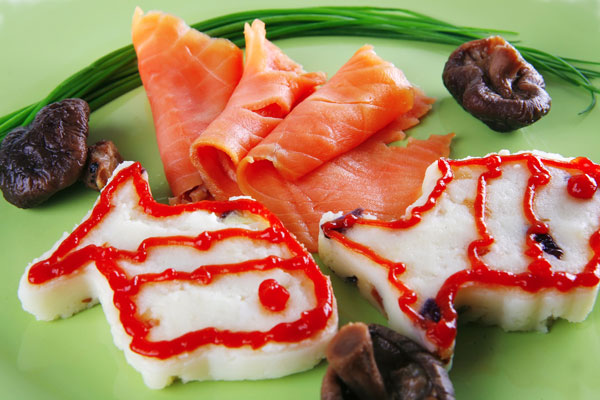 Let's start with the most "childish" product – milk. It supplies the baby with calcium, phosphorus, vitamins A and B2, protein and even a whole hundred of useful substances. And yet, doctors treat milk very carefully, especially when it comes to children under 1 year old.
Due to the abundance of protein and minerals, it is difficult for kids to absorb it, and besides it often causes allergies. In the past 12 months, children should not drink milk at all – it is only allowed to add it to cereals.
Red fish, sturgeon, caviar, seafood. These products contain a lot of easily digestible protein and fats rich in omega-3 fatty acids. And seafood (shrimp, squid, mussels, etc.) is also distinguished by an abundance of mineral substances: iodine, magnesium, calcium, phosphorus. For all that, the opinion that they help babies strengthen their immunity and gain weight is an exaggeration.
Up to 3 years, children generally should not give fatty fish and seafood, and even then it is better not to get involved in them.
The digestive system of the child is sensitive to an excess of fat, and the delicious salmon and sturgeon are absorbed with difficulty. Caviar and salted fish contain too much salt, loading the kidneys and the cardiovascular system.
Seafood often leads to allergies and can irritate the gastrointestinal tract.
Pomegranate has gained special fame among fruits. It is believed that it helps to increase hemoglobin and strengthen the immune system. Undoubtedly, pomegranate is useful: it contains a lot of glucose, fructose, tannin, microelements, vitamins C, PP. But the abundance of acids irritates the stomach, and you can give a child pomegranate juice no earlier than 3 years.
Yes, and to raise hemoglobin using a pomegranate (like any product) is impossible – for this you need iron supplements.
Today more than ever, olive oil has become popular in our kitchens. Is it useful for small children?
The benefits of olive oil are high oleic acid content. But vitamin E and polyunsaturated fatty acids, which are important for the development of the child's nervous and immune systems, are scarce in olive oil.
That is why you should not give him preference in the nutrition of children. Otherwise, the crumb will receive less polyunsaturated fatty acids, which are abundant in other oils – sunflower, corn, soybean, and rapeseed; therefore, it is best to alternate between different species.