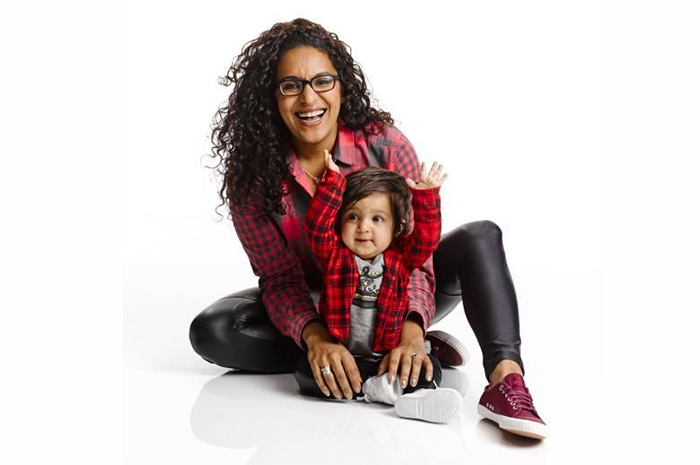 Rakhi Mirchandani lives in the USA, she is the head of the Entertainment and Lifestyle department in the New York Daily News. In 2013, she and her husband Agan became the parents of a little girl. And after 10 months, their lives have changed dramatically.
The baby still looked healthy and mobile child. But it did not matter, because the facts said the opposite: magnetic resonance imaging showed that there is a tumor between the kidney and the aorta, close to Sathya's heart.
The name Satya dreamed of Rakhi in a dream. Translated from Sanskrit, it means "truth."
The second name of the girl by her grandmother is Devi, which translates as "goddess".
Sathya was born a month ahead of schedule – instead of December 17, 2013, she was born on November 17. She was a tiny and incredibly touching girl.
With a weight of only 2 kilograms, she managed not only to get out and get pretty fast, but also to become the subject of admiration of all nurses, because she was born with big eyes and beautiful thick black hair.
It turns out that this is quite a rare case – getting cancer in less than 10 months. According to the data of the American National Cancer Institute of Health, cancer is not so common in children.
According to doctors, in 2014, cancer was diagnosed in 15,780 young Americans under the age of 19, and almost 2,000 children died from it. And although the number of small cancer patients is increasing every year, the loss of even one child is too much.
And for Rakhi, losing Sathya was unthinkable.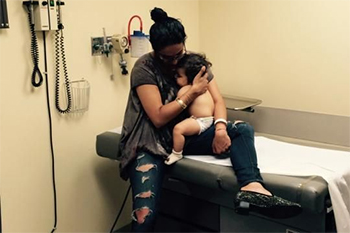 What did Rakhi remember? Like vigorous doctors with plush tiger stethoscopes (so that the kids were not afraid), they went into the room to their parents, who stoically awaited the results of their children's analyzes, and said phrases to them, after which moms and dads rushed off in tears, unable to control themselves.
Rakhi and Satya were lucky, if this word is applicable to such a situation: the doctors assured that after a couple of operations everything will be fine and they have nothing to fear.
However, the atmosphere in the family was hectic. Rakhi was with Sathya in the hospital throughout the summer of 2014. All that long first summer together, which was planned to be spent on the beach in three, sunbathing and enjoying the sun.
Instead – ultrasound, endless tests and a bunch of medical bills. While their friends complained that the children were sitting at the computer, did not want to eat, and were not behaving badly, Rakhi and her husband, Agan, tried to calm their daughter before anesthesia.
While they were in pediatric oncology, and their child was in a semi-unconscious state, frightened to death by bone marrow puncture, for all others, the Earth continued to rotate.
But Satya was not always crying and scared. In fact, she was the perfect child – soft, flexible and obedient.
Already in 3 months she slept at night! But at the end of May 2014, Rakhi noticed that something was wrong with Satya.
No, she still seemed healthy: no fever, no vomiting, no diarrhea. But something in the behavior of the baby confused mom.
After blood and urine tests, two droppers, blood pressure and temperature measurements, Satya, dressed in a yellow shabby hospital gown, dropped Rakhi directly into her arms. While the nurse injected the medicine, the girl fought and squealed in her mother's arms. Do not worry, red – this is just medicine – the nurse nodded at the scarlet drops that fell on the hospital underwear.
Satya was so small that she did not even know how to sit. And the first time she managed to sit down happened in a hospital bed.
And she did not interfere with any of the numerous tubes sticking out of it, nor patches and droppers. But where is the storm of emotions, where is the joy and pride of the parents?
Exhausted and alarmed, Rakhi caused only a bitter smile. Forces were only enough to quickly take a picture and leave the chamber.
The next day, the baby was facing an operation. It was all about the infection that had to be treated with the last generation of powerful antibiotics for a whole month: so it was difficult for Rakhi to enjoy something on the eve of such a hard day.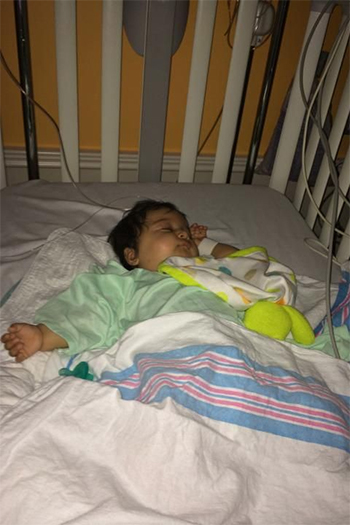 The hospital room where Satya was lying was huge. But for the large Indian family of Rakhi, she was too crowded.
Relatives, having learned about the disease of the baby, hurried from all over the Earth. Her grandmother survived the 24-hour flight and vowed to sleep in the hospital all week if her help was needed.
On the night before the operation, Rakhi and Agan could not fall asleep. The two of them climbed on one couch, twisting arms and legs so as not to fall.
And then they started to cry. Take turns.
Rakhi sobbed, falling into uncontrollable seizures of hysteria, so that her whole body was shaking. And Agan wept sparingly, like a man, quietly dropping one tear after another. But Rakhi saw him exhausting almost all his strength, trying to support his wife and daughter.
Rakhi was strong during the day: she negotiated with the insurance company, was kind enough to the secretary to set an acceptable time to visit the doctor, and to gossip and tales from the world of show business to doctors and nurses.
Rakhi lay with her daughter all night. In the morning, when it was time to go to the operating room, the nurse asked why Satia's hair was wet. Rakhi replied that from sweat and morning washing.
But both knew that the girl's head was wet with maternal tears.
Agan and Rakhi rolled a hospital bed on which lay their seven-month-old daughter, laughing and telling her that now she would go in search of adventure with Dr. Fisher. It was one of those doctors who, by their very appearance, report that everything will be fine. "How often do you perform such operations?" Rakhi asked, hiding her restless look. "A week?" Smiled Mr. Fisher, inspiring hope.
Rakhi and Agan smiled at their daughters, waved to her and sent air kisses. But as soon as the wheelchair with her daughter disappeared around the bend, a man and a woman collapsed into each other's arms.
They knew that they had done the only thing they could at that moment: they trusted Dr. Fisher and the Universe, knowing that their daughter's life was now only in their hands.
When Satya was brought to her parents after the operation, she was still not completely removed from the anesthesia: her eyes wandered, and she did not understand what was happening. Seeing her father, the girl gave a hoarse cry, weak from exhaustion, as if she was complaining about what was being done to her in the operating room.
The nurses left the family alone: ​​Sathya and Rakhi, both on the knees of Agan.
A few days later, the family was allowed to go home. Satya looked like a baby-biorobot, she still had to endure numerous tubes sticking out of the tummy, bandages and patches.
Parents were on the alert: twice a day – a change of catheter, and in no case do not wet the wound so as not to carry the infection. This meant: no baths, no swimming and fun.
Well, it was worth it.
Dr. Harris, the oncologist pediatric surgeon found it rather strange and ordered her parents to closely monitor the girl's condition.
And the condition was excellent: to the delight of mother Satya, I began to eat cookies and even Indian food. By mid-July, the infection was almost cured, but the mysterious lymph node was still not resolved.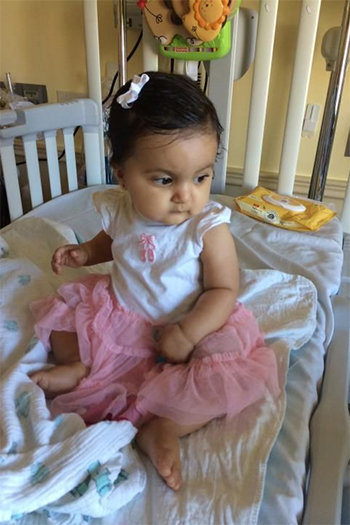 To have a little rest, Rakhi and Agan took the child and went to sunny California: visit Agan's parents and attend the wedding of the godparents of Sathya. They spent a week enjoying the heat, carefully pretending that everything was normal, and hoping that the fresh sea air and the abundance of sun would do their work and the girl would recover completely. The whole family was desperate for a normal life.
Or at least in her imitation.
And in late August, Rakhi said that her daughter needed an MRI. This meant that Sathya would have to be given anesthesia. Again.
On the day when the test results came, a surgeon, an oncologist and a radiologist gathered to announce their parents. I clutched the crib, determined not to make scenes, "Rakhi recalled. She needed all her restraint.
On the day of the second operation, Rakhi occupied her brain by trying to choose what to wear on Satia: a pink dress or denim skirt with a leopard cardigan? That was what mattered. Because although Rakhi did not admit it to anyone, she was completely absorbed in the thought of losing her daughter.
Most of the time she was angry, annoyed and depressed and tried to push her husband and her mother away from her. They were so calm that Rakhi seemed to care.
She saw her marriage collapse before her eyes. Rakhi and Agan considered themselves a funny and funny couple. They both love to be the center of attention, both are the soul of the company.
Yes, each of them spent time in the hospital with her daughter. But while Satya was sick, the spouses did not have the opportunity to devote each other at least a little time. Summer was hard for both.
After leaving for work in the fall, Rakhi began to work tirelessly – just not to think about the tragedy. She clearly understood that she practically freed herself from the duties of a wife, deliberately pushing out with her meetings and deadlines thoughts about her daughter's illness, as well as any family problems.
Once again, collecting Sati's things in the hospital, Rakhi suddenly caught herself trying to imagine an apartment without a child. How can this be presented?
Traces of a child's residence were immediately apparent on the background of a modern fashionable space: here are wallowing toys, here are swings and walkers, there is a highchair. Rakhi took a huge amount of photos that summer, including in the hospital.
She told everyone that she would show them to 20-year-old Satia and tell her what a fighter she was.
But in fact, Rakhi was afraid that these photos would be the only thing left of her daughter.
Their doctor was again the same doctor Fisher. But this time the operation was not so easy. The team included an anesthesiologist, nurses, interns, and even support staff.
Parents were encouraged that the tumor could be removed with laparoscopy so that no traces were left. Then, – Dr. Fisher joked, – Satya, having matured, will be able to flaunt a bikini without any problems. And Rakhi began to whisper prayers in honor of the goddess Kali, protecting their family.
When the surgeon reappeared in front of Rakhi and Agan – almost 6 hours later – he looked as if he had come from the battlefield: sweaty, pale and exhausted. He had to catch his breath before talking to his parents.
He fought a war for every square centimeter of their daughter's body, meticulously searching for and cutting out every piece of tumor that he could find. Dr. Fisher brought and photos. But Rakhi confesses that he still cannot look at them.
The operation was successful, and each visible part of the tumor was removed without a single incision and sent for examination. And it really turned out to be cancer. .
Nothing can prepare them for life in the pediatric oncology department – next to the children, looking at whom you pray so that your child will not suffer so much.
The Singh family had a large sunny room with huge windows. A 15-month-old bald baby who was undergoing chemotherapy lived in the neighborhood. And the little girl they met every day near the apparatus with snacks.
Every time her mother rolled a dropper next to her. Every day they passed 15-20 laps around the hospital.
And sometimes the girl could not walk: then she got into a large plastic car and rested. The baby's face was swollen and blistered, but the nurses called her beautiful whenever they saw her.
And it really was.
Satya went on the mend. Of course, she was not very active after all the manipulations with her kidneys that she had to go through. But on the third day after the operation, she began to smile.
And then she was able to sit down and start playing. Slowly but surely, the girl was returning to normal life.
The Singh family was supported by all. The commanders of Rakhi and Agana went to meet them and gave them time to take care of their daughter.
Rakhi's sister-in-law, a doctor, was on duty at the home of Satya's bed, day and night. Friends and relatives in India and Dubai prayed for a speedy recovery.
Agan's parents put candles in St. Patrick's Cathedral. A friend of Rakhi brought a fifth-generation Bulgarian healer to her house: she brought with her eggs, a pile of amulets and bundles of sage, with which she began to heal the girl and clean the apartment.
One way or another, but Sathya got better every day, as if Jesus, Allah and Buddha, at the request of her relatives, came to the defense of this family.
Before the family was able to leave the hospital, Satya faced the final step — an MIBG scan.
MIBG is a special compound that the tumor absorbs like a sponge. It is introduced into the body in order to determine whether cancer cells remain. Concentrating in the tumor cells, MIBG makes it possible to see them on a radiograph and, if they exist, destroy them by irradiation.
To scan it was necessary to firmly bind Satia to prevent any movement. The girl went crazy, screamed fiercely and struggled. She thought that she would have another operation, and no one could calm her down.
What was left to do? In the end, Rakhi herself laid down in the X-ray machine, put Satia on her chest and began to sing a lullaby into her ear. Soon her mother and sister joined her.
After a few minutes, Rakhi and Sathya fell asleep.