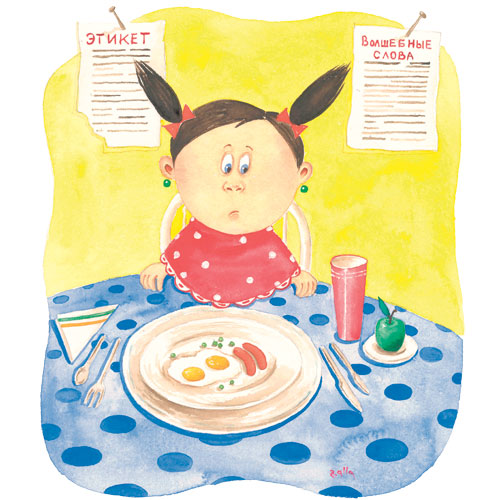 Often parents make the mistake of believing that the child is still too small to learn the rules of etiquette, and are limited to the minimum set of words: "hello", "bye", "thank you". Meanwhile, a child after three years is not only able to learn a lot more "magic" words – after all, he remembers Harry Potter's intricate spells and the names of numerous cartoon characters – but also to understand the meaning of their use. Children are willing to learn from us to do beautifully, and the desire to help others can become a natural need for them even at such an early age.
From us, however, you need a hefty fantasy to turn training into an interesting game. The child does not speak yet, but he is already observing, listening, reacting, perceiving.
Small children are very sensitive to what is usually called the "atmosphere" of a relationship. The kid learns to thank, to express joy when meeting with a friend, sympathy with a look, a smile. After some time, he gains another experience: it turns out that adults do not always behave the same way.
My mother says hello to her friend and embraces her, and with another aunt she does not embrace and says "Good morning!". Even a very small child feels: the tone of communication in adults varies in different circumstances. And he perceives the rules of "good form" as something like a game with confusing and not always clear rules.
For example, at home you can jump on the couch and scream, and you cannot visit your grandmother. Without the help of adults in the rules do not understand.
And the method of imitation will most likely not be enough (in adults, however, the desire to jump on someone else's furniture is rarely the case).
A child is not an adult, and vice versa. Everyone has their own place. Even a small child can understand this simple rule.
With parents, relatives, the teacher speak in one tone, with friends – in another. Words that can be said of the same age are not always suitable for talking with an adult.
Of course, a child who has just learned to wave a pen and say "hello" does not require adherence to such subtleties of etiquette. A three- and four-year-old child is already able to understand the difference between "bye" and "goodbye," "give me more!" And "can you please a little more?", "You" and "you". To help your child understand the need for distance in communication with seniors and give necessary guidelines, you can learn to analyze the actions of cartoon characters and books.
Why did everyone want to help Gerda? How to correct the mistake of Pinocchio, who offended the old cricket?
How does Luntik and his friends help seniors? It is never too early to start talking with children about things like respect, gratitude, tact, compassion.
Calling these concepts, drawing the child's attention to how they manifest in life, we include them in the value system that the child learns. And in order to consolidate the necessary skills of behavior, it is better to model them as often as possible in the form of a role-playing game.
I noticed that many children find it easier to assess the action of another person than their own. When I want to tell the children that they behaved ugly, I play a sketch with glove puppets or tell a story where the characters make mistakes similar to the ones I want to discuss.
We still love the coloring, teaching the rules of behavior – you need to paint those characters who behave correctly.
(Elizaveta, 33 years old, mother of twins Seva and Larisa, 5 years old)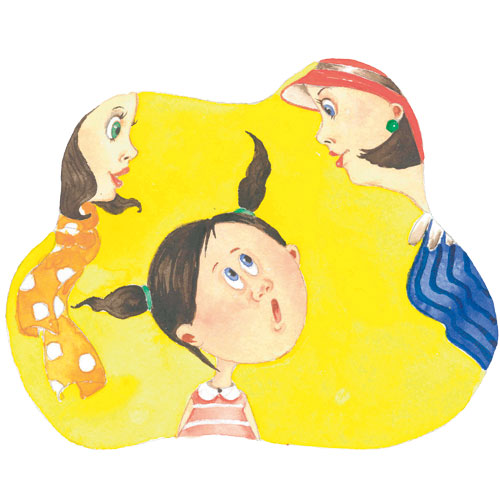 To prevent this from happening, it is important not only to memorize a list of polite words, but to explain how to use them. Playing is much nicer and more fun than saying and listening to notations.
You can read and play in the home theater Perro's tale of two sisters, each of whom received a magical gift: emeralds and pearls appeared in a polite tongue, and toads jumped out of a rough mouth. Based on the fairy tale, you can invent a game, the participants of which for each polite word will receive "precious" stones (magnets, stickers).
Or arrange a puppet show, in the final of which children will have to spell the rude sister themselves, calling as many "magic" words as possible. Constantly expand the supply of polite words, but remember that it will take time to fix the habit. Try to thank the child more often and other people – children and adults.
Do not pull him down sharply if he again forgot to thank or say goodbye. Just remind: "And the magic word?" The most unpopular "magic" word in children is "sorry." His and some adults prefer to use the minimum.
For many, it is associated with punishment. It can be hard for a child to admit that he was wrong.
And sometimes you have to apologize for what you didn't want to do, which means it's not your fault – for example, if someone stepped on a foot in a crowded subway car. Explain that in this case the words "I am sorry", "I am sorry" say that it is unpleasant for you to hurt another person.
If the child is shy or stubborn, apologize on their own behalf to set an example.
My son and I were playing, who would say more "magic" words. When the words ended, one by one called the situation, and the other – the appropriate word. Or vice versa.
For example, I say: "Be healthy!", And the son: "When someone sneezed from an adult. Or a few children at once. "
(Lena, Vadim's mother, 5 years old)
Sitting upright, using a napkin, not making loud noises while eating and at the same time not turning over anything, not scattering, not breaking, not getting dirty … Teaching all these wisdoms a three-year-old seems like an impossible task to many. Meanwhile, the average three-year-old child, after a small workout, can not only confidently manage with a spoon and a napkin, but also master more serious devices – a fork and a knife. You have to, of course, be patient.
But after a while you will be proud of not only the manners of the kid at the table, but also his fine motor skills. And the cleaning time will be tripled.
It is necessary, of course, not to teach table wisdom, not during a family celebration and not in a cafe, but in a calm atmosphere, at home, without spectators and without the threat of smearing the ceremonial costume. Phased briefing and multiple demonstration of each skill are needed! You may have to replace the chair with a more comfortable one and donate a couple of plates.
The main thing is to celebrate even the smallest achievements. The soup is spilled and the cutlet is again in the fist – but the child no longer reclines between the instruments, but sits almost perfectly.
Do not immediately demand perfect performance: if a child tries, it means that he is ready to learn – and this is half the success.
Vika liked to pick food for a long time. I was terribly annoyed. One day it dawned on our dad: he assumed that the child just needed to "hold hands" while she was chewing.
He bought her a children's cutlery – and in two days the child used a fork and a knife according to all the rules! Inspired by success, dad bought a children's textbook on etiquette, and now my daughter behaves at the table like a princess.
(Nastya, 31, mother of Victoria 3 years)
In 3, 4, 5 years it is better to be spontaneous than shy! But to learn to reckon with others will have, regardless of temperament. At 3 years old, the child is too focused on himself to understand that others want to be heard the same way as he does.
But you can offer him a game – to do everything in turn. First, he makes a move in the game, then a brother, then a dad, then again he – otherwise everything will mix and the game will not work.
One says first, then the other. Harder to interfere with adult talk.
Children seem to be waiting for the moment when you will be passionate about the conversation, to remind yourself. You can not blame and "raise" the child in the presence of other people.
Talk about the problem at home, face to face. Do not hang tags, do not be ashamed.
Play with the dolls situation of a failed dialogue.
A shy child is not likely to "get involved in a conversation." He may refuse at all to join him. Refusal from greetings or other expressions of politeness can turn into a kind of game.
It's funny to watch as parents and their guests are tensely waiting for the one and only word "hello", and not waiting for each other, they vied with each other to offer their explanations: "Shy! Not that my, those words do not allow to say! "; "Have you forgotten how to talk?"
Well, the character! All in grandfather! "Such" moments of glory "can only reinforce unwanted behavior.
Scold and stick labels are not worth it. Try to get him interested in rituals.
Tell us how animals greet each other. How to greet in different countries. He might like the idea of ​​saying hello every day in a new language.
Explain that the wish of a good day to friends is not just words, it really increases the amount of good around us. If the baby greeted someone, praise him, tell me how much pleasure he brought to him.
And do not forget yourself to wish him good morning!
My Sasha is fascinated by scientific experiments. Busy with his thoughts, he often forgot to say hello or thank others.
I suggested that he conduct an experiment – try to greet all his acquaintances and even not very familiar ones during the day. The results surprised not only the son, but also me!
People in their eyes changed, began to smile. But the main thing is that in one day we found two new friends at once!
The boy from the next door, with whom Sasha greeted, though he was not acquainted, became his best friend. Grandfather from the first floor suddenly turned out to be a very friendly and interesting person, and yes even a chemist in the past!
He gave Sasha a real flask for experiments, and now they are talking for a long time.
(Anna, 30 years old, Sasha's mother is 5 years old)
Yes, many kids are happy to say harsh words. In order not to turn them into a forbidden fruit, you should not punish the child for using curses. You can try this game.
Allow the child to repeat the word "sticking" to him! Say, "Well, you can say these words for two whole minutes until the bell rings," and set the timer.
Two minutes without any obstacles on your part, he can pronounce any forbidden words as many times as you like. After that, you agree with the child that he will not say these words any more at home or anywhere else.
Foul language often turns into a form of invocation or manipulation. There is one proven method.
When you hear an unacceptable expression, calmly start counting. Without ultimatums, warnings, and preferably without emotion.
Say: "This is one." If unwanted behavior does not stop – "This is two."
After counting "three," the child goes to his room for a timeout. After a timeout, you do not return to discussing what happened.
When my children brought "little words" from kindergarten, I explained to them that in our family such words are not spoken, and suggested replacing curses with other, most common words, but uttering with the same "special" intonation. The sons infected their friends with this game, and in their group the children began to "let off steam", shouting: "Package!" Or "Cap!"
(Marina, 28 years old, Dani's mother is 4 years old and Fedor is 6 years old)