For any baby, family is very important. In this family, grandparents occupy a special place.
Often, more patient and tolerant, more unemployed than parents, grandparents give children more freedom, more choice. "The role of the older generation is exceptional," explains psychologist and psychoanalyst Madeleine Nathanson. – Its representatives help the child to find his place in the family environment, to occupy his "branch" in the family tree. Telling the story of their parents, their grandparents, and great-grandparents, the elder relatives help the child to realize that there was life before him and that there will be after ".
This, in a global sense, gives an understanding that the connection between generations is not interrupted, allows the child to feel part of a huge humanity. Nothing can develop harmoniously, not relating to the past, with the history of his family.
An African proverb says: "If you don't know which way to take, look where you came from." However, before becoming grandparents, they first raised us. And we remain their children forever – no matter how many offspring appear in our own family.
It is clear that the relationship of three generations can not be cloudless.
From the moment the child is born, the location of the pieces on the family field changes. A woman makes the transition from a small, defenseless, dependent daughter to a responsible, mature mother role. The same thing happens with men: a carefree young man becomes a continuer of the race.
As for our parents, they also try on a completely new role. No wonder everything gets upside down!
The psychologist explains that "becoming parents means giving up infantile behavior, old attitudes and creating new ideas about our parents."
Olga, the grandmother of four-year-old Cyril:
"I had to change a lot to enjoy raising my grandson"
Kirill was born when I was 45 years old and my career was in full swing! But I really wanted to participate in his life, to engage with the baby. We had to change a lot, including the work schedule.
But now everything is fine. Kiryusha and I have so much in common: we love nature (we plant flowers together), minerals (I help him to collect his collection of "beautiful stones") and even snow – how great it is to jump through the snowdrifts! But drawing remains our favorite hobby: we choose an object that everyone depicts on his piece of paper, and then exchange masterpieces.
I can not wait, when the grandson grows up a bit, so that together with him again to discover the great masters of painting.
The main task is to become a truly adult, rising above the previous quarrels and conflicts. It is necessary to stop the constant confrontation with parents – the time has come to hide the image of a teenage rebel far away on the mezzanine!
However, the newly-made grandparents should also learn to communicate with their children in a new way: to keep some distance and try not to interfere everywhere, giving advice, even when no one asks them. "The task of grandparents, regardless of whether they live in a neighboring house or on the other side of the country, is to ensure this separation of the young family from the parent," the psychoanalyst warns. "It happens that for some time both families live together, it happens that the parents financially support the young, however this does not mean that the older generation is allowed to invade the internal affairs of the new family." Yes, the grandmother, who raised more than one child, is difficult to control when she sees how confused and insecure in their abilities young parents are, with what despair they try to calm a crying baby.
They need to learn to be always close, but to the side – and intervene, only when asked.
As for the young mother, it is useless to sulk, be offended and angry when grandparents impose their opinion. All are living people: sometimes they are right, sometimes they are not; in any case, they wish you and the child well. But this does not mean that it is necessary to agree with all meekly.
If you do not want to take note of their recommendations, then you are perfectly entitled to react in an adult way: calmly but firmly explaining that your views on raising children are different from theirs. In general, the main thing is to be as benevolent as possible: do not forget about respect for someone else's opinion – and about the right to defend yours!
But now the baby is growing up, it becomes less dependent on the mother, willingly spends a lot of time in the company of its grandparents, it remains for them to spend the night. And sooner or later he declares: "And grandma can eat chocolate before dinner!
And watch TV after dinner, yes! And you, mother, evil, do not allow anything! "Here they can really give way to nerves. "Grandmothers have no educational mission: they are" created "to pamper their grandchildren! – recalls psychologist Madeleine Nathanson. "When grandmothers are left alone with their grandchildren, without parents, they take the reins of government, they are the captains of the ship."
It is necessary to explain to the child that in the house of the grandmother and grandfather they have their own orders, and in your house they have their own. "
But if the grandmothers begin to rule with their parents, it should be stopped immediately. And not from harm and the desire to insist on his, but simply because such actions undermine parental authority. "When parents are close, they, and only they, make decisions concerning the child," warns the psychologist. – If the parents do not defend their opinion, are extinguished before the older generation, the child sees them as infantile, timid, subordinate – that is, completely different from what they should be.
The kid should know that parents are mature people, that their authority is firm, that they must be obeyed.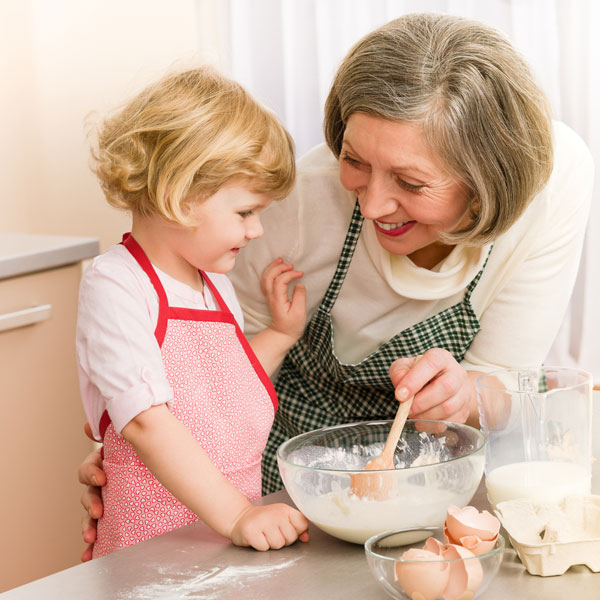 Sometimes it is especially difficult to keep in touch grandchildren and grandparents. The reasons can be very different: the tensions of someone from the younger generation with their parents, sometimes even deep conflicts or just a distance of a thousand kilometers.
Of course, in such a situation a strong friendship of the "old" and "small" is hardly possible. "Under any circumstances, this connection must be maintained at all costs," insists the psychoanalyst. – If your relationship with your parents leaves much to be desired, you need to do everything so that your child does not feel it. Whatever the conflicts with the parents, no children should be drawn into them. "
Naturally, it is necessary to refrain from caustic replicas of grandparents in the presence of children. However, the same rule applies to the older generation.
Take yourself in hand, forget the old grievances and allow the children to not only regularly visit their grandparents, but also spend some time with them – a few days, a week, a month. Be wiser, do not let their attachments weaken. Your differences should be forgotten in order for the baby to know how many people around him love him.
Remember: a thin world is better than a good quarrel. Especially according to the law, if parents forbid to see their grandchildren, grandmothers and grandfathers can defend their rights in court.
Do not bring this up – for the common good.
Elena, grandmother of one and a half Masha:
"I do not force events!"
When I learned that I would soon become a grandmother, I said: "Already ?!" I completely dissolved in my work, and indeed there were so many different things, thoughts, plans — and here … Frankly, I was not ready for the appearance of a baby in the family. But despite this, now I can say that the granddaughter is a great happiness! Some moments experienced together allowed us to get used to each other – slowly, without forcing.
Later, when Masha grew up, I began to get great pleasure in reading her children's books, such touching, with wonderful drawings – we both adore them. I would like to convey my love for music to my granddaughter too.
And if the grandparents themselves refuse to maintain contact with their grandchildren? "This is a rather rare situation, but it happens," the psychoanalyst clarifies. – The reasons are different: "I raised my children, I have had enough of it!", "I don't have time" or even "There's a lot of dirt and confusion from children." Such cases are on the border of pathology: these people bury their heads in the sand, refusing to accept the idea of ​​the continuity of generations, or simply aging and fading.
In this case, it is not necessary to discuss their behavior with the child – it is enough to explain that grandparents are too busy or too tired. Sooner or later, growing up, the child will be convinced of indifference by the older relatives and, in turn, will lose all interest in them. "
If everything is fine with grandmothers and grandfathers, but they live too far away to be able to throw up a child, technical progress comes to the rescue. Many are already in full swing talking to "remote" relatives via Skype or using instant messengers – in general, thanks to technologies that we only read about in science fiction novels, and our children take something for granted.
At the same time, the psychologist recommends grandparents not to forget about traditions, regularly sending their usual postcards to their babies by mail. Over time, the child will be able to draw beautiful cards himself.
Not only does this epistolary exchange promote learning to read and write. Just imagine how proud the little mummy will be when you receive the most real message in your name!
Still, most often grandparents have a wonderful time with their grandchildren, knowing how to captivate, entertain and amuse them – so much so that the little ones need more and more! Modern grandmothers and grandfathers are more active, vigorous – because they are more attentive than it was taken earlier, watching themselves and their health.
They keep up with the young, mastering the Internet and other technologies. Their place in the family, in society is clearly not the last. "Recently, grandparents even appeared in the Barbie family," Madeleine Nathanson says ironically. "This is certainly very good, but there are two" but ": first, the grandmothers of Barbie are the same slender beauties as granddaughters, they are unnaturally young for their gray hairs; and secondly, their hands are laden with presents!
Perhaps the image is not very correct: after all, real grandparents are another. "
We read with children
Recently, there have been many books about the older generation that rethink the traditional image of grandmothers and grandfathers. Unusual, interesting, slightly crazy, grandparents can be so, not afraid to be rejected by their grandchildren – because they love them all.
For example, the books "Grandma! – Frider shouts "(Gudrun Mebs, Scooter, 2011); "All grandmothers know how to fly" (Irina Zartayskaya, Fordevind, 2012) is more for kids, and "Aldabra. The Turtle Who Loved Shakespeare "(Gandolfi Silvana, Scooter, 2010) is a lyric book for older children.