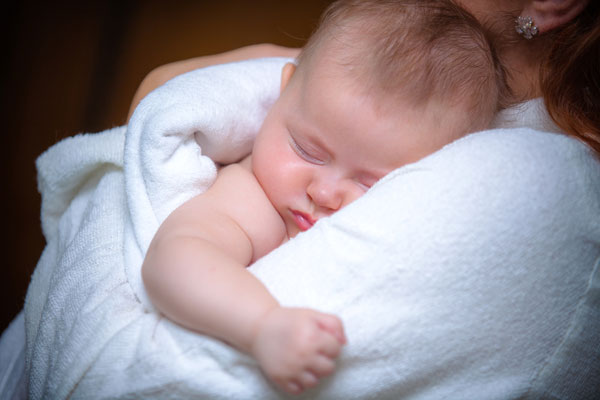 Elena, Ivan's mother, is completely perplexed: "My baby is six weeks old and has a rather calm temper – she sleeps well during the day, she is calm before feeding, she waits patiently for a bottle. But after 9 pm, he begins to cry uncontrollably. Sometimes it gets all red and screams loudly.
And it can not be comforted. All parents are familiar with this evening cry. He drives us to despair, and we feel helpless.
At these moments, sometimes it seems that the baby is literally horrified. But what can be afraid of a crumb who still does not know anything about the world?
Some doctors believe that colic is to blame: the child's intestines are not yet completely formed, gases are blocked in it, and severe spasms occur. If the child moves restlessly, spins, presses the legs, most likely it is. American pediatricians have developed the so-called "rule of three" for colic.
They diagnose colic only if the child screams continuously for at least 3 hours at a time, at least 3 times a week. If the episodes of crying are shorter or less frequent, it is considered that the intestines have nothing to do with it.
In fact, in most cases, the causes of crying are psychosomatic. During the day, a small child is literally "attacked" by new information, new experiences. Because of its immaturity, his psyche cannot always cope with such overloads, and then a discharge, a release of tension is necessary.
For a baby, the most natural way to defuse is crying. Such crying is usually rhythmic, as if the child comforts, lulls himself.
The tension accumulated during the day brings physical discomfort, and the baby cries until it relaxes.
In addition, research in the field of neurophysiology showed that immediately after birth, the child's brain was not mature enough to adapt to the day-night rhythm. It will take ten months (nine – in the womb plus one month of life, and premature babies – even more time) for the child to engage in the rhythm of day and night.
Therefore, difficulties in falling asleep in the evenings often mean that the biological clock of your child is not yet established.
But sometimes the child screams loudly, sharply, his eyes are wide open, as if he is experiencing horror. And indeed it is.
At night, when we are sick, too tired, or worried about something, we may feel very anxious. These reactions are biologically programmed and refer us to the earliest experiences from which we could not defend ourselves. With the arrival of the night, the feeling of loneliness is exacerbated, and the infant may suffer from separation from the mother.
After all, quite recently he was with her one whole and had not yet learned to cope with the anxiety of the department.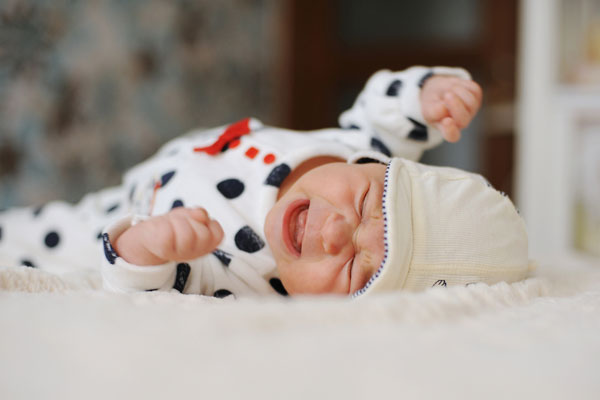 All that is required of you in such moments is not to be intimidated by the state of the baby. He will feel your fear, and thus his own will be strengthened.
You seem to confirm that he is not afraid in vain. He suffers, yes, from his helplessness, from the impossibility of returning to a complete merger with his mother.
But these experiences are normal, each person in his development passes through this stage. And you are not needed to be afraid and suffer with the baby, but to give him a feeling of security and peace. The child must feel that you can cope with anxiety and fear that you are big and strong parents and that he can take it from you.
As long as you deal with his feelings for him, take his fear and anxiety, and return peace and security. And after a while, the child will learn complacency, and those feelings that you "broadcast" to him will already become part of his mental life.
He will have internal images of parents, which he will be able to actualize, which will help him to survive fear and loneliness.
A small child perceives and reflects all the emotions of the mother. Therefore, you can help him by leveling his own state.
Shake a little bit, put your hand on your tummy, bathe in a warm bath, massage your hands and feet with oil for newborns for a bit … Everything you think of. Some parents try to walk a little with the baby around the apartment, putting him in a "kangaroo". You can give him a look at familiar objects, listen to the sounds of the house, such as water flowing from a tap.
Tell the child very gently: "I love you, I'm here to help you …", and continue: "Now go to sleep, your mother is near."
Very soon, your child will be able to calm down before bedtime. Of course, provided that he is healthy, full and not experiencing physical discomfort. But you must give him a chance to take advantage of his opportunities.
That is, try to avoid the wrong steps that can lead you into a real trap. For example, put the baby in a stroller and roll as soon as he cries at night. We know that this is a trap: the baby will demand a walk every evening before falling asleep!
The same with motion sickness on your hands – you can not abuse it. Yes, according to research, children, who are often taken on their hands, are easier than others to have a feeling of inner peace, but, like in everything, a measure must be observed. If we do not let the child out of our hands, do not give him the opportunity to adapt on his own, we form his habit of a "soothing hand", without which he cannot do.
If the baby is very agitated, you can lull him in your arms to calm him down. But then you should put him back in the crib and stay close for a bit so that he can sleep peacefully. Even if the child is only 4–5 weeks old, he will feel confident if he finds a way to calm down on his own.
And the last piece of advice: if you feel tired of endless crying, if it seems to you that you can no longer withstand fatigue, without hesitation you will pass it on to your father, grandmother or nanny to take care of the baby … One good night – and the energy will return to you and strength