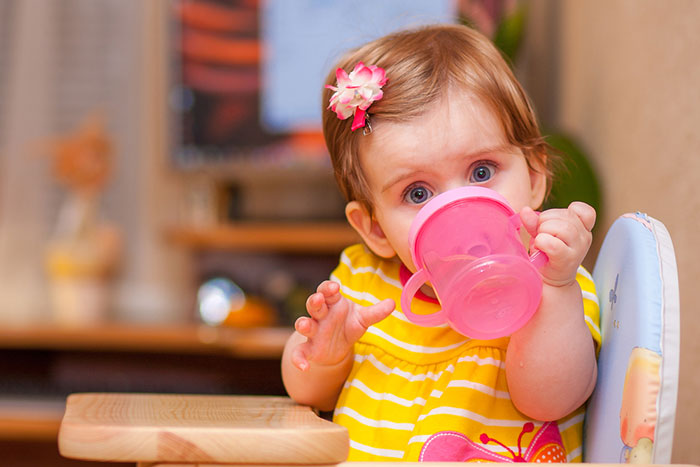 As a rule, it is possible to teach a baby to drink from a cup at the age of about 7–9 months and older, when the child can already hold the cup tightly in the handle and, without missing, bring it to his mouth. But the problem is not even in the process of learning!
It often happens that as soon as a child masters a simple skill, he becomes inseparable from his beloved cup, he likes to take small sips again and again. As a result, a child can drink a huge amount of liquid, although in fact children under the age of one need no more than 100 ml of liquid per kilogram of body weight, that is, if a child weighs 10 kg, it means that he needs to drink 1 liter of liquid per day.
After the age of one year, when the infant weighs more than 10 kg, the daily need is 1 liter plus 50 ml per kilogram in excess of 10 kg. If a child drinks more than this norm, then there is a danger of developing anemia, because due to excessive fluid intake, the baby's appetite decreases and the body does not receive enough healthy substances, primarily iron.
Many mothers and fathers do not think about it until they encounter poor weight gain in the crumbs, which sometimes leads to a deterioration in the health of the child.
In a bottle there is a relatively small stream of liquid, the child drinks in small sips and eventually drinks more than he really wanted. When choosing a drinking trough, pay attention that the holes in the spout are large enough; It is desirable that there are several: the flow will be strong, and the child will not drink more than necessary.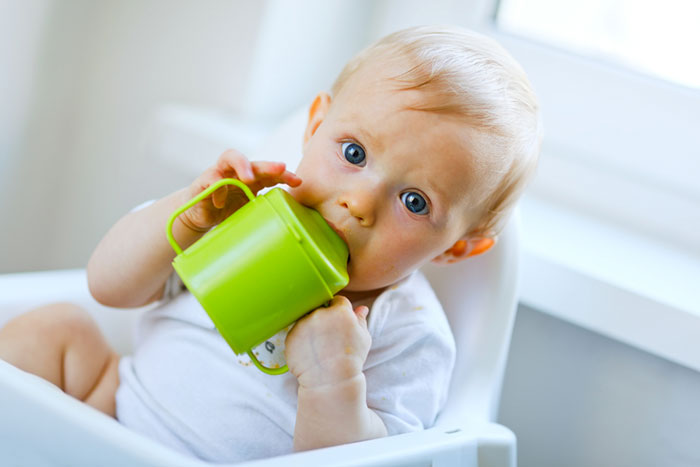 Sometimes the kids refuse to even try to drink from the drinking bowl. They can't explain what they don't like, so the parents 'task is to interest the child: to pick a bright colored mug, narrowed in the middle, with comfortable handles and a soft nose that will not damage tender gums.
The baby may not like to drink from the spout, then you can try to offer him a cup with a straw. Or, first install the nozzle in the form of a nipple, and after the baby gets used, replace it with a cap with a spout.
Sometimes it is not so easy to teach a child to drink from a drinking pot. It takes patience and time.
At first, the baby can be simply introduced to a new subject, allowed to play, to show by example what to do. Then you need to offer the child a cup at each feeding.
When accustoming a baby to a drinking bowl, you should not immediately give up the bottle, since for such a child such an abrupt change can be painful. The most difficult, as a rule, is the abandonment of evening feeds with milk formula or breast milk from a bottle.
Therefore, it is better to offer the baby to drink from the drinking bowl during day and morning feeding. When the baby drinks about 450–500 ml of milk during the day, evening feedings can be gradually abandoned.
Baby drinkers are so convenient and practical that, having become accustomed to them, children can drink from them everywhere at any time. Kids always carry their favorite mug with them and apply it to their mouths not only to quench their thirst, but also to soothe, from boredom or simply automatically. Parents need to be attentive and not allowed to drink to the child on the go, during outdoor games or when the baby is trying to sleep – the little tot can choke and get scared.
The child should clearly know that drinking from a mug can only be sitting or standing still. It is better if you agree with the child that the mug will always be in the kitchen or in the stroller (if you are walking) and in order to have a drink, the baby must sit in the chair in the kitchen or in the stroller.
If the child can already drink it himself from the drinking bowl, it is better to refuse the bottles altogether, because when sucking a bottle, the teeth and gums are constantly washed with liquid, which can cause tooth decay — dentists call it "bottle-shaped". In addition, sucking the bottle at night at the age of about 3 years can cause the teeth to move apart or to grow improperly.
Many parents do not know that by giving the child juice, milk, juice, or compote between feedings, they thus harm children's teeth. Sweet liquids should be given immediately after or during the meal, and between feedings – plain water, and then problems with the teeth of the baby will not arise.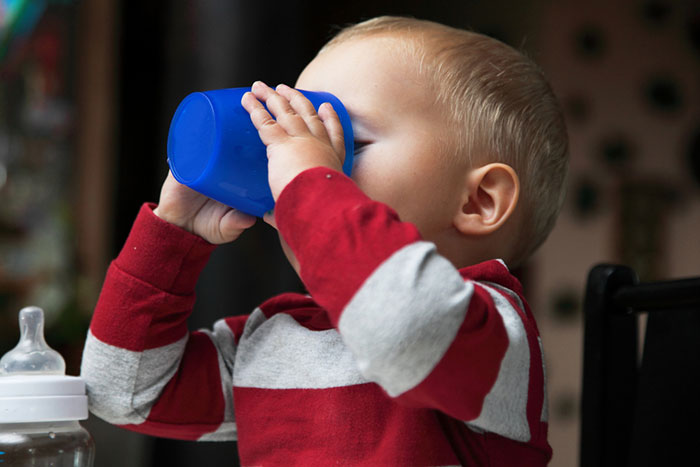 Do not forget that the drinker is only a transitional stage between a bottle and an ordinary cup. Since it is difficult for a child to learn how to drink immediately from a cup (it is difficult to take a sip, tilt a mug correctly, do not pour over), and drinking bowls were invented, or, as they are called, non-spill cups.
Most children, as a rule, refuse from drinking bowls themselves and demand to give them an ordinary "adult" cup – this happens approximately at the age of 2 years. But if your child does not show such interest, try to entice him yourself, occasionally offering to drink from a mug without a lid with a spout. Pour quite a bit of liquid and give the baby.
Little by little, the baby starts drinking from a regular cup and forgets about drinking, as he forgot about the bottle in his time.