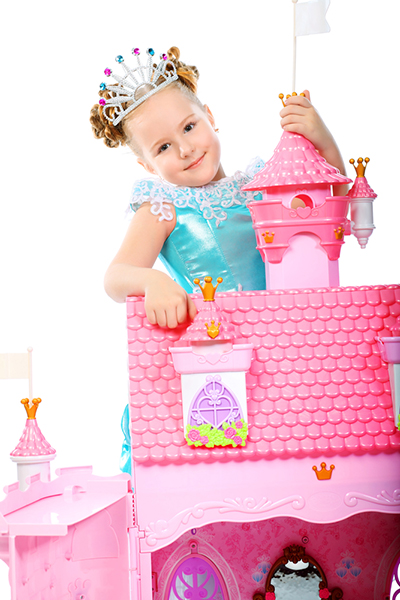 Six-year-old Annie White, who lives in South Dakota, like all her friends, loves to watch cartoons about fairies and princesses and dresses up in the same clothes as her idols. Mama Annie, Paul, admits that at first she and her husband were concerned with tulle fluffy skirts, shiny handbags and made-up fingernails with emotion.
She recalls how, one day, while going to bed, her daughter decided to show her the kiss that the princess gave to her beloved prince. Paula admits that she was embarrassed because she looked quite frankly for a little girl.
Later, she and her husband learned that the same kisses on the lips were addressed to boys in kindergarten. "This event for the first time made us seriously think about the influence of" innocent princesses "and about what we read and let our child look," she says.
The birthplace of the beautiful princesses industry was the United States, where manufacturers were the first to feel the enormous commercial potential of magical images. Here, not only new toys and costumes are developed, but even beauty salons have appeared, designed to make little clients look like their fabulous idols.
However, on the spot Annie is easy to imagine any other girl, because "princesssomania" has successfully spread throughout the world, not bypassing our country. So wherever we live, we, the parents of girls, will most likely have to face this.
And develop your own strategy of behavior.
Psychologists believe that the new culture of fabulous beauties, forcing its little adepts to demand more and more brilliant and pink attributes, has a frankly negative effect. The value of which we have not yet fully realized, simply because the phenomenon is rather young. "The image of the Barbie-style princess, formed today for children by popular culture, is dangerous because the girls assimilate the dubious message: when they grow up, they should certainly be as skinny, have lush breasts and lips, marry a prince, live in a castle and to have servants, says the psychologist Olga Kravskaya. – This, on the one hand, fosters a false attitude towards the body, which is dangerous because it can lead to eating disorders when adolescents when children refuse to eat in an effort to reach the standards of beauty imposed on them.
On the other hand, a frankly consumer attitude in life forms: the main thing is to be beautiful, and then a fantastic life awaits you ".
Certainly, almost all girls go through defiles in mother's shoes on heels (the most courageous reach and to the stocks of cosmetics) and preening in front of the mirror. To prohibit this is the same as engaging in battle with the very feminine nature.
The question here, as always, is in the sense of proportion. "Playing a princess for a preschool girl is a natural stage of development, an important phase of self-identification: awareness of one's gender and one's sexuality," says Sharon Lamb, a psychologist and author of Packing Girlhood (All About a Girl). – However, if this game is not controlled by adults in any way and goes too far, it can have a destructive effect on the child. Today, the only standard of beauty that is being propagated is gradually implanted in children – as a rule, an extremely thin girl with regular features to whom they begin to equal themselves already in the early teens with unhealthy diets and an abundance of cosmetics. In addition, the bet on everything pink and shining in the illustrations of books, dolls' outfits and even in casual clothes can hardly teach a child to see and appreciate beauty in natural nature, without artificial embellishment.
Thus, from childhood we rob and simplify the taste of the child. "
In these films and books, fairy-tale heroines possess important human qualities. In addition, some of them appear in images that differ from the standard canon of beauty.
It raises the idea of ​​diversity in children.
Cartoons and movies
"Shrek"
"Dora in a fabulous country"
Enchanted
"Princess Diaries"
"Three nuts for Cinderella"
Charles Perrot "Cinderella"
Tezuka Osamu "The Knight Princess"
Philippe Leschermeier, Rebecca Dotremer "Princesses unknown and forgotten"
If the assortment of clothes for preschoolers is abundant in skirts of ballerinas, prints depicting fairy-tale characters and a sprinkle of sequins on shoes, by the age of seven, confronted with the need to change their wardrobe, parents find themselves surrounded by "hotter" things. "The departments for girls are full of adult clothes, just smaller," admits Marina, the mother of seven-year-old twins Oli and Kostya. "These are T-shirts with prints of sparkling hearts, super short shorts and skirts, frankly tight jeans." "These clothes are not age appropriate and attracts unnecessary attention to little more girls," she is convinced.
"Lola was born here with a special glamor gene," her mother Alina jokes. – In two years, my daughter could easily apply my lipstick without a mirror. At three, she insisted that we dress her up in lush ballerina skirts.
At the age of five she called herself a fashion designer and drew her own styles of dresses. And now she is wearing something from clothes that may seem unnecessarily adult. " Alina does not care. "Yes, my daughter likes things in which she looks older, but she still behaves like a child and does not try at all to try on the behavior of adults.
In the end, it's just a game. "
Indeed, some girls have an innate burden on feminine things (especially if this, as in the case of Lola, is supported by the mother). And no attempt to interest them with other toys or things will not make them completely abandon their hobbies.
However, even a tomboy girl who began to give Barbie dolls is unlikely to turn into a lover of fluffy skirts. At the same time, marketers by all means cultivate an interest only in playing the princess, with all her desirable and well-selling attributes. Maria Bailey, the host of the American radio program Mom Talk Radio and the mother of four children, thinks that companies go too far, introducing the child to products that he obviously doesn't fit. "Since it is pointless to exhort manufacturers, our parental task is to protect our children from an avalanche of things that are not age-appropriate and impede harmonious development," she said. – Do you agree to indulge your child in dependence on the image of fairy beauties exploited by the producers?
Do you want to let your daughter wear her hair and wear vulgar clothes? If not, you should not buy it.
However, it is important to act not only bans. We must try to explain to the children that this is frankly ugly, and offer an alternative.
In the end, our parental authority should be stronger than marketers. "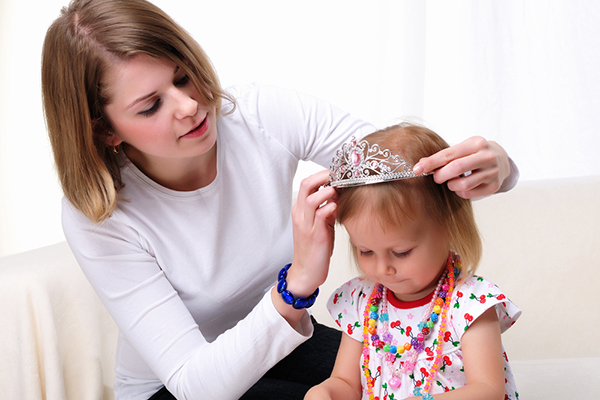 True, it is important that the mother herself, following this position, be sincere and consistent. Because sometimes we ourselves are victims of the very false standards imposed by the manufacturers of the beauty industry and fashionable gloss. "It becomes our common disease: both children and their parents.
After all, this hook with success and adult women fall, – reminds Maria Bailey.
Irina, Alyona's six-year-old mother, says she's trying to be a positive example for her daughter. "I love makeup, but I don't always apply it," she says. – And often I pay attention to this: "Look, mom today without cosmetics. After all, we go for a walk in the park, and then go shopping. And she is not needed. "
Irina explains to her daughter that you should not also dress up in a beautiful dress or wear heels for this. And Alyona is sure that without her makeup, in plain jeans, her mother is beautiful. "I do not want to protect my daughter from temptations, rather I try to teach her to treat everything critically," says Irina. – And explain that everything has its time. You can dress up for a hike for a birthday or with a mother in a cafe, but in everyday life, in the kindergarten and for a walk, you should dress differently.
Otherwise, it will look ridiculous. Alyona respects my opinion and listens to me. "
Polina, the mother of five-year-old Lyuba, follows a similar tactic. "I'm not thrilled with the manic craving for pink and the shiny fairies accessories," admits Polina. "But what to do if this is the life of girls." I try to find an educational balance: to protect Luba from the excessively aggressive pressure of the outside world and at the same time leave her the freedom to go through this natural stage of growing up.
While we find a compromise. Lyuba does not like pants, and I myself sewed beautiful dresses for her every day, but without the symbolism of princesses. She gladly wears it.
She also has a coveted dress with frills and a full skirt, and slippers with rhinestones, but we put this on mostly at home, playing in the castle. We agreed that real princesses go to kindergarten and to the street in more comfortable clothes.
But I have nothing against it if in the evening she wants to change into her favorite outfit and play in it. Maybe that's why we almost never quarrel over clothes. "
Parents of preschool children have the privilege that mothers and fathers of older children are gradually losing – they are able to influence the lives of their children. And right now it is important to lay down ideas about what is true beauty and what qualities in a person are valued above all. "While we, parents, buy books and toys ourselves, it is important to pay attention to the most important and valuable qualities of real princesses and fairies: kindness, ability to make friends, take care of animals and come to the aid of those who are weaker and more vulnerable," says psychologist Olga Kravskaya . – It is important to emphasize that it is this, and not the golden hair and beautiful dress, that distinguish their favorite characters from among other characters.
And to become a true princess, you need first of all quality that you can not buy in the store. It is very important that children absorb it in time.
After all, when they reach adolescence, it will be much more difficult to confront the world with a much more aggressively acting glamor than the world of children's princesses. "
Polina, the mother of little Lyuba, says that she is worried about what clothes her daughter will begin to choose by the age of twelve. However, she recently received an encouraging sign.
A friend gave her to read a journal column in which a letter from a concerned reader was dismantled: she complained about how dangerous the time in which her daughters were destined to be brought up. Was under the letter and the date – 1800. "Parents were worried in all ages because their children were forced to live in such an imperfect world," admits Polina. "It made me smile and a little cheered up."
It is important that the girl necessarily know that her father is proud of her and considers her beautiful. You can not skimp on the compliments, but at the same time, you should not constantly emphasize only the feminine qualities of a daughter, for example, call her only the Princess.
It is also important that dad encourage games and activities that are not related to the world of beautiful fairies.
Try to break stereotypes, for example: household – only women's work. If dad is not the most outstanding cook, he can master several simple dishes and cook them with his daughter. Even on the weekends, even the busiest parent can set the table with the children or clean the room together.
So the daughter will see: men and women can live in equal, partner relations.
Dad – the first conductor in the "male world", which opens the girl. It is important that this world does not seem alien and distant to her, and she perceived it as an organic part of life. Therefore, it is important for dad to share with his daughter and his interests.
If you like sports or fishing, play ball together or show how the fishing pole works. It is important for a girl to see that besides her girlish hobbies there is a lot of interesting things.