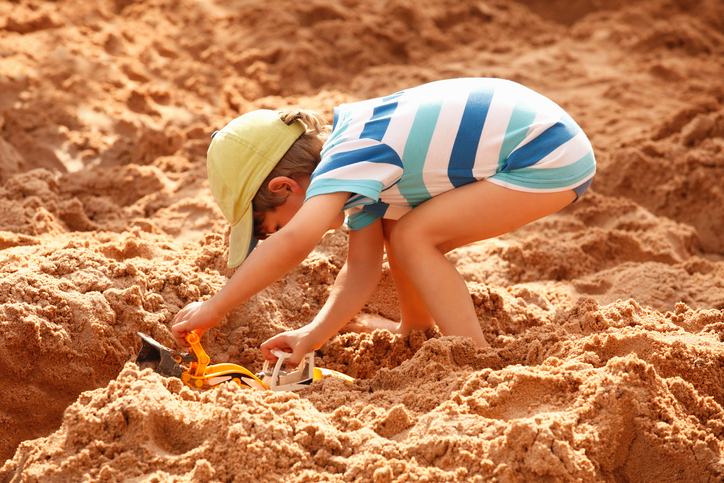 It happens that everything happens in a completely different way than you expect. Instead of a touching picture: the pussy makes the kuliki, the mother on the bench reads a magazine, you see something completely different.
Sand in the mouth, a fight with the neighbor's kid from behind a scapula, a lost ball. Unable to relax for a minute! What to do?
Do not panic! Each problem has its own solution.
Baby does not like new toys
For the occasion, you bought a sieve bucket, a set of molds, a bright green scoop, and. And more modeling, sand mill and two cars. But the child does not pay any attention to them.
What to do? Respect his rhythm. The child still does not know what to do with all this wealth.
So far, he likes something completely different: digging in the sand with his hands, kneading it, clapping his hands on it, pouring it from hand to hand. Thus, the child studies the world around him and discovers new sensations for himself.
Show him how to fill and gently turn the mold or leave its imprint on the sand. What can I say? "Let's touch the sand – it's a bit hard"; "Look, here the sand is dry and deeper – wet"; "Let's pour sand into the bucket together, now we will turn it over and knock it with a shovel – it's good!"
He is afraid of other children.
The child tries not to move far away from you and begins to sob every time you turn away or rise from your haunches to warm up.
What to do? Do not give it to yourself.
Stay close to the baby, become a mediator in his games with other children. The more often he sees how you talk with other guys, exchange toys with them, help fill the mold with sand, the faster he will start to imitate you.
Try to come to the site at the same time: the more children your child sees, the easier it will be for them to communicate with them.
What can I say? "Let's play with this boy now"; "Look, here comes Antosha with mom, you need to say hello!"; "Now let's dig up the tunnel together!"
He took away all the toys
Five minutes ago you came to the playground with a full package of brand-new molds, and your child was already left without toys.
What to do? Show your child that you need to keep calm, and politely take your ball from another child.
Very soon, your baby will learn to protect itself. Remind him that you can change toys with the rest of the children.
Involve the child in collecting molds, when the time for the walk has expired: very soon he will begin, faster than you, to figure out where his toys are and where others are.
What can I say? "Did this boy take your ball?" Let's go ask for a refund or ask if he will let us play with his scoop "; "Now we will offer the girl to change buckets, she will play with yours, and you take it."
He is the storm of the sandbox
Your child breaks the kulichiki of his neighbors, swings a shovel at the little ones, selects toys from the children. Who taught him that?
What to do? Do not blush with shame – your child is still focused on himself, he is not used to taking into account the interests of other children and is just learning to be in a team. Determine the boundaries: you can not throw sand into children, but you can dig a hole, you can not take away toys, but you can change it.
If the destruction is strong, apologize to the mother of the sandy baby and help him shake. Do not be afraid to raise your voice and even reduce the time of the walk if the child does not hear you and too often behaves badly.
What can I say? "You can not throw sand, you can get into the eyes of other children and make them hurt"; "You need a little break – let's go and swing on the swing"; "If you begin to behave this way again, we will immediately go home."
Show what dry sand looks like and how wet it looks. Demonstrate that the figures of wet sand are stronger, keep their shape, but it is convenient to dry them dry from the mold into the mold. Sculpt fences and turrets out of wet sand together – this is easier than sculpt kulichiki: you just need to move the handles, remove them – and admire the resulting slide.
Older child, show how to sculpt the fences in a circle – then you get a real fortress wall. It is possible to attach turrets-kulichiki to it.
Take a few small toys with you. Ask the child to turn away, and bury them shallowly in the sand. Now the baby will look for where the toy is hidden, and you can tell him, "hot" or "cold," whether he is looking in that place.
You can take a counting stick for a walk. Put them in a sandbox mix, ask the child to choose only blue sticks and build a blue fence. Then – only red sticks and build a red fence. You can offer your child to build one large fence, alternating sticks in color.
All built locks bored, and a couple of dozen waders made? Dig small fossae with the baby, such as mink, with your hands or a shovel. Now you need a "resident" mink. Take in hands, for example, a toy mouse, imitate its squeak, let the mouse say hello to the baby. Your little mouse will make its way into each hole and praise the child for what he has done for her wonderful houses.
Make a hill from a sand or a castle on a hill and dig a moat around it. You can pour some water in there. It will be even more interesting if you make a bridge across a moat from a small plank. In addition, you can tell at the same time that this is how in the old days people defended their homes from enemy raids.