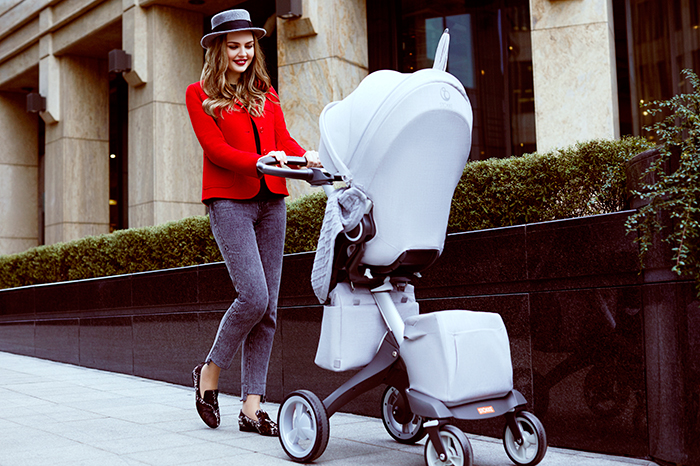 First of all, the child must be fed: this will ensure him a peaceful sleep and will allow him to walk without whims. It is convenient to feed the baby using the Tripp Trapp® chair from the Norwegian Stokke® brand. This year, the company released its ten-millionth highchair, in honor of which it created the limited edition Tripp Trapp® Limited Edition Anniversary Collection made of natural oak in two colors: white oak and black oak. Included – double-sided pillow of environmentally friendly textiles;
to dress the child correctly. Much depends on the age of your baby. A newborn, for example, due to an imperfect thermoregulation system, should not walk without a cap (and at air temperatures below 15 degrees, you can limit yourself to airing the room or a short exit to the balcony). Do not wear a child in advance: it is better to prepare clothes for a walk and put it on just before leaving the house;
take care of the stroller in which your baby will take a walk. One of the most popular and stylish products of Stokke® is the legendary high stroller Stokke® Xplory®. The recognizable spectacular design of the stroller was not born by chance: the designers sought to create children's transport that would allow parents and kids to be next to each other during walks, because learning the world around is much more interesting together! With Stokke® Xplory®, you can choose any of the five positions of the seat position (in the direction of "facing the parents" and "facing the world") and use the convenient seat height adjustment system. Soft interior upholstery and built-in ventilation system create additional comfort for the child and make his sleep even stronger.
The low weight of the stroller and its maneuverability make it easy to place it in an elevator and move along any roads, be it narrow city streets or a dirt path in the park. This year, the Norwegians improved the cult model of the stroller and presented an updated wheel design: now they look even more stylish and are more durable and light.