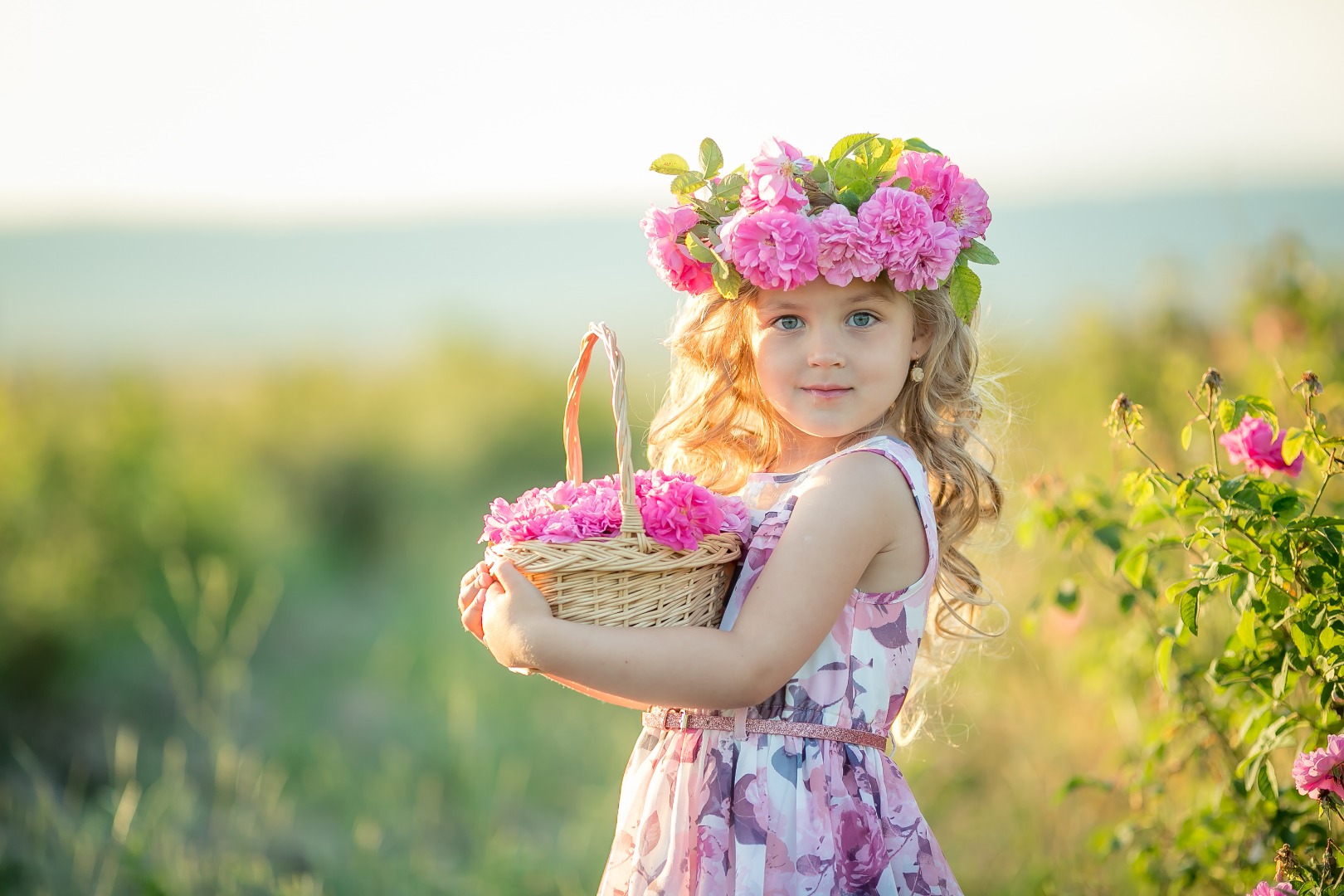 It turns out that you can buy toys not only in the store. You can make them yourself from … colors. Surely, you yourself did in childhood such crafts.
It's time to introduce them to your baby.
Dolls of flowers. We take an elastic stick, a match or a toothpick, we put a flower bud on one end – it will be a head. Make a skirt out of an open flower, fasten the handles of straws (this is not necessary).
You can make a kindergarten, and from matchboxes or small packages of products you can build cottages, cots, furniture for dolls. Or settle them near the roots of trees, under a big old stump … Do you think this is a game for girls only?
Try to make these dolls with your little son. You will see: the game will suit his taste!
Rings. Remember, what wonderful rings did we ever get from yellow dandelions in our childhood?
We took a flower, tore its stem into two parts all the way to the flower itself and tied it around a finger. Voila! Ring with a yellow stone is ready.
Make such a decoration with your baby.
And now let's play educational games, broadening the horizons, developing curiosity.
Trees are related. Walking through the garden or forest near the dacha, suggest that the child find as many "relatives" of the apple tree (or apricots, willows, birch, etc.) as possible. Old trees are "grandmothers" and "grandfathers", young and very small ones are "sisters", "children".
Let the kid try to explain why he considers this tree as "grandmother", and over there – as a "child." You can ask the young naturalist clarifying questions-tips: "Is the tree big or small, old or young, thick or thin?"
Photohunting Suggest your child to go to the photohunt: take a walk around the dacha area with a camera and remove interesting objects of animate and inanimate nature.
Ask your child to tell you exactly what to photograph. Let him try to find something unusual: a hollow on a tree, a moss-covered stump, a nest, a beautiful flower, an unusual stone, a bird on a branch, an anthill … Older kids can take pictures on their own.
This is not only an exciting game of researchers, but also a good simulator of attention, observation.
Creativity, observation is great! But a developed imagination is also a very important skill for a little man.
Games on the development of the imagination is very funny. They will suit the kid to taste!
What was it? For the development of tactile sensitivity, thinking, imagination, invite your child to play a fun game. We will need a light scarf or scarf and … the surrounding nature.
Tie a scarf to your baby's eyes and twist it around you a couple of times. Rotate slowly so that the crumbs do not feel dizzy. Now bring it to a tree trunk, a stone, a piece of moss, a flower bed, a bench and suggest to touch the surface with your hand.
Then take it in place and remove the bandage. Let the child try to determine what he touched.
This game is extremely useful and very addicting toddlers.
Bunnies. On a sunny day, give your baby a small mirror and teach how to let the sunbeam.
These will be the first experiments of the baby with light. He will quickly understand that the bunny will not work on an overcast day, and that the sunbeam must be "caught" in a special way on the mirror, so that it "pushes off" and turns into a cheerful bright spot.
Suggest your child to train to direct the "bunnies" to the right place. For example, in a window, on a fence, on a tree trunk, on a dormant cat.
Then, in addition, the game will develop motor skills and coordination of movements.
Bring me … Ask your child to find and bring you something … round. It may be a pebble, or last year's chestnut, or potatoes, or something else.
Then you can look for "something that can be hidden in a fist", "something direct", with leaves, red, broken, prickly, "something that can be shaken", "something that can be tickled", etc. The game is good because it develops fantasy, attention, creativity, satisfies the children's need for "gathering" and you can play it endlessly.
It is especially convenient when mom is tired and wants to rest.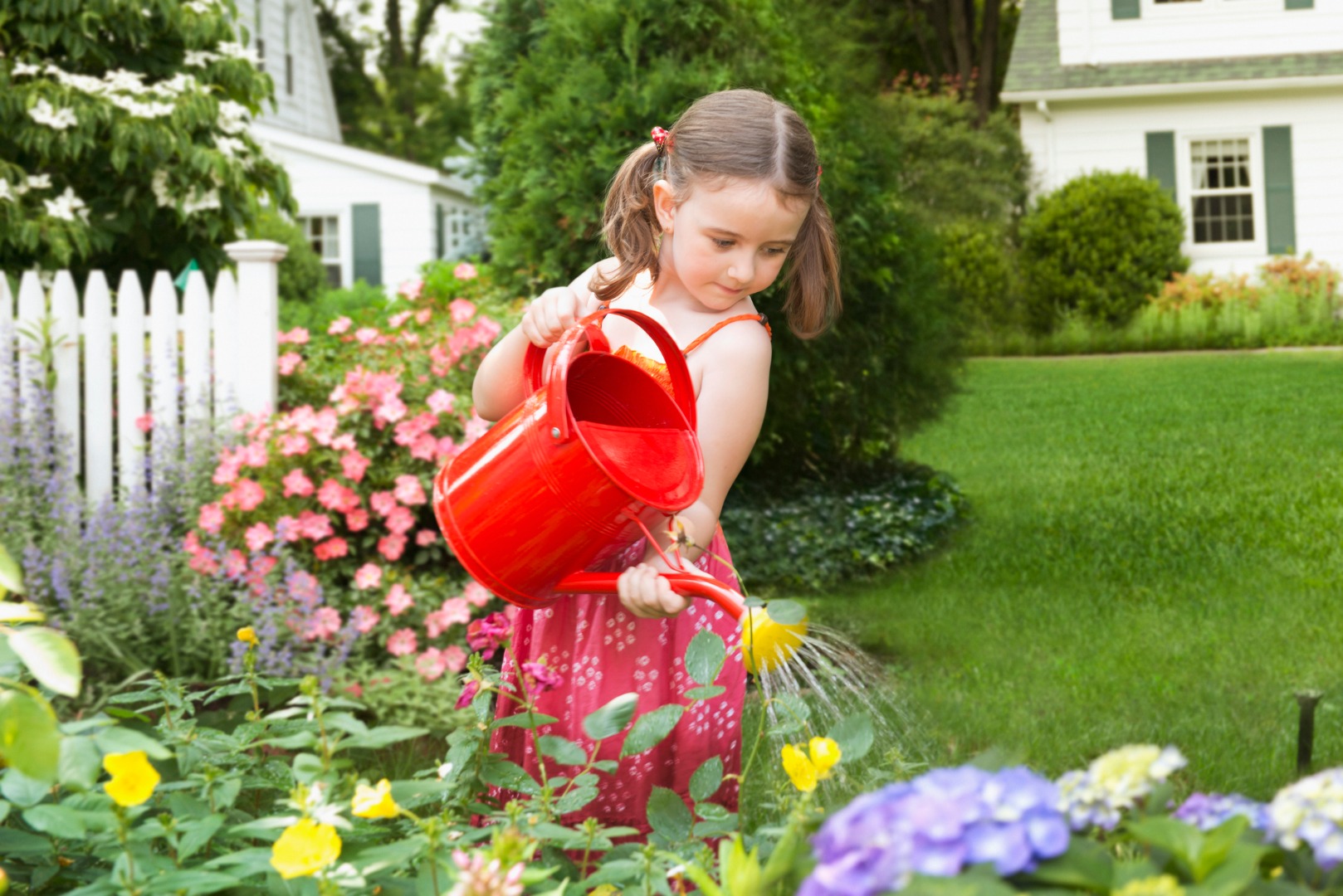 If the day turned out to be warm and sunny, have your child play with water. After all, a summer house is the most suitable place for such games!
We can use any large capacity where you can pour water – an inflatable paddling pool, large basin, trough, etc. In the water, you can start up boats, bathe toys, wash doll clothes, arrange a pool and a water park for dolls.
And what else?
Games with a watering can. The watering can is made for water games.
You can pour water into a basin and observe what traces of droplets remain on the surface of the water, you can pour your arms and legs with a "rain", you can arrange a shower for toys. And here is another simple game that kids like.
Put half of a plastic soap box or a plastic box into a basin or pool. Let the baby slowly pour water from a watering can, water gun or plastic bottle with holes, trying to fill the box with water.
The moment of "flooding" causes a storm of delight in children. You can arrange a competition with your mother. Let us put two identical boxes into the basin and we will try to pour water into them so that the streams are as thin as possible.
Whose "ship" will last longer on the water, he won.
We draw … with water. Make a small hole in the cap of a plastic bottle, take water into it and give it to the baby.
Let him first just pour it on the ground. And then draw a circle or any other contour on the asphalt and invite the kid to "paint over" it with water. This difficult task will not be obtained immediately.
First, the baby will learn to get a stream of water in the center of the figures. Gradually, his movements will be more accurate and more confident.
Evening magic. And when the evening comes in the yard, arrange real magic with the kid. For this we need a dozen floating candles.
We lower them into a basin of water, light it up and admire how the lights gently sway on the water, creating mysterious shadows and reflections around themselves. As if bright stars descended from the sky to wish the kid a "good night".
You can even arrange a daily evening ritual: first we start the magic glowing boats, and then we go to sleep. These rituals are very popular with kids and are remembered for a long time.