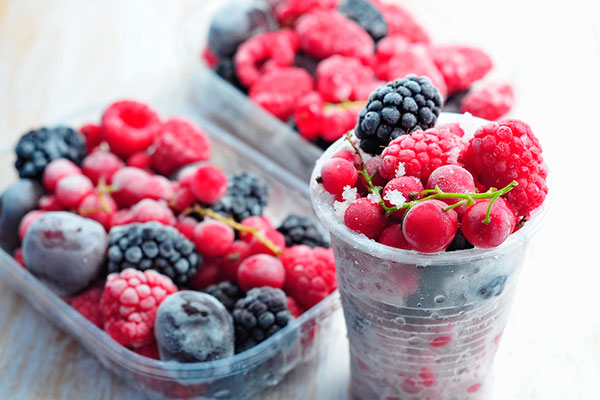 According to pediatricians, frozen foods are not suitable for children under 1.5 years. Until this age, the child's digestive system is very immature.
Due to the nature of the intestinal microflora and the structure of the gastrointestinal tract in babies, meals made from frozen foods can cause indigestion – diarrhea, bloating and rumbling of the abdomen. For this reason, doctors recommend mainly "canned" food, which passes through multi-stage quality control.
A child older than 1.5 years can be given frozen vegetables, fruits and berries, as well as dishes made from frozen fish and meat. True, it is believed that fresh and chilled foods are healthier.
Nutritionists with this statement agree only partially. In most cases, if a product has passed an industrial "shock", that is, a quick freezing at a temperature of from -20 ° C to -40 ° C, then the loss of nutrients is minimal.
For this reason, ripe vegetables and fruits frozen in this way are healthier than fresh ones harvested to the peak of their ripeness after long-term transportation and storage at the base. Thus, the content of vitamin C in broccoli for 5 days of storage on the open shelf of the store will decrease by 2 times, and after freezing – by only 20%.
The past "shock therapy" meat practically does not differ in taste and nutritional properties from chilled, because proteins are almost completely preserved in it. When defrosting such a product does not lose its juiciness, since moisture is "absorbed" by proteins.
But with fish and dairy products, the situation is a little different. The first after defrosting substantially loses in weight, since it contains from 60% to 80% of water and the proteins contained in fish cannot "absorb" moisture in its entirety. The second after defrosting can greatly change the appearance and taste.
In addition, there is a chance that they will roll.
In order for frozen foods not to lose their beneficial substances, they must be properly selected, defrosted and cooked.
When buying such products in the supermarket, pay attention to the packaging. If it is damaged, you can forget about the useful properties of the content.
Choose packages that lie in the refrigerator compartment below the freeze line. Small products and various mixtures inside the package must move freely.
If not, they were re-frozen. This is evidenced by the influx of ice on the bag or box.
Thawing meat, fruits and berries should be in the refrigerator at a temperature of + 6−8 ° C or in the microwave in the appropriate mode. It is better to thaw fish in water at a temperature not exceeding +20 ° C.
Frozen vegetables, intended for cooking, put in boiling water without defrosting.
It is recommended to freeze food at home in a freezer keeping the temperature below -18 ° С. Nothing can be frozen again!