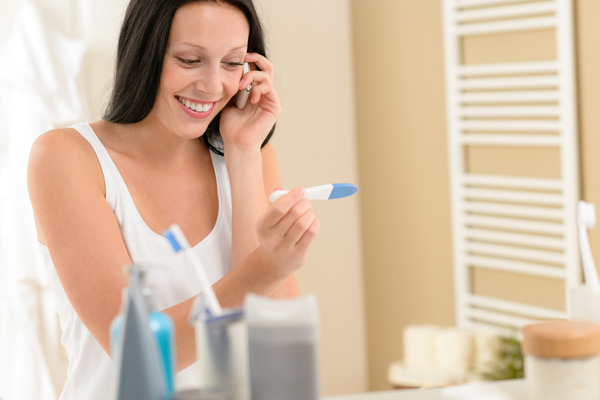 For most women who have a regular menstrual cycle (about 28 days), pregnancy most often occurs on the 12–14th day after the onset of the last menstruation. But the first signs of an "interesting situation" appear later. The fact is that the embryo enters the uterus only three or four days after fertilization.
By the end of the first week of development, it is implanted into the uterine cavity. This process takes about 2−3 days. Then a hormone called human chorionic gonadotropin (hCG) begins to be produced.
From this point on, most women notice changes in their state of health, and sometimes in their sense of self. Some wake up interest in products that previously caused disgust or indifference, others suffer from nausea, and someone's sensitivity to odors or sharply changing mood … There are a dozen such "symptoms", but you shouldn't trust them, because in a similar way premenstrual syndrome may also occur. Quite another thing – the delay of the next menstruation.
You can check the joyful assumption at home with the help of a pharmacy pregnancy test. And on the first day of delayed menstruation, a blood test for hCG will help dispel the last doubts.
As soon as the news is confirmed, the first thing to do is to register with the obstetrician-gynecologist. And make it better before the period of 12 weeks. So doctors will be more likely to identify complications at an early stage.
In addition, everyone who has time to meet this framework is issued a special certificate, on which you can get a one-time allowance in the amount of half the minimum wage. The paper should be taken to the accounting department at the place of study or work or to the social security agencies at the place of residence.
Next you need to decide where you will be observed. There are three options: female consultation, commercial institution or medical center at the maternity hospital.
When choosing it is necessary to proceed not only from material and personal considerations, because there are also legal nuances. For example, a birth certificate is issued only in public institutions, and an exchange card can be obtained not in every paid clinic. And before you give up the benefits that you are entitled to by law, you need to understand what advantages they give.
So, the first paper will allow in the future to choose any hospital, and after the birth of the baby – also a children's clinic. And if both of these issues can be settled with the help of financial resources if desired, then the lack of an exchange card cannot be compensated for. And this moment is really important.
Without an exchange card in the hands of all women, without unnecessary talk, it is determined only to the observational department of the maternity hospital. So doctors are required to act according to the law.
Given that there are patients in this unit who have not undergone a full examination, as well as women with infectious diseases, you can substitute yourself and the baby as a blow.
1) Women's counseling To register, citizens of the Russian Federation need only to present a passport and a policy of compulsory medical insurance. In which city the policy was issued and where the woman is currently registered is irrelevant. No one also now requires registration at the place of residence.
If there is no policy, the expectant mother can only rely on emergency medical care.
There is a custom in female consultation: a certain doctor is assigned to each section. But you have the legal right to choose another obstetrician-gynecologist working in this institution.
And if he does not like it, then you have to offer an alternative.
If you have already been treated in the antenatal clinic, it makes sense to register there and to the same specialist. So for conducting pregnancy and predicting possible complications, doctors will have a good help in the form of early tests and records about prescribed therapy.
If you do decide to change the institution, ask for a detailed statement.
The advantages of female consultation are the free provision of a statutory list of services, the issuance of sick leave (including the issuance of maternity leave), birth certificates and exchange cards. Disadvantages – large queues to doctors and sometimes not very attentive to patients.
2) Commercial Medical Center The choice is great, but uneven. First, find out if the institution you are in has permission to issue an exchange card.
Know: a license to provide obstetric medical care does not guarantee the availability of this service. Check the need and permission to issue sick leave for registration of maternity leave.
If the center does not have these powers, it will be necessary to get registered also in the women's consultation center.
Advantages of paid medicine: as a rule, good equipment, no queues, attentive attitude to visitors. Minus all commercial centers: they do not issue a birth certificate.
3) Medical center at the maternity hospital. The main bonus is the opportunity to be observed by a specialist, who will then take delivery (most often this service is paid). Another advantage is modern equipment. This item is especially important for women who have a pregnancy with complications.
But the picture is noticeably spoiled by long lines in all offices.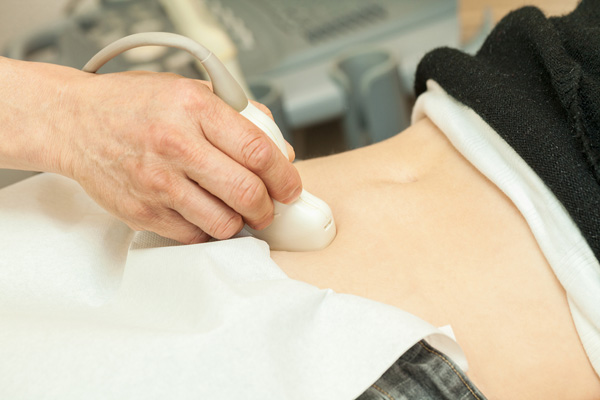 At the first admission, the obstetrician-gynecologist will ask you in detail about your illness and operations, study the hereditary factor, working conditions and lifestyle, clarify the presence of bad habits. It will also be necessary to say when the menstruation began and how regular the cycle was.
We'll have to share the details of sex life, and information about her husband. It is important for a physician to know his age, profession, bad habits and state of health. All data will be entered into the map.
Then you will measure the height, weight, external parameters of the pelvis and blood pressure on both hands. During a gynecological examination, the doctor will assess the condition of the cervix, appendages and vagina, and then take smears for flora and scraping (for oncocytological examination) from the cervix.
At the end of the reception you will be given a referral for blood and urine tests. Their list is determined by orders of the Ministry of Health.
Blood should be donated for TORCH infection. These include toxoplasmosis, rubella, herpes, cytomegalovirus, HIV, syphilis, hepatitis B and C. Some laboratories include chlamydia in the list, but testing for this infection is not considered mandatory and is done at its own expense.
In addition, you will need to determine the blood group, the degree of its clotting and Rh factor. Not to do without standard blood tests – clinical and biochemical.
General urine analysis will allow to judge the work of the kidneys and to predict the possible complications of pregnancy (especially gestosis).
In the first trimester, you will have to visit a therapist, a dentist, an otolaryngologist and an ophthalmologist. Their findings will help draw up a pregnancy management plan and anticipate possible complications.
The first planned ultrasound is usually scheduled for a period of 10-14 weeks. But if the news was confirmed earlier, it is better to undergo an extraordinary examination to exclude ectopic pregnancy, especially if there are signs of adhesions in the small pelvis. You can find out where the fertilized egg was attached, you can already from the 5-6th week.
In the early stages of an ultrasound scan, they also do it if there is a threat of pregnancy: there is bloody discharge and pain in the lower abdomen.
A planned ultrasound scan for 10–14 weeks is also part of the first prenatal screening (the so-called "double test"). It is combined with a blood test for certain hormones.
Together, these two surveys allow us to assess the risk of chromosomal abnormalities in the baby and monitor the development of pregnancy.
About bad habits will need to not only tell the doctor, but also get rid of them as soon as possible. It is better to quit smoking under the supervision of a specialist.
So you can avoid strong stress and periodic breakdowns. Do not forget that passive smoking is almost as harmful as active, so the spouse will also have to make adjustments to their lifestyle.
As for the mode of the day, now you really need it. During pregnancy, it is important that all body systems work smoothly.
A clear daily routine will make it easier to transfer the load that is increasing every day. You now need to sleep at least 8 hours. Moreover, it is better to go to bed and get up at the same time, without staying up late and not lying around until noon.
There are better 4−5 times a day in strictly fixed hours. If nausea or vomiting occurs, the number of meals can be increased, and the volume of servings can be reduced.
Dinner preferably 3−3.5 hours before bedtime. And, of course, you must follow the recommendations on nutrition, designed specifically for expectant mothers.
If the pregnancy proceeds normally, physical activity should not be sharply limited. Quietly, you can do walking, swimming, yoga for pregnant women or just walking in the fresh air.
But from those sports that involve sudden jerks and jumps (running, basketball, skiing, cycling, etc.), you will need to give up. The taboo is superimposed on weightlifting: the weight of your bag should not exceed 2.5-3 kg.
In order for pregnancy to proceed without complications, it is very important to get rid of inflammatory processes in the pelvic organs. For the diagnosis will need a smear on the flora. Biological material is carefully examined under a microscope and it is determined whether the number of suspicious microorganisms does not exceed the permissible rate.
If the doctor suspects the inflammatory process, he will suggest to make bacteriological seeding. If this analysis fails to detect the causative agent, a woman will be recommended to conduct a study on urogenital infections using PCR. When the "instigator" is detected, bacterial culture will have to be repeated to determine the sensitivity of the microbe or virus to antibiotics and select the most effective drug for treatment.
True, PCR analysis is not included in the list of free examinations, and the expectant mother has the right to refuse it. In this case, the treatment will be carried out with antibiotics that are harmless to the child, but they will be selected at random and may not work on the pathogen.