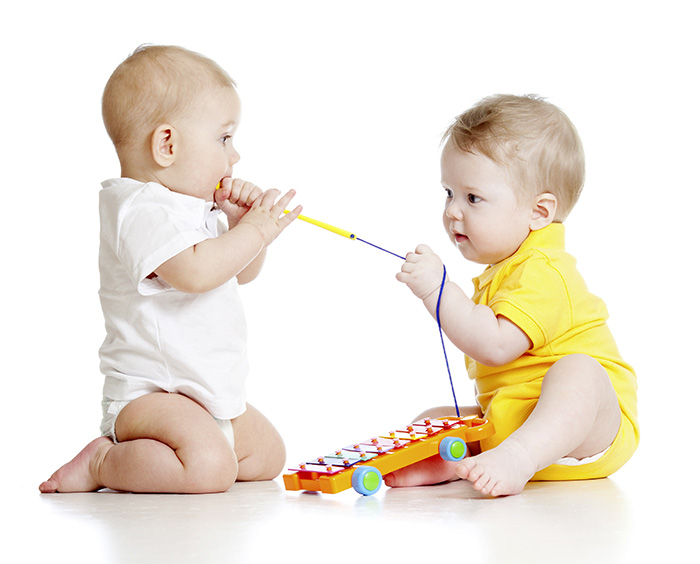 Talking about friendship in the usual for us understanding is possible only from the teenage period. At 3-4 years old age for a child is not a significant person.
You can play or have fun with such a "friend", but this is not even communication, but rather emotionally charged interaction. "Friend" is now another toy with which you can have a good time. And if there is a choice, then the majority of babies will prefer the company of adults rather than fellows.
Interest in peers wakes up closer to 4 or even 5 years. Then there are the first fairly clear-cut preferences, common interests and the desire to be together. In the garden, children are divided into groups and each plays its own specific games.
Gradually, that type of alliance that is very much like adult friendship begins to emerge. Communication ceases to be associated solely with the current moment. First friends can already speculate on abstract topics, seeking to awaken the response in a kindred spirit.
In full, these feelings bloom closer to 7-8 years. For a teenager, a friend is already a key person.
And yet, at the age of 4–5, the status of a friend is temporary. No wonder that the kids easily tolerate the change of kindergarten. However, provided that with new tutors of problems does not arise.
Preschool children can be sad and remember their comrades, but on the whole everything passes for them rather painlessly. With 10 years to part with friends, as a rule, painfully difficult.
Ask a small child who is a friend. The maximum that will turn out to be: "The one with whom I play."
If we confine ourselves to the philosophical "We must be friends!", The baby will not understand what is meant. Better bring illustrative examples. From my life, as an option.
Or from cartoons. But he will still have to learn on the background of tough and not always pleasant manifestations of children's friendship.
Be patient and try to respond to what is happening adequately.
Fights. Periodically, the desire to resolve the conflict with fists occurs in all, even the most calm children.
This is normal. Especially when there is a reason.
Do not share a toy, for example, but it happens often. Children still have little experience, and they are not used to solving conflicts with words.
While the first reaction, if something does not like – come up and hit. This urge reinforces the lack of self-control skills. If the majority of adults can keep silence somewhere and close their eyes to something, so as not to inflate the conflict, children, as a rule, do not possess such wisdom.
Most babies react to a lot of situations that seem trivial to us, very violently. From here endless reasons for fights and fights are taken.
How to respond? The main thing – do not scold the child. Even if everyone around you does it, you yourself really want to act in the old manner.
Your task is to teach the child to behave correctly in a given situation, and not to tell him how to act. Long reprimands and morals will not achieve sense.
It is more important to encourage both parties to seek a way out of the conflict. "You had a fight now. Your mood has gone bad.
And now let's think together how to make you play with this truck and not quarrel? Choose: you can play with it one by one, you can play with it together, and if you don't agree, we put it on the shelf and go look for another occupation for you. "
But what instructions will you give to your child in case they are offended or he suddenly wants to knock someone painfully, is already your own business. Someone teaches a child to give change, and some do not. But there is an intermediate option.
It would be nice to teach children to negotiate. For example, you can give practical advice: "If you are offended, you have to stand up for yourself, but you do not need to start the fight yourself."
The message will be both healthy and adequate. To teach a child to give change always and to everyone, to be the strongest, wrong.
But also to teach to substitute the other cheek, probably, too.
Bad words. Children bring curses from the garden, from the playground, from the street, hear them on TV. And sometimes the parents themselves do not notice (or do not admit) that they actively use profanity at home.
Anyway, this is an inevitable process. We'll have to treat him with understanding.
Moreover, sooner or later, the child will fill in all the gaps in his dictionary. Not at 5, so at 7, when she goes to the first class.
Or at 12, when he becomes a teenager. And he learns bad words from his peers. So, if your child absorbs some of the curses a little earlier, there is no point in tearing your hair.
But much will depend on your position again. Often, because children obsess over bad words, because adults give too strong a response.
How to respond? Again, no need to scold. The calmer you will be with such verbal exercises, the faster your craving will disappear.
But it will not be superfluous to talk about the meaning of a particular curse word. Just make a discount on age: talking about women of easy virtue is not worth it. And then you can say: "Yes, your friend Vasya says so.
But smart children know all these words and do not say them out loud. Perhaps Vasya just does not know.
Come to the garden tomorrow and enlighten him. He is your friend. Help him! "Such a neutral remark is the best way out.
They said so and immediately turned the attention of the child to something else.
Strange grimaces. "And Marusya does that! And I will! "- one should not be surprised at such statements of the five-year plans. Children often copy bad habits from their friends.
It `s naturally. They constantly compare themselves with their peers: "Gosh does it well, and I'm worse, so he's good, and I'm bad. And this is better for me.
I wonder if he can do that. "Due to the constant comparison, the child forms his own self. And children like to check how adults react to monkeyhood, whether parents scold it or not. If mom and dad succumb to provocation, then a bad habit can be a way to get their attention.
How to respond? Your task is to hold conversations periodically.
Instead of scolding a child, accusing him of being stupid and not too far away for wanting to imitate a friend, it is better to explain how things really are: "You can be friends with Vasya, but you don't have to repeat everything after him". You can say bluntly: "You have not done this before.
I do not like it. You are not Vasya, you are Petya. Tell me, how would you feel comfortable yourself? "The main thing is not to expect quick results.
It is better to have patience in advance and get ready for long work.
Callings All children go through this. And friends of friends call names too.
In essence, the purpose of insults is provocation. With its help, children try themselves and learn to communicate.
If you can't believe it, remember yourself.
How to respond? It is more reasonable to teach a child to respond as neutral as possible, although even for adults it is not always a feasible task. But it is better to try harmless options: "I don't like it that way.
Stop it! "And then it all depends on your position. Someone teaches a child to respond: "Himself like that!", "Who call it names is called that way!" But you have to understand that the bully may not stop.
In this case, the child must also be an instruction. As an option, it is best to offer to seek help from a caregiver.
At home, it is useful to remind you: "You yourself would be unpleasant. So do not behave.
If you want to attract attention, say something funny or kind. "