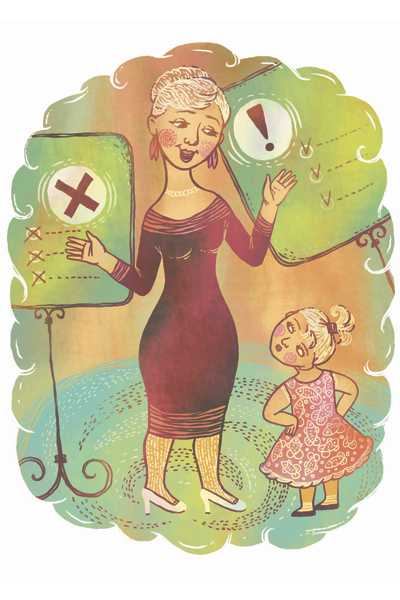 There are several views on the issue of certain restrictions for the child. "If a child wants to draw on the wallpaper – let him draw! He is developing! "- one mother will say. "Just think – the curtains cut off! This is just a piece of cloth, and Marina, maybe, will become an outstanding designer! "- her father will support a three-year-old girl. "If we allow us to paint houses on the wall now, what will happen next?
They will paint the whole school (they will lift the elevator, etc.)! From childhood, you need to teach children to take care of things and other people's work! "- someone's grandmother will object to them. And, by and large, everyone will be right: indeed, without fear of expressing himself in creative work from a young age, the child gains confidence in his abilities and capabilities.
On the other hand, being in society, the baby should be able to respect the work and material values ​​of the people around him.
So, your little one with gusto draws on the wallpaper, cuts your favorite magazines to make an appliqué, creates his own cartoon with crayons on the TV screen, or harassing foil rolls to make armor. Or maybe, by dumping all the shoes in the middle of the corridor, he is making out of the shoe boxes of a "real robot" or, having taken your mobile phone apart, tries to assemble a new, "more advanced" model?
Whatever the child is doing, he explores the world around him every minute, tries his abilities and develops his given abilities. So how to be?
Allow the child to express himself as he pleases, or, conversely, strictly control his activities and stop any attempts to violate the established rules?
By giving your baby full creative freedom, you encourage his cognitive activity, stimulate the flight of his imagination, support his courage and confidence in his abilities and capabilities. And well, if the fruits of his labors are all impressive and delightful.
However, the active creative process of your karapuz may well cause serious material damage. So, a new leather sofa, deftly "written up" by a black marker, or a "painted" old book, inherited from a grandmother, is unlikely to greatly please even the most loyally-minded parents.
In addition, this humanistic position has a second, equally important side. The fact is that, without in any way limiting your crumb, you, accordingly, do not teach him the rules of behavior in society, do not allow the child to learn the generally accepted norms necessary for successful existence in society. You, loving parents, are ready to put up with hopelessly spoiled things for the sake of lofty goals, but it is unlikely that teachers in kindergarten or teachers at school.
All this can very easily become a pretext for serious conflicts, mutual misunderstanding, resentment, and painful experiences in a child. The kid will be genuinely surprised by the non-acceptance of his actions by others: he always did that and caused only admiration or at least indifference, but certainly not discontent. And now he just does not understand how to behave.
Someone, perhaps, will quickly adjust to the new requirements, and it will be very difficult for someone. The child may even decide to abandon the creative impulses, so that adults would not scold him.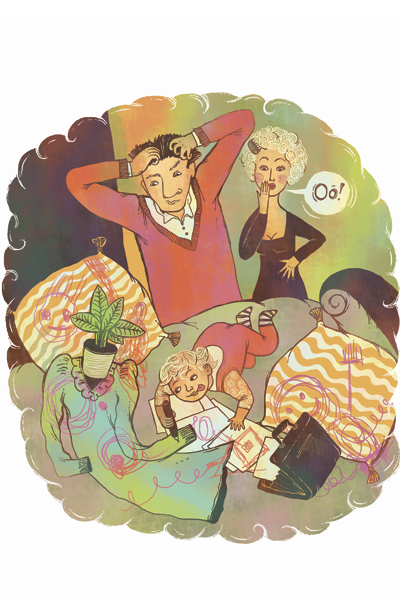 For many parents, comfort and cleanliness in the house are very important. They invest a lot in repair, invite the designer, try to maintain order in the house and want to enjoy the result. But this was not the case: the little fidget still pulls up and smears everything with clay, then to see what is under the wallpaper.
Parents clutching their heads: "This is some kind of natural disaster!" And – of course, with the best of intentions! – mothers, fathers, grandmothers and grandfathers begin to "raise" a child, to prohibit, teach, punish. "Kolya! Do not touch the paint!
You're all wallpaper stained! You'll go to the kindergarten and paint it there! "- Mom worries, sticking paints to a distant drawer. "How dare you scratch the whole wall ?! Hands you need to tear off!
We just finished the renovation a month ago! "- Dad resents, and it can be understood: so much effort and money was invested in home improvement! But the child is unable to stop the process of research, he is interested in everything, he is eager for new discoveries. "Whoever cuts a circle from the middle of the sheet, so no paper is enough!"
Now I will show you how to do it! "- the grandmother hurries to the rescue, and the child is upset and no longer wants to continue the activity started.
So, gradually and imperceptibly, the child really learns to "behave well", do not spoil anything and do not dirty, but at the same time he loses interest in creativity in general. He doubts his possibilities, he does not always decide to express his own opinion, he hardly makes independent decisions.
Thus, parents, unwittingly, limit not only any individual aspirations of the child, but also his development as a whole.
It is important to remember that there is a huge difference between creative self-expression and permissiveness, as well as between forming a caring attitude to things and limiting the development of a baby, and the line between them is incredibly thin. Therefore, it is very important to adhere to the golden mean in this matter and, avoiding extremes, look for compromise solutions.
There are several very simple rules, observing that you, on the one hand, will create a full-fledged environment for your child to develop, and on the other hand, you will help you learn the rules and behaviors necessary for your future life.
1) Be consistent. Formulate in advance the system of prohibitions: you must know exactly what the child should not do under any circumstances (tear and paint books, without permission to take and, moreover, spoil other people's things, etc.).
But there should not be too many restrictions, otherwise they will lose their power.
2) Always make the same demands, only then can the child learn what can and cannot be done. If yesterday you were not allowed to tear up the magazine, and today you are tired and allowed, then the child will not understand you, if tomorrow you forbid him again.
He will learn only one thing: if now it is impossible, then you just need to wait until mom gets tired (as an option: cry, ponry, make a tantrum), and again it will be possible.
3) When forbidding a child to do something (undoubtedly, very interesting and important for him, for example, scooping up water from the toilet bowl to the floor), be sure to offer an alternative. Otherwise, the child will simply feel unfairly deprived and offended. In addition, his cognitive activity should find some way out.
If the child loves to paint the walls, but you are not satisfied with it, enter the restriction: "you can't draw on wallpaper in the whole apartment". But you can "draw on one wall in your room.
On it, you can do whatever you want. " Cover this wall with special washable wallpaper or hang rolls for drawing. The child will be able to realize his own plan and have fun and learn to fulfill the requirements and understand the limitations.
And you save yourself from unnecessary experiences because of spoiled things and conflicts with the child.