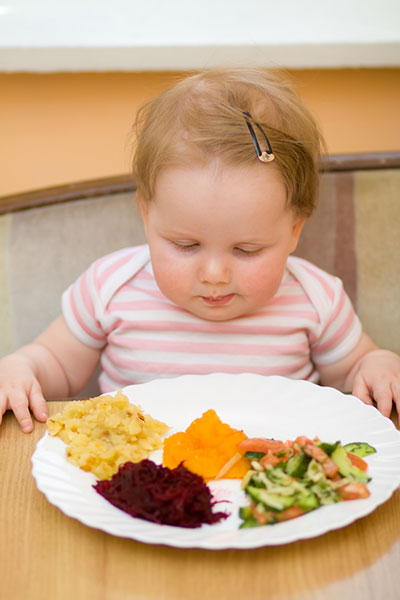 In the "black list" kids often send cabbage, minced meat (or pieces of meat), fried or boiled onions, rice, cheese, eggs, semolina, cottage cheese and boiled carrots. From some items can be waived easily and painlessly. So, rice will successfully replace other cereals.
Without much thought, you can exclude cabbage, onions, boiled carrots, eggs and semolina from the menu. But some products will have to look for an equivalent substitute, because meat is the only resource of vitamin B12 and an unsurpassed source of high-grade protein, zinc and iron; cottage cheese – a storehouse of calcium, dairy products – probiotics, and fish – unsaturated fatty polyacids and phosphorus.
Replacing one product with another, it is necessary to take into account the caloric content and the ratio of the main food ingredients – proteins, fats, carbohydrates and key microelements. To understand all these intricacies will help nutritionist, who has a special table, which reflects each of these criteria.
For example: 100 g of beef are equivalent in protein to 100 g of chicken meat, 115 g of cod and 130 g of cottage cheese. There is no need to worry about the fact that the baby will lack iron.
First, it is contained in chicken meat and fish (halibut, cod). Secondly, it is possible to attract cabbage, beans, peas and nuts – an important trace element is also present in them, although it is better absorbed from animal products.
An alternative to kefir or yogurt may be another fermented milk product, such as yogurt or ryazhenka. One egg equals to 40 grams of cottage cheese, 30 grams of beef or cod and a glass of milk.
And if the crumb does not like cottage cheese, it will be provided with calcium, cheese, kefir and milk (but with a categorical rejection of all dairy products, the doctor will most likely prescribe calcium supplements.
Before you look for an alternative to an unloved dish, you should try to trick with a pick, especially since there are plenty of ways to do it.
According to statistics, the kids try out the dish only from the 10th time! But if the child persistently refuses any product, do not insist and do not force, but simply exclude the ingredient from the menu for 2-3 weeks. After waiting time, try again.
Another trick is to disguise the dish beyond recognition. From unloved fruits and vegetables can be cut animals and little men. Zucchini, carrots, beets and cabbage are easy to "hide" in meatballs and meatballs, pumpkin and apples – in millet or rice porridge.
Cottage cheese can be served not in its pure form, but with the addition of berries crushed in a blender: the mass will change color, and the baby will never guess about the forgery.