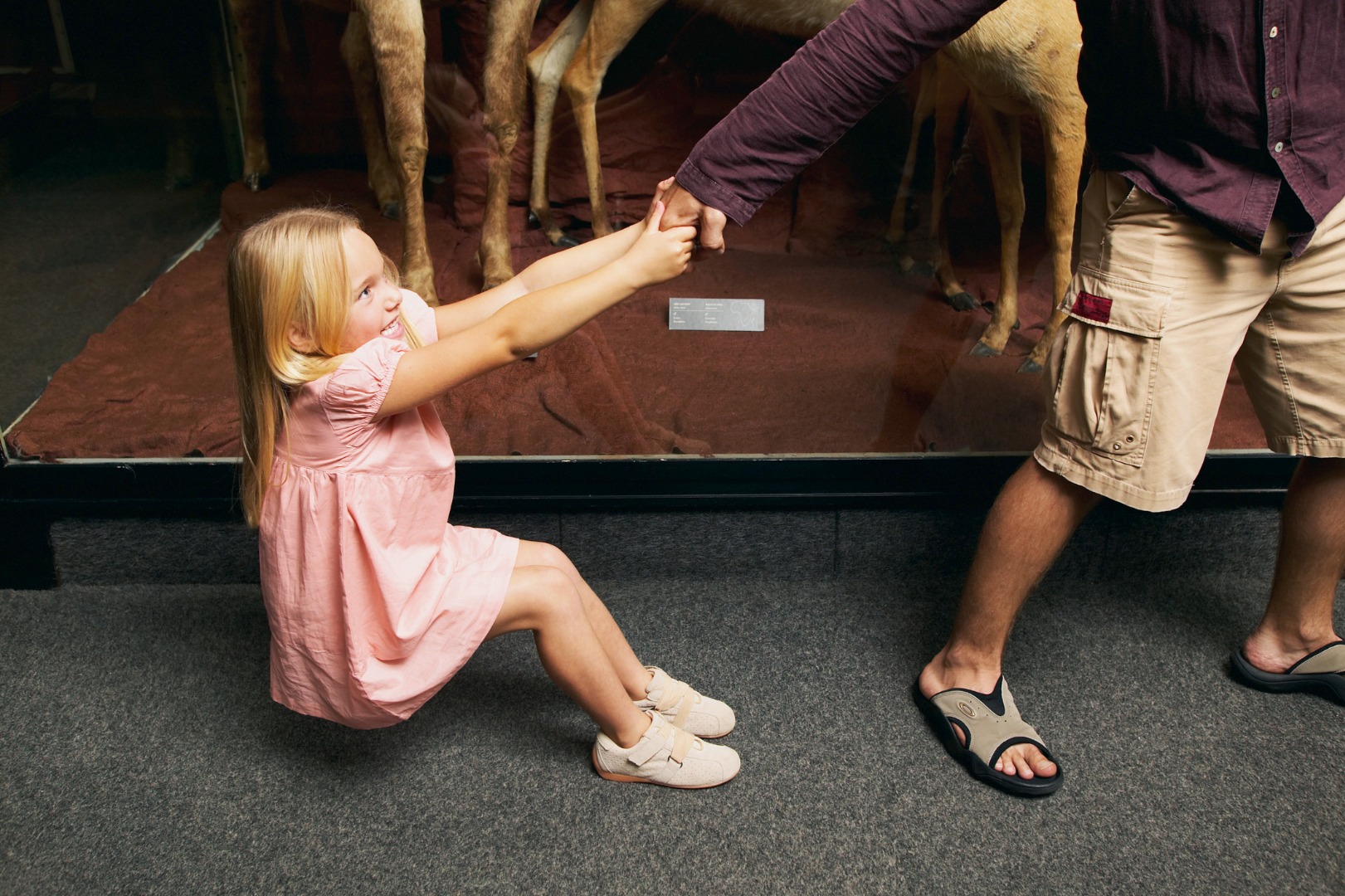 The museum is a great way to show the child something new, and to begin socialization, that is, to teach the child to interact with the world around him with benefit. Such a "2 in 1" effect will not give even a newfangled gadget or a playground, of course, provided that the baby is already "ripe" to visit the museum.
At what age does this occur? Everything is individual: someone is already active in 3 years and shows an interest in literally everything, but someone needs a little more time to grow a little more. With curious kids you can go to the museum already in 3-4 years.
Just remember: before you prepare to visit the museum of the child, prepare for this event yourself.
The venture will turn into a headache if we consider a joint visit to the museum as an adventure and hope for a chance. Another thing, if you look at it with an eye to the future. For your family, joint visits to museums can become an interesting tradition: this is after all a joint pastime, and a game, and learning (learning new things), and upbringing.
And in order for such plans to come true, it is necessary to observe one very important condition: the child should be interested. Otherwise, you can not avoid problems.
First and foremost: choose a museum or exhibition that will be of interest to the child, and not to you. The most common mistake of parents is to take their own preferences for the preferences of the child.
Otherwise, parents will have to conduct an endless monologue into the void: "Well, why are you screaming?", "Behave yourself well", "Look, listen to your aunt interestingly telling" … Interesting to adults, but not the child!
Go to the choice of the museum for the first visit thoroughly. Pay attention to what your child is interested in.
Perhaps the girl will be interested in dolls or fairy princesses. If the kid is interested in designers, take him to the Lego exhibition.
In a word, choose the one that absolutely suits him. One of my clients gave sons the same sets with dinosaur figures.
What was her surprise when always noisy and hyperactive twins, hitting the museum of paleontology, watched each exhibit with delight and admiration, and also behaved extremely obediently – they did not run, did not shout, did not fight. The secret is simple: when a child gets into the known world already familiar to him, but not from all sides, he is ready to receive information and absorb knowledge, because he wants it.
Therefore, the ideal option is an interactive exposition, when all the exhibits move, you can press the buttons and perform some task. It is also good when you can touch the exhibits.
It is also necessary to thoroughly approach the question of whether to order a guide. Critically assess the level of their training, consider the number of children.
The more kids, the more appropriate it will be to walk through the museum with a guide. And it should be a specialist in working with children.
Why? Because the first acquaintance with any field of knowledge or science begins with a teacher.
With the usual guide, the baby may be uncomfortable, uninteresting, and therefore, pleasant impressions of such an excursion will not be enough.
And now it's time to prepare the baby for an important event in his life.
1. To start, just tell us what a museum is and why people go there. Your task is to set up the child so that he understands: the museum is very interesting and unusual.
The kid must know in advance where and why he is going, what he will see, and want to see it.
2. When you search for information about the museum's exposition and about the museum itself, choose what will be useful and interesting to know even before visiting it. Show your child pictures or videos, tell them that he has a great opportunity to see something new live.
If the child is interested in this topic, he will take your proposal with enthusiasm.
3. After that, it is necessary to explain the rules of behavior in the museum. Tell your child what to do and what is absolutely impossible.
Before you enter the museum, you will need to repeat these rules again.
What to take with you?
To go to a museum, do not equip a child as if you are planning to climb Everest. For a comfortable pastime it is enough to have a bottle of water or your favorite tea and the packaging of wet wipes.
This is especially true for the so-called contact exhibitions, where you can feel the exhibits, and sometimes even try.
But you should not take your favorite toy with you: it will distract the baby. So it is better to leave her at home.
So that the child is not tired
The usual duration of excursions for children is 1.5-2 hours. To be honest, this is a lot.
The kid will get tired during this time. Therefore, do not strive to see everything in one visit. The best solution would be the duration of the tour in 40-50 minutes.
Then you should go to the souvenir shop or children's cafe to consolidate the delicate impressions.
After you come home, ask the child about his impressions. But do not ask questions that can only be answered with "yes" or "no", for example, "did you like it?" Ask better about what became the most amazing, which picture was more remembered and why, ask what the child felt while considering or other exhibit. Capture the impression with the help of associations.
Specify whether the child understood what is depicted in the paintings, what he already knew from books or cartoons.
One mom's son, for example, once declared: "Mom, what are you asking me? You yourself were with me! "This indicates conscious perception of information.
Having heard something similar, it is worth going to the questions that the child remembered what he had learned for himself, that he had heard something interesting.