Every year, new and new manuals, games and toys that train the flexibility and accuracy of the fingers are invented. Without these important exercises, the child does not fasten a button, do not braid the doll a pigtail, do not tie laces on his shoes, and in the future do not master the art of calligraphy or playing musical instruments.
And do not even learn to speak correctly and think outside the box. The human brain is arranged wisely – the motor and speech zones are located side by side and actively influence each other. From precise and diverse movements of the fingers, for example, depends on the clarity of the articulation.
It is known that many children, indifferent to manual labor, begin to speak late. But if even in the cradle of these children would be interested in exciting activities, their parents might not have to look for good speech therapists.
The first "trainings" of exact hand motor skills begin with seven-eight-month-old children. They are pretty confident enough to grab and hold items.
Inquisitively study the properties of materials. Especially like soft paper, soft clay or wax.
It is terribly interesting for them to tear, crumple, push, transform … Of course, it is better to save books from such research ardor. For jaunty palms there are newspapers, thin wrapping paper, colorful sheets of glossy advertising brochures (it's better to cut off the sharp edges). You can give your child a white cardboard and a bright pencil – and you will receive the very first autographs of your baby.
At the same age there is an acquaintance with the art of painting. The kid dips his fingers into jars of safe paint, leaves dots, streaks, and tortuous lines on the paper.
You can try to guess some figures in the images, compose a fairy tale about multi-colored tracks and specks – the child still does not know how to speak, but he understands a lot. At the same time, psychologists do not advise to concretize infant images.
Abstractionists in the sliders know something different about them, and these secrets are inaccessible to adults.
Do not forget to hang rattles to the baby's crib, jigs from materials of a wide variety of textures (except for fur). The main thing is that everything is safe and clean.
Early development specialist Elena Danilova has developed a whole series of such useful gizmos, many of which are easy to make yourself – from coils, pieces of fabric, beads, balls. Small parts for snapping fingers firmly fixed with knots or in other ways so that the child does not swallow them. Educational toys are diverse, but too many of them should not be.
An infant is not able to master a large amount of toy information. It is better to gradually update the collection above the crib.
The kid began to walk and is actively exploring the world around him. With pleasure paints and paints. Does your young artist prefer to paint on wallpaper?
Then at the height of his growth, attach the paper to the walls. And fans of floor painting offer large sheets, spread out on the oilcloth.
Show how interesting it is to draw pictures with a foam sponge or a wide brush. Let the kid try himself in the application, for example, glue the pieces of paper prepared by you ("handkerchiefs" or "berries") onto the greased base and press them with fingers. Year-old creators begin to sculpt and design.
You can bend a soft colored wire under your mother's guidance (first dip the sharp ends in nail polish and dry it, and even better, slide the wire into bright laces and fasten the ends). The baby will make the first homemade toys from wads of crumpled paper: help him to join them with chopsticks or glue – you'll have a snowman or a chicken. Very tempting subject for creativity – balls and thick threads (of course, clean, not dusty).
They can be twisted and rolled up, tangled and unraveled, turned into a variety of little animals.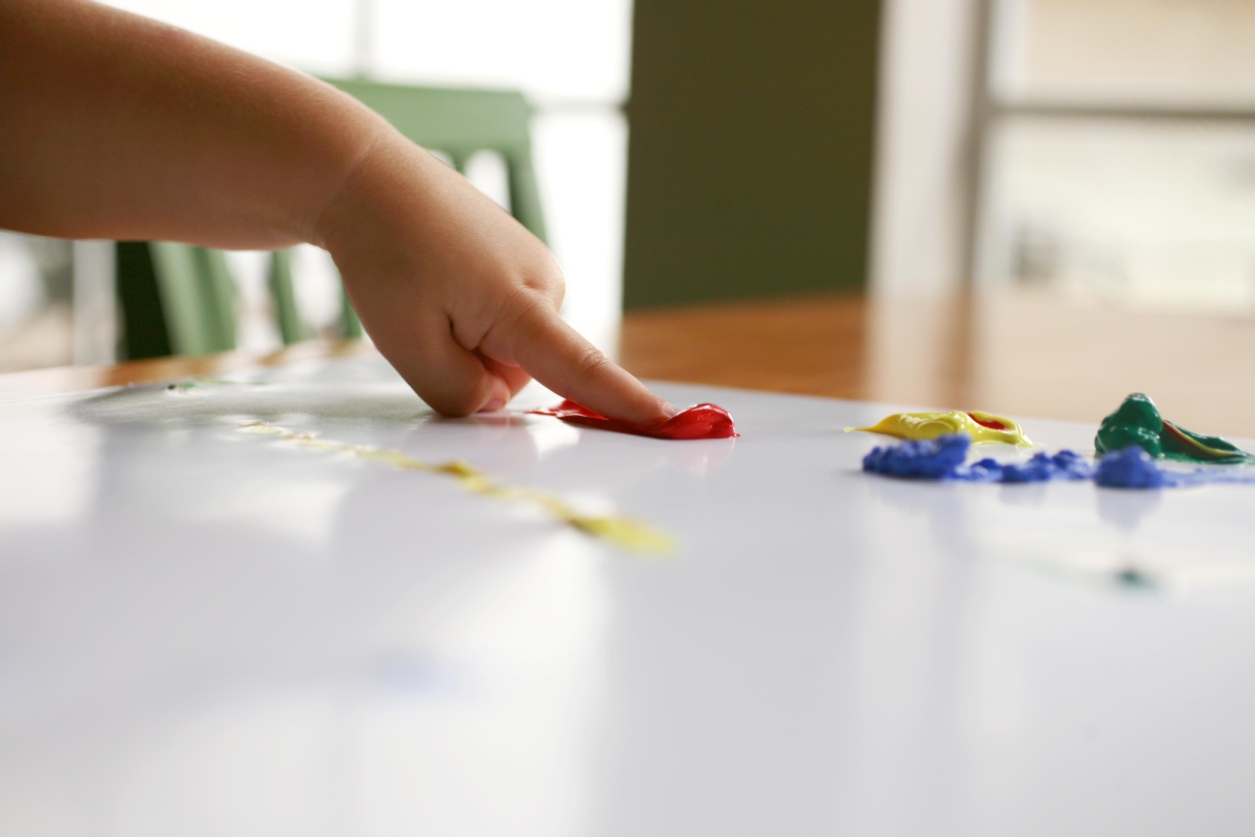 Myself a designer (2-3 years)
Two-year-olds joyfully repeat funny finger gymnastics exercises for adults, play purchasing educational games with pleasure — they put together cubes and models from simple designers, put fingers into the through slots of books-mazes, collect large puzzles and mosaics, unfasten-attach sticky figures to pictures, are engaged with cord toys. In the "property" of the baby constantly something is missing.
Adults watching the game tactfully suggest where to get sweets for a puppet set or mushrooms for a teddy bear (for example, sculpt from clay or roll out of pieces of paper). It is great if the child will make many accessories for the games himself.
Tell me what is better to do, what and how to connect. Just try not to impose anything on the baby and constantly listen to his wishes.
It is important that the toys are simple and easy to perform, and their "production" does not tire the child.
By the age of three, a growing personality has creative ambitions and self-esteem. If before each kid's work, adults were always encouraged and praised, then the first tactful criticism can be applied to three-year-olds.
But this should be done in a soft, affectionate form, aimed at achieving the best results: "Well done, you made a good train, only cars of different sizes. Let's pick up such boxes so that the cars are even and you paint them in different colors. "
Fantasy cannot develop without lively, direct impressions. With your help, the baby will definitely remember them in his work. After visiting the zoo will come up with swans from lumps of cotton, lace and wire.
After the circus performance he will compose clowns from candy wrappers. Coming from the theater, play the play with the help of toys, and make the scenery from corrugated paper, a piece of cardboard, pieces of cloth …
Conduct a "audit of the property" of your baby. Do toys made by my mother's hands live among the machines and dolls? There are pedagogical methods and even whole educational systems (for example, Waldorf) that promote only home-made toys from natural materials.
Maybe this is an extreme, but the company store dolls, bears, rabbits do not interfere at all knitted gnomes or straw ladies. The more different textures in the child's arsenal, the better.
Masters are growing up. They become more diligent, attentive, observant.
Classes drawing, modeling, application and design complement each other. The child acquires new technical skills and abilities, works more actively with scissors. At the same time, it is not necessary to abandon the interesting technology in the application, available to younger children – when they do not cut out, but pull out the silhouette from colored paper.
The edges of such a cloud or petal look soft, as if blurred.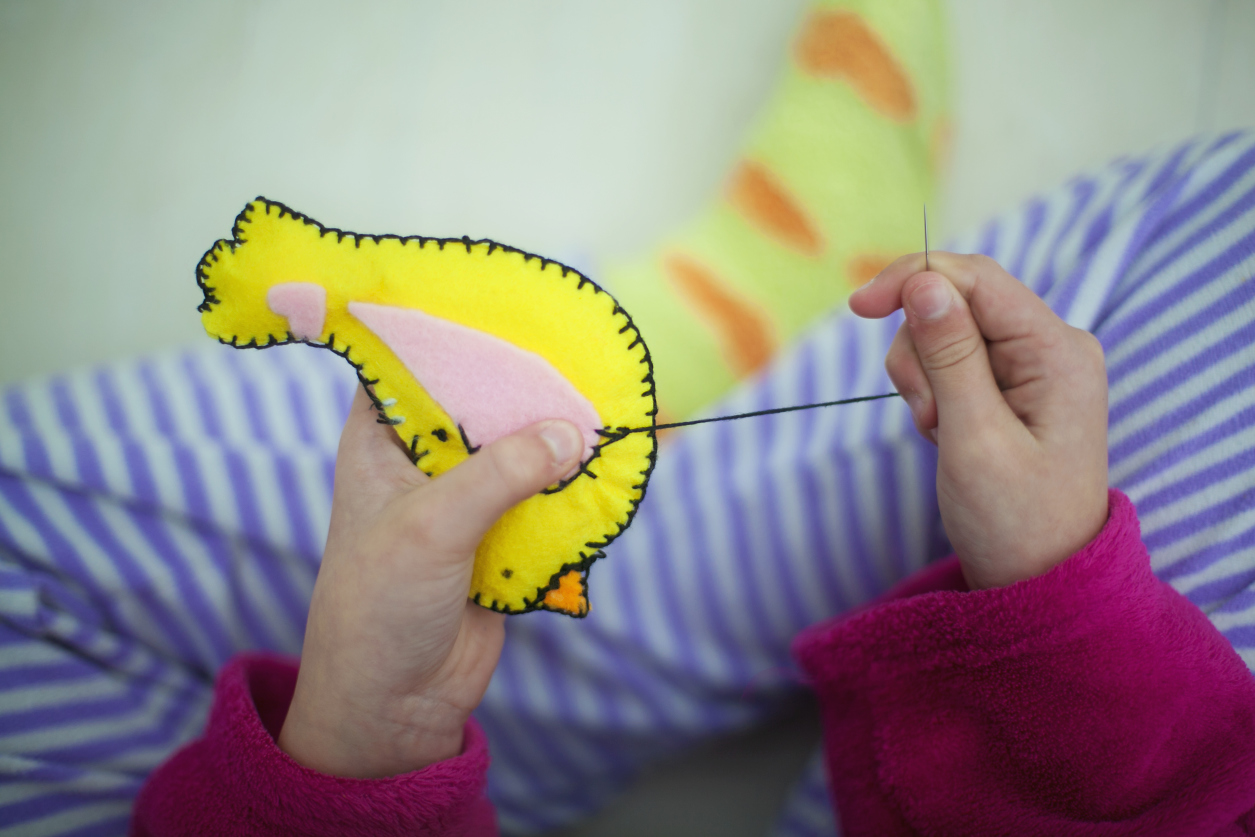 Four-year-old girls, imitating moms and grandmothers, learn to crochet. Some novice needlewomen pick up the loop with the index finger.
So at first it is more convenient, and the ribbon for the doll will be faster.
Inexhaustible opportunities for creativity hides natural material – pebbles, shells, cones, bunches of herbs, leaves and flowers, pieces of bark, acorns, feathers, intricate roots, nutshells, sticks. Their shape tells young sculptors and designers future models.
In combination with threads, glue, clay, pieces of paper and paints from forest and river finds you can make anything you like.
The fine motor skills of four-year-olds are already developed enough to create multi-part compositions – a cosmodrome, a zoo, a school … Persistent children cut and glue homemade from ready-made patterns – their hand is already hard enough to lead scissors along a given contour. Develop the desire of children to bring the work begun to the end, but do not forget about the mobile breaks every 15–20 minutes. A personal workshop in miniature will also provoke great enthusiasm among the kids: move the bookcase with boxes of different sizes to the children's table for classes, in which it is so convenient to store different children's treasures
Many useful and fascinating texts, methodical, psychological and practical advice on the early development of children can be found on the Internet on sites.
Unexpected recommendations are waiting for you in the book of Galina Root "Paper. We play, cut, glue "(St. Petersburg: Kristall, 2001.
Series "ABC of creativity").
Astrel Publishers, together with AST, in the series Art for Preschoolers, released the manuals of American artist and teacher Mary Ann F. Coll, Clay and Dough (2004) and Drawing (2005).
An excellent textbook for parents can be "Gifts for friends. Handicrafts made from natural materials "(Smolensk: Rusich, 2002) and the books of the publishing house" ROSMEN "Great Encyclopedia of Leisure" and "Great Encyclopedia of handicrafts" (2004).