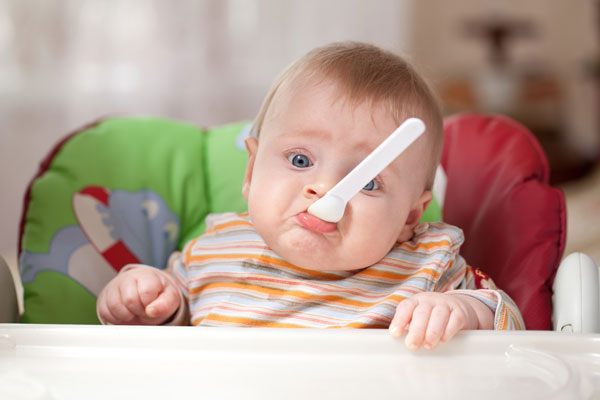 When a child grasps a nipple with a breast, a pacifier or a finger, it reflexively lowers its tongue on the lower palate and begins to automatically suck and swallow liquid food. Sucking and swallowing reflexes are responsible for this process.
Both at the time of attachment to the chest is already quite well developed. At first, the baby can only consume liquid food, and when a more dense lump of food gets into the mouth, the gag reflex is triggered.
From 4 to 6 months, swallowing and chewing reflexes come into effect and chewing begins to develop. If parents notice that the baby does not suck, but simply squeezes with a gum a toy that has fallen into his mouth, then he is ready to receive more dense food.
Therefore, it is time to introduce him to liquid homogeneous (homogeneous) cereals and mashed potatoes. Food of a similar structure can be bought or prepared at home.
First, it is ground in a blender, and then whipped with a mixer.
After 6 months, when the baby can easily cope with liquid mashed potatoes and cereals, the lure with the consistency "liquid sour cream" should be replaced with a thicker one, in which the "spoon stands". But the dishes still have to remain homogeneous and free from lumps.
If they still come across, the baby simply pushes them out of his mouth.
At 8-9 months, parents can see how the baby is trying to gnaw a toy with his first teeth. This is evidence that it is time to complicate the structure of food.
The child can already be given a puree first, containing small soft lumps, and later vegetables, mashed with a fork.
By the age of 12 months, the baby's chewing reflex continues to evolve, it can be trained. To do this, doctors advise giving a child from the hands of mom slices of apples, bread crust and even donut.
Baby first suck new food, and then be sure to bite off a few pieces.
Sometimes, even at the age of a year or two, the child refuses to chew and chew solid food – he is just too lazy to do it.
Such a situation develops because the moment when the child is getting acquainted with the food that needs to be chewed is missed. The kid learned that liquid food can be obtained without any effort, and does not want to give up the convenient habit. It will take time and fantasy to retrain.
The easiest way to convince a crumb to change gastronomic preferences is a personal example of peers or adults. During family meals or children's feasts, you need to convince him that hard meals are tastier and the chewing process itself is extremely entertaining.
If parents seriously get down to business, the desire to get food exclusively in liquid form will disappear in 2-3 months.