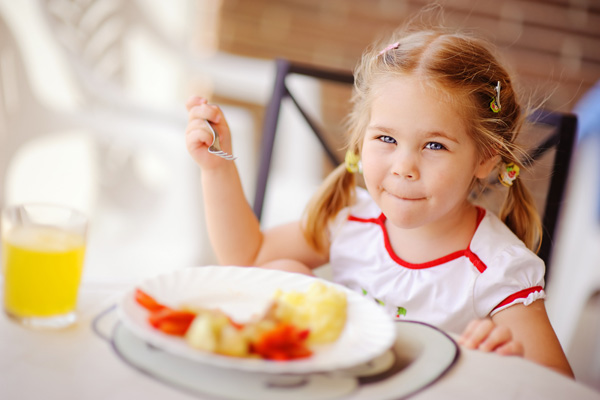 As recent studies have shown, for proper development and functioning of the central nervous system, nutrition must first be varied and balanced. This means that you should not get involved in any particular group of products.
Activate the mental abilities of the child (and adult) in the morning can the right breakfast.
The main source of energy for the whole body, including the brain, is glucose. When her concentration in the blood is maintained at a normal average level, the baby remains operable longer, attentive and ready to perceive and memorize new information.
Glucose is found in fast and slow carbohydrates. Fast carbohydrates (pastries, muffins, sweet flakes, jams, desserts) dramatically increase its blood level, but very soon it also drops sharply.
At this point, the brain begins to lack nutrition, so the crumb becomes sluggish and quickly gets tired. Slow carbohydrates (wholegrain cereal porridge, grain bread) keep glucose up to the mark for several hours.
At breakfast, the preference is certainly to give the latter.
Do not forget about the B vitamins: they are considered key to the brain. They can be found in meat, liver (better to start with chicken), cereals, legumes, egg yolk. Fish is also considered food for the mind, not only due to phosphorus, but due to the high content of polyunsaturated fatty acids (omega-3 and omega-6).
These substances, among other things, strengthen the membranes of nerve cells. Since the basic principle of the nervous system is based on the transmission of nerve impulses between cells and their membranes, these acids are extremely necessary for our body.
Fat varieties of fish (salmon, trout, halibut) are especially useful in this regard. After 3 years they are recommended to give children 2 times a week. Omega-3 and omega-6 fatty acids are also found in vegetable oil.
Its many species are best alternated.
Nuts also strengthen the mind, no doubt, but they can cause harm to the young body.
Nuts are rich in B vitamins, but babies under 3 years old (and ideally under 5) cannot be offered this treat. Nuts are one of the most allergenic foods. In addition, they contain too much fat, so the fragile gastrointestinal tract of the child cannot cope with them.
From the age of 3, the child can from time to time be offered nuts of any kind as a "seasoning" to the dishes – they can be added both to desserts and to salads. It does not need to try to have the child eat them in certain quantities and always every day.
This approach – the lot of amateurs. From peanuts (this plant belongs to the class of legumes, but it is often called a nut) should refrain up to 7 years, because it is the strongest allergen.