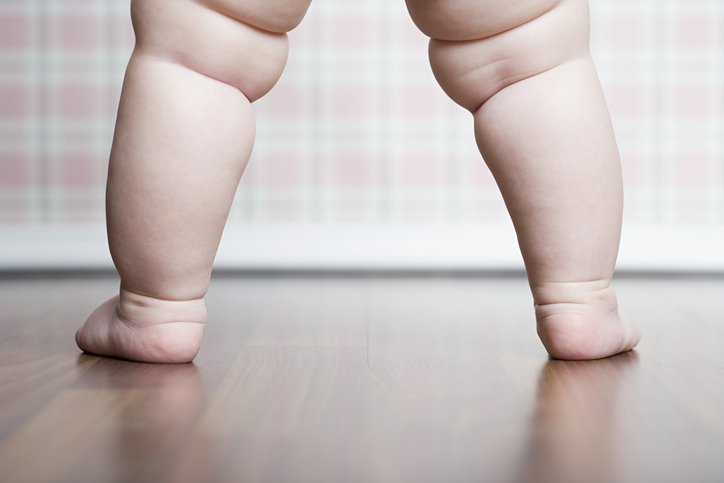 Mom in no case should not engage in self-diagnosis, trust an experienced orthopedic surgeon, neurologist or pediatrician. The specialist pays attention to all the folds – on the knees, buttocks, and everywhere, and only he is able to correctly determine the cause of their asymmetry.
The reasons may be the following: dysplasia of the hip joints (the case when the hip bone does not enter the pelvic cavity so that the pelvic joint is fixed properly) or a violation of muscle tone (also known as muscular dystonia).
Causes of hip dysplasia – a violation of the formation of the acetabulum of the hip joint, when it can not hold a bone. This deviation occurs for various reasons, starting with the health of the mother and ending with environmental factors.
Muscular dystonia is a violation of the muscle tone of the skeletal muscles, which occurs due to the transfer of hypoxia (lack of oxygen) by the child, both acute during childbirth and chronic during pregnancy. This is also a neurological symptom that the doctor diagnoses.
Dysplasia, if it is not installed in time and measures are not taken, leads to disability, since the bone can only be moved back into place only surgically. The treatment is conducted by an orthopedist, the appointment will depend on the degree of dysplasia. Sometimes for several months special "struts" of different types are installed for the baby, fixing the legs and holding the joints in the correct position.
This technique allows you to properly form the acetabulum. How long the treatment will last will be determined by the doctor.
During all this time, the baby will periodically be examined – x-rays and ultrasound of the hip joints, so that specialists can monitor the dynamics of the process.
Asymmetry can also be congenital – in this case, doctors are talking about hip dysplasia, if its formation is impaired or there are pronounced neurological changes in muscle tone. They manifest themselves as pronounced changes in limb mobility.
Again, in order to not miss the time, you need to consult with the above-mentioned experts and make an ultrasound of the hip joints – this is a standard screening examination, which is carried out at the age of one month.