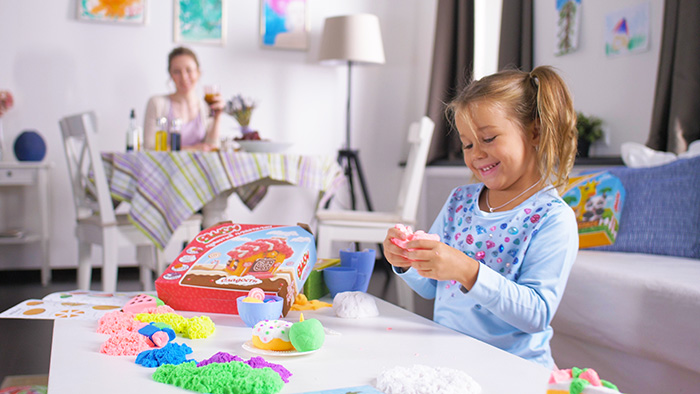 Before the start of classes fluffy clay need to knead. The material is molded not as usual: the details need to be loosened before connecting, but to install the peephole, handles and legs – to make a recess on the figure.
Small details, for example, a cat's mouth or mustache, kids will draw a special stack. In the process of modeling, the same muscles work as when writing with a ballpoint pen, so the future student will not be tired of the lessons.
For the development of speech and writing are responsible for the same parts of the brain as for fine motor skills. While playing with fluffy plasticine, the child writes stories and the speech of plasticine creatures, and learns new words.
Nothing reveals the creative potential of a little sculptor better than modeling. Ask the child to make a scary monster or alien creature.
And look – do not be afraid, seeing the result. Literate questions about the molded figure will support the child's imagination: what is the name of the molded hero, where does he live and what does he prefer to eat for breakfast?
A child made a car made of plasticine and a suitable garage. Ask where in the design he used the square, circle, sphere and triangle? Where is the smallest and biggest detail?
How does the car move relative to the garage? Later, these skills will be useful to the child in the lessons of technology, design and geometry.
During the game you can easily find out what worries the child and what he dreams about at night. Kneading soft and airy clay soothes, relieves tension and softens negative emotions.
Evening modeling in silence will help the child better prepare for sleep.
A child learns to combine the colors of plasticine with each other. Experiments under the strict guidance of an adult will help him to understand how to make the original shade lighter or darker (for this purpose there is a white and black color in the set).
The child learns that prolonged mixing can achieve a uniform shade, and a short one – a beautiful marble effect.
Sets of fluffy plasticine are equipped with modeling schemes, and on social networks you can find detailed training videos. Give your child the opportunity to figure it out. If everything works out, it will give him more confidence and ability to rely on his strength.
If something goes wrong, offer your help. It is important for even the most independent children to understand that there is always a loving adult nearby who is ready to help.