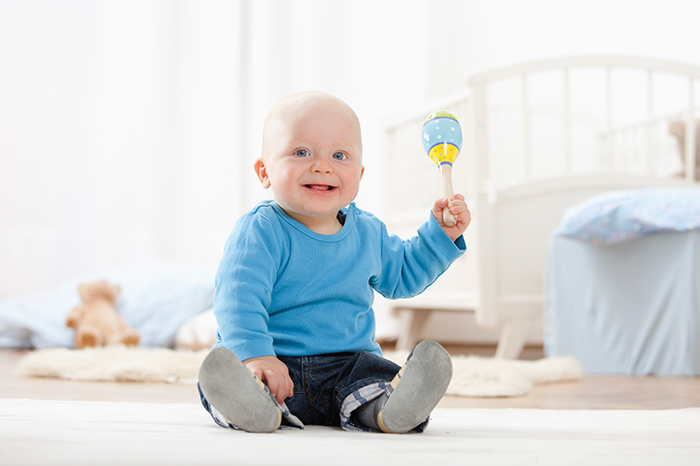 First, the child begins to distinguish between contrasting, spotty or striped patterns that are at a distance of 30 cm. Red, blue and green will be preferred colors at this stage.
In 2-3 months, the baby is interested in large bright objects. Since he already actively relies on his hands and confidently holds his head, he can look at the carpet and curtains for a long time.
Hang a bright towel or other eye-catching object in his crib.
Baby opens the world of tactile sensations. It's time to offer him different in texture items – cloths, bags, rustling materials. As the tone in the hands decreases, the baby learns to grab objects with the palm of his hand and gradually begins to shift them from one hand to another.
Offer him light, different in texture and sound toys to develop the sensitivity of the hands, develop coordination of movements and the ability to correlate the sizes of objects.
At this age, the child captures objects with two fingers – thumb and forefinger. A crumb can collect crumbs from a plate for a long time and with concentration; Particularly attractive are small parts that immediately go into the mouth.
Be careful and do not take your eyes off the baby!
The kid likes to disassemble and collect objects, build simple structures from cubes, put one in another molds, string the pyramids. Since the crumb finally acquires freedom of maneuver and gradually masters the upright position, he will like moving toys that can be rolled, carried, pushed and thrown.
Children always like toys that combine different functions. In the first months of life, the sounding and dynamic "entertaining" of contrasting and at the same time eco-friendly colors that make pleasant sounds to the baby's ear will be relevant.
Moving or spinning objects will focus his attention (and this is a very useful skill of concentration), will help to calm and entertain. Placing such a toy is at a distance of 30–50 cm so that the child can focus on her gaze and reach out to it, as well as discern the details.
From 6–7 months, when the baby can already sit and begins to explore the properties of objects, he actively develops hand motor skills. He will benefit from soft toys made from dissimilar materials, including a development center with clasps and inserts that can be pulled out.
Offer your child cars, play with him dolls, look at pictures, build towers of cubes.
Developmental panel helps the child to improve hand motility, visual-spatial coordination and associative thinking. The kid gradually begins to understand what movements need to be reproduced in order to reach, grab, pull.
Show the child a figurine, twist it, move a children's pen to the toy and show how you can "revive" it. Watch the baby: if he has lost interest in the fun, remove the panel, and after a while, offer it to the child again.
The acquisition of new skills and the assimilation of information requires a lot of energy, so the child needs a good rest. You can relax after the "works of the righteous" both in the crib, and in the arms of mom or dad, and at mom's breast. Sleep will be strong if the baby is mocked and sing a lullaby.
After 15–20 minutes after falling asleep, you can put him in a cot or bassinet (bouncer), which will be a salvation for moms, especially those who suffer from back pain.