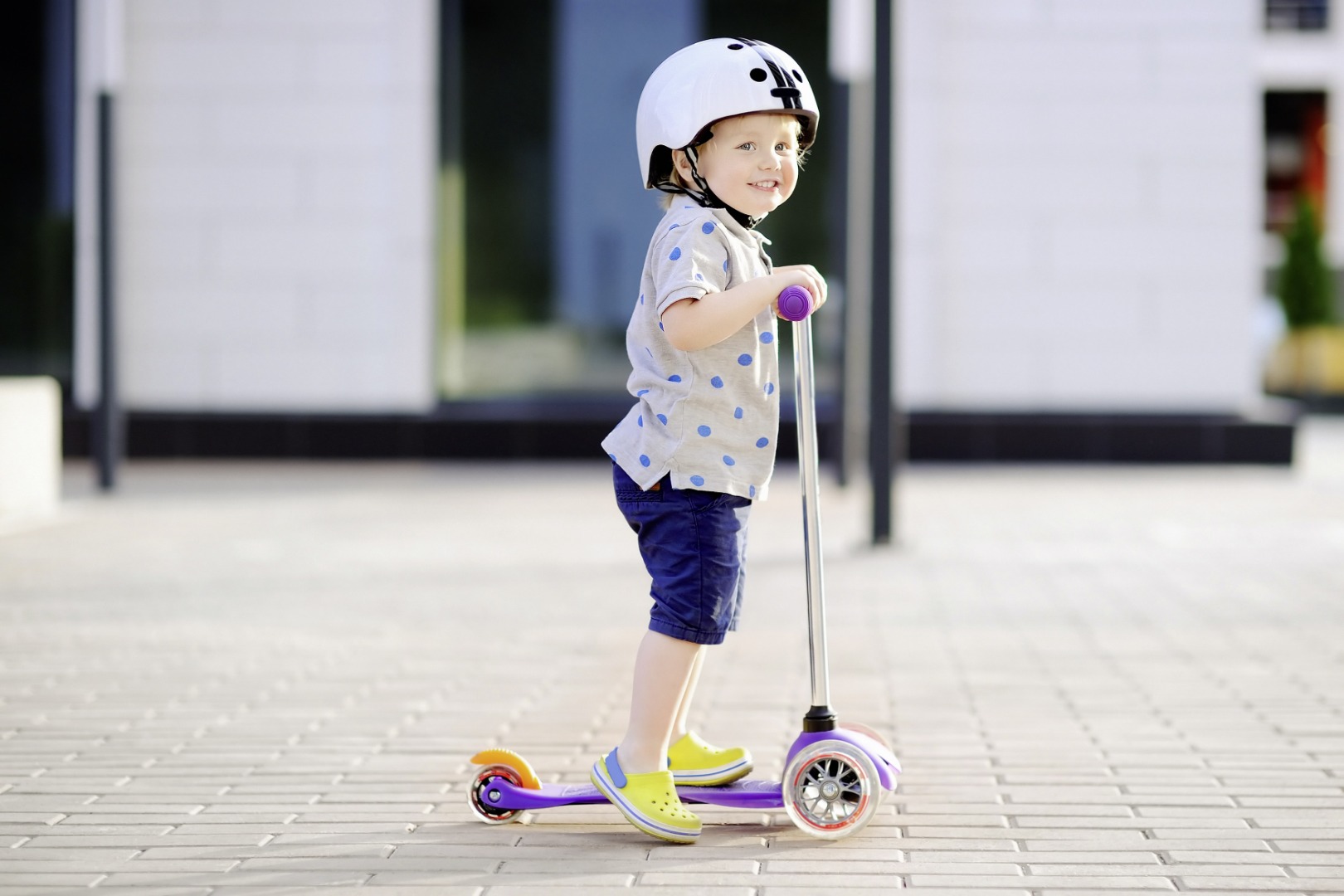 Mastering even such a primitive means of transportation as a wheelchair requires serious preparation from a child. And if the child, sitting astride, is unable to move it from its place, is capricious, and falls on its side, it means that it is not ready for this.
Moreover, it will be difficult for him to control a running bike, a bicycle, a scooter.
What is the matter? In poor performance of the vestibular apparatus.
And this problem is not only medical, it is also a problem of education. Yes, the child knows how to walk, but he has not learned to fall correctly, he does not feel his body and does not manage it well.
Parents simply did not allow him to fall, picking up "on the fly", unnecessarily protecting him, and the kid did not develop a reflex, did not turn on the mechanism of self-preservation. Most likely, adults restricted his natural physical activity: "Oh, do not climb there, you will fall! Oh, do not run fast, you fall!
Do not go here, stumble! Don't get dirty! "
An active child who can fall from the height of his still quite small stature will not only master any children's transport more easily, but also avoid injuries on it. In the case of imminent danger, he will simply throw it away, as representing a danger.
And he himself will fall, of course, but he will group himself in the usual way, roll over in time and get up as if nothing had happened. After all, he has already done this many times!
Runbike (year)
Perfectly and symmetrically develops muscle groups of the legs, as well as the spine. Learns to keep balance while preparing to ride a bike.
There are basic controls (a front wheel that can be turned by the steering wheel), which is also very important both for the body and for consideration.
Moving on the bike, the child chooses himself how to do it. As a rule, at first he simply pushes with both feet, then, realizing, as quickly as possible, alternately.
Having learned to move, having caught the center of gravity, the kid learns to go in the necessary direction. That is why the first running bike should be stable, with four wide wheels, and quite heavy: weigh as a third of the weight of the child.
Later, having mastered such a transport, having learned to balance the body, the child will easily and with pleasure move to a faster – two-wheeled one.
Three-wheel (or 2 + 2) bicycle (from 3 years)
Perfectly develops the ankle, as well as the back muscles and hip joints. Must have every child. This is a stable design, the baby feels comfortable.
He can stop without getting off his bicycle, he can look back. It may even rest and relax, releasing the pedals and moving by inertia.
The heavier the bike, the lower the overall center of gravity is located, respectively, the probability of falling from it compared to light vehicles is somewhat reduced. But it will be more difficult for a child to raise it, although it is necessary to do it yourself.
So choose a compromise purchase option with the baby.
It is better to choose the pedals with a rigid system with a chain, so that the child clearly understands: the faster you turn, the faster you go, you climb up the hill – the load increases, you must brake down from the hill.
Scooter (from 2 years)
Classic scooters perfectly develop muscles, vestibular apparatus, ankle and coordination of movements. When choosing a model, look for the handlebars to be positioned at the correct height – approximately just above the rider's belt. With proper riding on a scooter, namely, with a periodic change of the pushing leg, there is a harmonious development of all muscle groups of the trunk and limbs, which are responsible both for statics and for the dynamics of movement in space.
So will not the curvature of the spine due to an imbalance of muscle development.
All toys surrounding the child are designed to develop useful skills. Unfortunately, some, on the contrary, deprive the baby of development opportunities.
For example, electric individual vehicles for children, so-called buttons, which do not require muscle control. These are non-educational toys, on the contrary, simple entertainment leading to the degradation of physical functions.
Relatively recently appeared and supposedly safe three-wheeled scooters, where two widely spaced wheels are located in front. On these pseudo-scooters, you almost don't have to worry about maintaining balance; turning is done by tilting the handle.
Thus, when driving a child works the minimum number of muscle groups. Physically, nothing develops, unless it pushes from childhood to acquire a known group of new "modern" battery vehicles.
They, by the way, are transport as much as possible increased trauma!
Also, do not buy a bike with a stick for pushing – Cycling. Sitting on it, the child is not only relieved of the necessary muscular load, but also gets used not to control either the steering wheel or the pedals.
What for? It will still be delivered from point A to point B. As a result, the baby grows not only weak, but also irresponsible.
Yes, when choosing a vehicle for your child, you must also take this into account.
Imagine, the baby already knows how to fall from his two, having done this more than once before and safely rising. He saw children skating in the yard, and he also wanted to.
Asked to sit, ride – like it!
Having bought a vehicle, give the child time to get acquainted with his "horse". Let her stroke, moves, rolls.
And most importantly – he will feel the weight of the transport, find out where his center of gravity is.
Important! Do not put the child on the bike, let him do it yourself.
First, go where the child is more accustomed and where it is softer to fall.
It is more correct to teach helmets, knee pads, elbow pads from the age of one and a half years, but they are obligatory closer to 3 years. For younger ones, it is possible to do with a knitted hat, for example, with a Macedonian elastic and with a cuff that serves as a shock absorber when it falls. And when it's hot, just a bandana.
All this, apart from the protection function, also disciplines: if you want to skate – be kind, put on your ammunition.