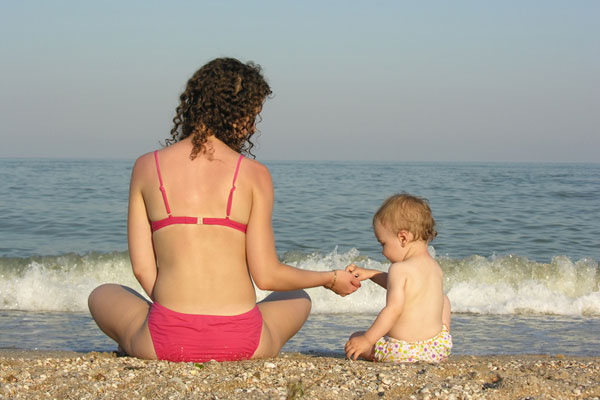 Problems may arise due to the fact that the mechanism of regulating body temperature in small ones is not yet established, and they quickly overheat and overcool.
Before you go swimming, get out of the sun in the shade and sit there for 10–15 minutes to cool the skin of the child. Otherwise, due to sudden changes in temperature, the baby can catch his breath and faint.
To get started, go with a small in the sea for 2-3 minutes, and then extend this pleasure up to 10 minutes. 10 minutes spent in the water, according to the degree of load for the baby are equal to the swim time for an adult.
It is desirable to bathe babies in water whose temperature is not lower than 21–25 ° C. It is better to do this from 10 to 11 am and from 4 to 6 pm, when the air and water are warm, and the sun is not so active.
Upon entering the water (children under 3 years old are better to hold), first wet and rub the baby's legs and arms with it, then the belly and back, and only then immerse him completely in the sea.
If during bathing the baby's skin becomes bluish and goose pimples appear on it, get out of the water onto dry land to warm yourself. Pound the skin of a small soft towel and put a t-shirt or blouse on it.
Never leave a child in the water unattended for a minute, even when the water barely reaches his knee. If the baby is splashing in the sea, and you are resting on the shore, be sure to wear an inflatable vest and sleeves on it.
After the child leaves the water, wipe him with a towel and sit in the shade for 10–15 minutes. If the little one does not want to go into the sea, do not force him to do it.
". bathing excites babies "
Not true. The sea acts on everyone in different ways: it will calm the overly energetic baby, and, on the contrary, it will tone up a thoughtful and leisurely crumb.
True, this principle only works if the child successfully overcame the period of adaptation to a change of place and he is in a good mood.
". kids can not swim after a meal "
True. If the kid has a little snack, you can safely go with him to the beach, but after a hearty lunch it is better to wait 1-1.5 hours.