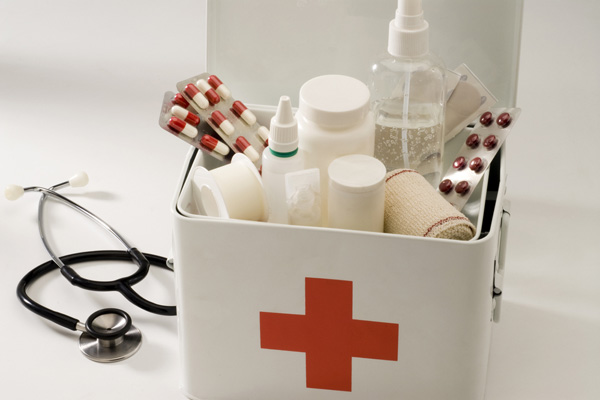 When compiling it, try to do with the minimum amount of medication. A good rule is not to keep a large first-aid kit in the house where there is a child.
All drugs have a shelf life, and if there are many, there is a risk that you will not notice how it will expire. In addition, medicines have different requirements for storage conditions.
In any case, do not throw away the packaging of the drug, which indicates the expiration date and date of manufacture.
Medicines for children are different from drugs for adults. You can not give the child half a tablet for an adult, even if they have the same name, because the composition of the latter may include unsafe substances.
Means for treating bruises and abrasions will appear in the first-aid kit of children older than a year (3% hydrogen peroxide solution, because most small wounds do not require treatment with antibacterial and antiseptic agents). Remember that products containing iodine can cause allergic reactions. And its alcohol solution, firstly, often causes skin burns – and the wound will heal longer, and secondly, the irritating effect of alcohol causes pain.
For treatment of extensive abrasions and large wounds, you can use water preparations of iodine (Povidone-iodine, Akvazan; Betadine, Egis). By the way, any means that change the color of the skin (Zelenka, fukortsin, iodine), do not need to use when a rash appears.
It will be difficult for the doctor to make a diagnosis if he does not see the real color of the problem area.
Then, in the first-aid kit there should be vasoconstrictor nasal drops for the child's age, cough syrup, sorbents and anti-swelling agents (Smekta, Beaufour Ipsen; Espumizan, Berlin-Chemie); insect bite remedy (Fenistil gel, Novartis; Psilobalzam, Stada); treatment for diaper rash / prickly heat (Sudokrem, Forest Tosara; Drapolen, GlaxoSmithKline).
The composition of the kit is discussed with the pediatrician, he will explain how to properly use this or that drug.
And now a few words about forbidden means. You can not prescribe an antibiotic baby. Improper treatment can worsen his condition and interfere with further treatment. After completing the course it is better not to store the remnants of the drug.
They are not enough for a new approach, and there is a risk of confusing the dosage.
Children under one year old cannot treat inflammation of the tonsils by means of a spray; they can cause respiratory arrest.
For children of any age, such drugs will be unsafe: analgin and its containing drugs – they can provoke serious blood damage (Baralgin, Spazgan, Spazmalgon, candles); Aspirin and drugs based on it (for example, some cold remedies) – there is a risk of severe problems (Ray's syndrome). The list closes No-shpa (Sanofi-Synthelabo) and other antispasmodic and painkillers if the child complains of abdominal pain.
The action of drugs will prevent doctors from accurately diagnosing and starting treatment on time. This situation is especially dangerous in case of acute inflammation in the abdominal cavity (appendicitis, hernia incarceration).