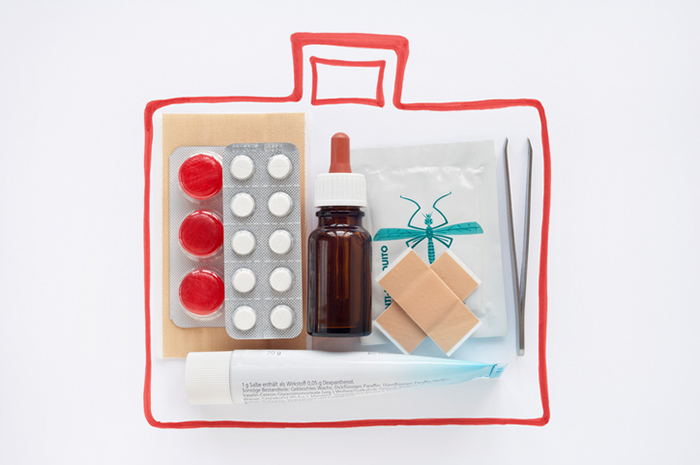 For the first-aid kit in the apartment should take a special place. This can be a drawer or shelf in a kitchen cabinet, or a box standing in a cabinet on a shelf or placed in a cabinet drawer, where all the tablets, drops and ointments will be laid out in a specific order. However, the case will not be limited to a drawer or a shelf in the closet.
Why? Read about it below.
Carefully read the instructions for any drug. It always indicates the storage conditions: temperature, light, humidity, contact with air, etc.
The expiration date, which is specified in the instructions, will be accurate only if you have complied with the requirements for storage conditions specified in the instructions. Otherwise, the drug will deteriorate faster or toxic components may form in it.
Storage temperature should not exceed the values ​​specified in the description. Solid and gaseous (aerosols) medications are usually stored in a dark place at room temperature away from sunlight.
For most of them, the optimum temperature will be 15-22 ° C. If the label or instruction says: "Store in a cool, dark place" or "in a dry cool place", then the medicine must be kept at a temperature not higher than 15 ° C, that is, in the refrigerator.
In the fridge should be put and preparations that should be stored at a temperature not higher than 5 ° C.
At the same time, medicines for which a low temperature is "prescribed", for example, candles, are placed on the shelf closer to the freezer. Soft dosage forms (for example, ointments) can be stored on the middle shelf of a refrigerator.
Drugs that are "prescribed" for just a cool temperature mode are best placed in the side door or at the shelf furthest from the freezer.
Medicines that should be stored in the refrigerator should be protected from moisture. To do this, put them in a box or plastic bag.
Illumination. Direct sunlight, heat and bright light quickly destroy the components of medicines.
Because those drugs can "live" outside the refrigerator, it is best stored in the dark – on a shelf in a closet with opaque doors, away from central heating batteries.
Any medicine should be stored in the packaging in which they were sold. Moreover, syrups and solutions are not only in a vial, but in a cardboard box in which a vial was packed.
Tablets – in the original sealed package. Otherwise, evaporation of volatile substances or reaction with oxygen (oxidation) may begin.
Humidity. Any medicine stored in a dry place.
Bathroom, balcony for these purposes are not suitable.
Conclusion: the first-aid kit should be stored in several places depending on the purpose of the drugs and the requirements of the instructions. Each medicine should be in the "native" package so that it can be easily identified in a situation when there is not enough time to think.
Instructions should be stored with the drug, in the same package.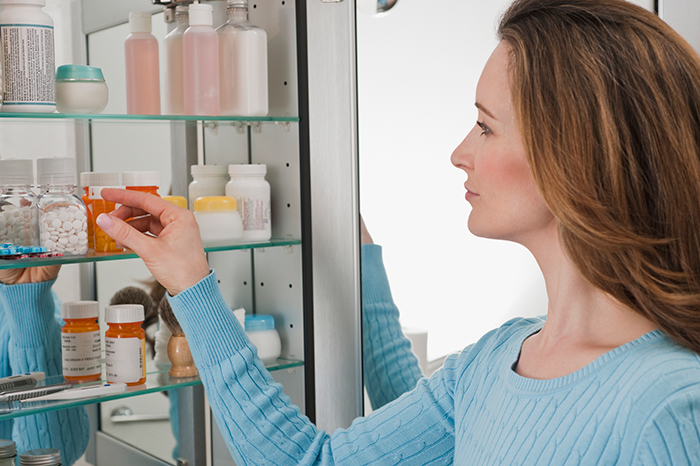 The ideal home kit should consist of several parts.
Medications for "acute" situations – injuries, burns, cuts, heart attacks, poisonings, hypertensive crises or asthma attacks (if the family has asthmatics and hypertensive patients). It is best to keep such preparations in the kitchen, since it is in the kitchen that injuries occur most often. We put: a couple of bubbles of hydrogen peroxide, cotton wool (cosmetic cotton swabs or classic cotton wool, after unpacking the package), Panthenol, Bepanten or their analogues, adhesive plaster, several coils of bandage, iodine, Zelenka, elastic bandage. In addition, we need "No-shpa" (antispasmodic), activated carbon, or "Smekta", or "Enterosgel" (for poisoning), "heart" drugs. Near it is better to put a brief instruction – when, what and in what dose should be taken. The dosage must be indicated for both the adult and the child. Here you can add a couple of disposable syringes.
In the refrigerator we put creams, ointments, preparations for injections, drops for nose, eyes and ears.
Medications for standard situations – cold, flu, stomach problems. It is more convenient to organize this "section" according to the principle "what we take from what" and insert it into a common box or partitions with the name of the corresponding "sections", or several boxes of smaller size, also appropriately entitled. From problems with the stomach fit reserves of activated carbon or "Smekty", laxative, "Linex", an enzyme preparation to help digestion. If something needs to be stored in the refrigerator, put a note with the name of the medicine and indicating where it is located, as well as indicating the dosage. For cold and flu, we put antipyretic drugs, cough drops, sore throat remedies, etc., and vitamin C packaging.
Medications that may be useful in a particular situation – headache medications, sedatives, etc.
Medications that are taken regularly.