Thinking through the menu for the children's table, you need to understand that food for kids should be different from what is usually prepared for an adult holiday. First of all, food should be pleasing to the eye and be useful.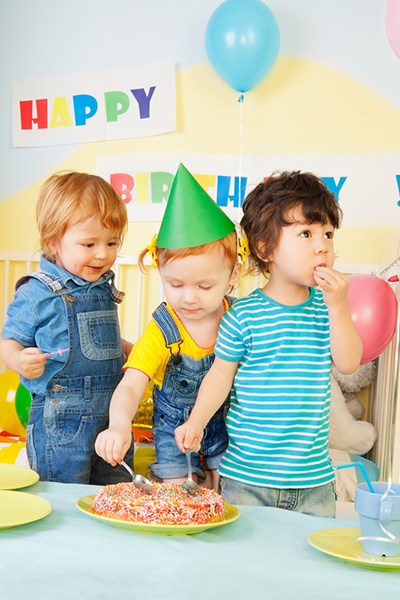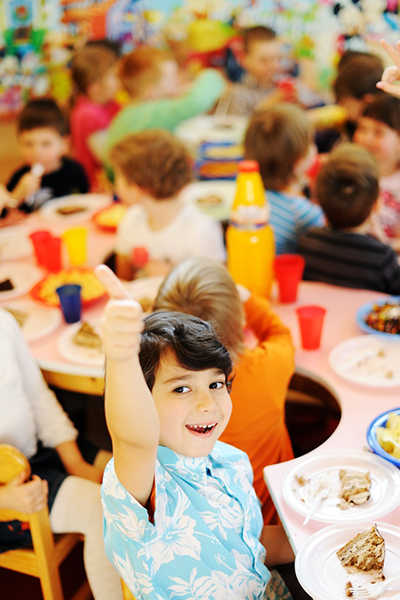 do not use exotic products.
dishes should not be spicy, fatty, too salty or sweet, smoked.
ingredients should be familiar to children of this age.
Avoid products that are considered allergens. Or ask all parents in advance if there are any allergies among the invited children to any products.
do not serve food with bones or thick skins for young children (grapes, fish, berries, etc.)
discard harmful carbonated or dyed beverages.
refuse at all harmful sauces (ketchup, mayonnaise, mustard, etc.)
The appearance of the holiday table is just as important as the rest of the decor of the space. True, it is not necessary to try to embody complex ideas, it is enough to use bright colors.
So, for a children's feast may need:
tablecloth
napkins
tubules (can be decorated with tinsel, etc.)
plastic cups
cutlery
plates (it is better to use paper)
canape sticks
dishes to place dishes on the table
fondue
aprons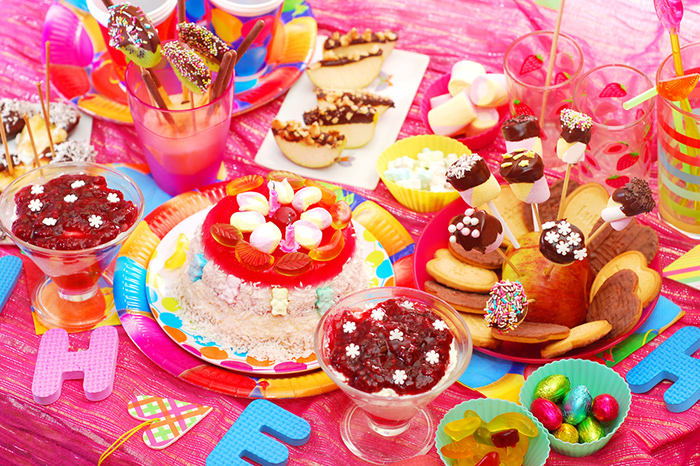 Buffet for children's parties will be a good option, especially for the first half of the event. It all depends on whether you plan to serve hot dishes or just snacks and desserts.
As for snacks, they should be in the form of small portions that would be easy to eat and eat in between games. For example:
Sandwiches. Even the most common sandwiches can be served in their original form.
To do this, it is enough to cut figurines from all its constituent ingredients with the help of cookie cutters. And then you just need to fold and pierce the canape sticks or wooden skewers.
Products that can be used: bread (you can dry it a little beforehand, but to avoid a very firm crust), cucumbers, boiled meat, cheese, tomatoes, green salad, egg, sweet pepper, cottage cheese with greens, potatoes, carrots, beets.
Fruits. They, like sandwiches, can be served on canapé sticks.
There are two options: either simply put the pieces of fruit or pre-cut out of them figures. Fruits on sticks can be simply laid out on a plate, forming a circle, or by sticking them into a piece of watermelon, melon, pear, etc. So, from the base in the form of a pear, you can make a fruit hedgehog.
It is enough to clean the "muzzle" (where the sharp end is) from the skin, insert a clove instead of the peephole, and instead of the nose black grapes. Where the peel is not clean, stick fruit canapes (these will be needles).
You can also decompose them into multi-colored plastic cups (or paper).
A more complex version is a fruit figurine made on a plate. It will be easy to make a beautiful butterfly, for example.
True, in this case, it will be more difficult for children to eat it.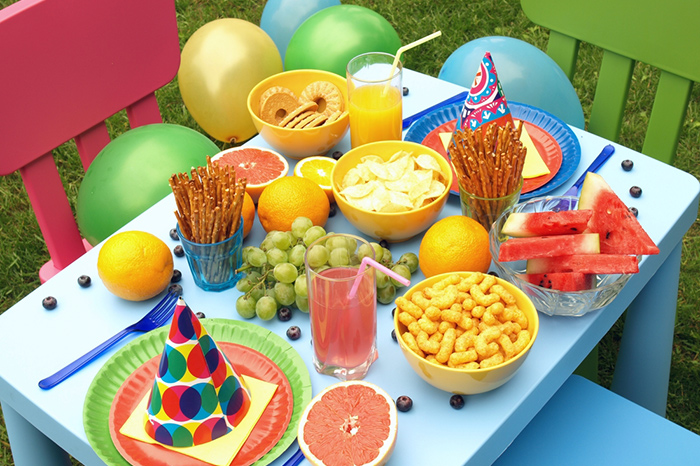 Salad. For convenience, salads are best laid out in edible baskets, which can be made from dough themselves or purchased at any supermarket.
You can also use cucumbers instead of tartlets. You need to take a large cucumber, cut it lengthwise into two parts, and then clean the flesh.
Put the salad in it. And from above, to turn it all into a ship, you need to stick a wand, on which, as a sail, all the same cucumber will be planted. To do this, cut the cucumber into thin long plates and plant it from two edges onto a skewer.
Like fruits, a salad can be served in transparent glasses, laid out in layers, so it will be more effective. Ingredients that can be used: cucumber, sour cream, meat, potatoes, lettuce, greens, eggs, tomatoes, corn, green peas, beans, rice, sweet peppers, beets, carrots, cheese, shrimp.
Snacks can be prepared in advance or you can make the cooking process part of the feast by arranging a culinary competition game.
If you still decide to feed the little guests with warm food, it can also be served, as well as snacks, without cutlery.
Pies All children love pies, especially puff.
They are fairly easy to prepare, and besides, it is also satisfying. They can be molded in the form of figures or animals, using special forms for cookies.
Only for children you need to make smaller pies than for adults. What you can put in them: cheese, meat, potatoes, eggs, onions, salted cottage cheese with greens, cabbage.
Baskets. Dough tartlets are ideal for serving both cold and hot snacks. Warm dishes are best cooked simultaneously together in a basket.
To do this, it is better to take the forms for muffins, arrange a circle of rolled dough in it and put the products you prefer there. Ingredients you can put: potatoes, tomatoes, meat, shrimp, zucchini, corn, beans, cheese, onions, sweet peppers, eggs.
Pizza. A good dish for a children's holiday will be a mini-pizza, which children can also prepare themselves, as part of the festival and competition. To do this, you do not have to make the dough yourself, you can buy ready-made and cut circles out of it with the help of any cup.
Also from the products you can put funny faces on each of them and bake. Ingredients that can be put into pizza: meat, tomatoes, mushrooms, meat, cheese, sweet peppers, beans, corn, green peas.
Barbecue. This is the conventional name for pieces of meat that, after cooking (steamed, baked, roasted), must be planted on a small wooden skewer.
You can also make them with vegetables. Ingredients: meat, tomatoes, cucumbers, zucchini, zucchini.
"Pizza" from pasta. If you want something original, then we suggest cooking a pizza from pasta, in the form of "nests". First you need to gently boil them to keep their shape.
Then you need to put them on a baking sheet, put the ingredients on top (vegetables, meat, etc.), and sprinkle with grated cheese on top. You can also pour an egg, then this "nest" is better retained form.
Pancakes Russian dish that can be served not only with sour cream, jam or honey, but also with filling.
For kids, it is better to serve them in the form of bags, in which you can put meat, vegetables, cottage cheese, etc.
Figures. You can make funny animal figures out of rice or buckwheat. Meat (small meatballs) and vegetables can also take part in this.
So you can sculpt animal figurines or depict the whole picture. However, in this case, you will have to lay out the edible image on each plate, for each baby individually.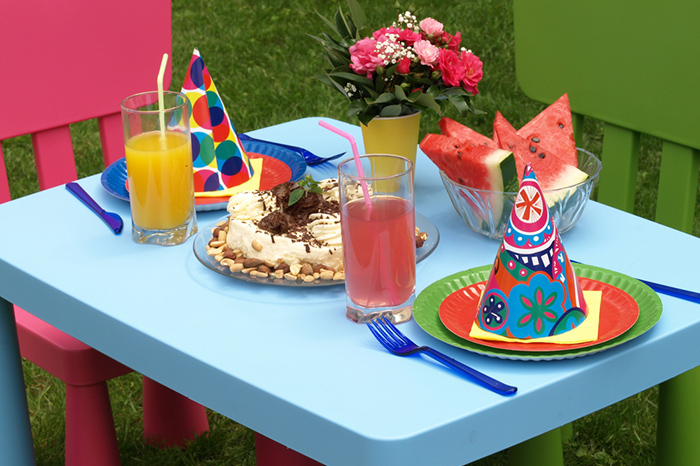 No holiday is complete without drinks. The only question is what would bring such an interesting and useful to the table.
For younger children, it is better to stock up on small packaged juices. For older kids, you can make a mix of freshly squeezed juice.
And also make homemade lemonade or compote, submitting them in a beautiful decanter or glasses. If you are worried that children can spill a drink, then buy special plastic transparent glasses with a rounded lid where the tube is inserted.
They can be painted or stuck on them stickers.
Milk shakes with fruit are no less popular at children's birthdays than juices. But jelly, perhaps, went out of fashion, but it would also be appropriate, although not everyone can like it. For dessert, it is better to serve warm tea, not cold drinks.
Many will also prefer warm cocoa with milk.
Where children are, there is always a sea of ​​sweets. This is especially true of children's celebrations. In addition to the birthday cake, there are always other delicacies at such events.
Since the purchased sweets do not differ in useful properties, we suggest you to prepare them yourself. The main thing that they were tasty and beautiful.
Homemade "candy." You need to soften a plate of bitter chocolate in a water bath, and then mix it with nuts, dried fruit and 1/3 cans of condensed milk, you also need to add a small piece of butter.
Then pour the resulting mass into a small form and place in the refrigerator for 10 minutes and then in the freezer for an hour. After you only need to cut into pieces and can be served on the table.
Ice cream. This dessert will appreciate all the children.
However, you can not directly take the ice cream itself, and take the frozen yogurt. It will be much more useful, and the taste is not particularly different.
In order for each guest to be able to make his own version of the dessert for himself, it is necessary to buy waffle cones and cups, or just ice-cream bowls. And also put into different cups or decorative jars "fillers", which then everyone will add to their cup with ice cream. This may be: biscuits, chocolate, coconut chips, pieces of fruit, marmalade, nuts, berries.
Alternatively, you can simply put layers of yogurt, fruit, liver, cereal, marmalade and chocolate in each cup.
Mousse jelly. Children will surely like this dessert. It is quite easy and useful.
It can be made with different layers. For example: Boil 200 ml of milk, pour into a deep cup, add 1 tbsp. powdered sugar and 2 tbsp. instant gelatin. Then you need to beat everything up to the formation of foam.
Take a banana and grate it. Pour the milk into 2 cups.
In one of them, add a banana and whisk. In the second place strawberries and whisk.
Take 2 piala and until the middle pour a banana and strawberry mass into different piala. Refrigerate for 30 minutes to freeze the jelly.
Then remove the ice-cream panes from the refrigerator and add the remaining half. Only on top you need to pour layers of a different taste and color.
And again put in the refrigerator. When the jelly hardens, you can decorate it with berries, whipped cream, etc.
Biscuit. All children love cookies, and cooking is a pleasure.
It is enough to make a dough, roll it, cut out figures from it and bake. And then melt the chocolate in a water bath and dip the cookies there.
With the help of adults, children will be able to make a dessert for themselves during the holiday. To make cookies, you will need: 250 g of flour, 100 g of sugar and butter, 10 g of baking powder for the dough, 3-4 tbsp. warm water, a pinch of salt.
Put the softened butter and sugar in a bowl, add warm water (3-4 tablespoons for kneading soft dough). Then mix everything and leave for 10 minutes, covering it with a towel.
Form a flat pancake out of dough and cut the figures out of it using molds. Place on a baking tray covered with parchment (you can lightly grease with sunflower oil), leave for 10-15 minutes in an oven preheated to 180 degrees, before browning.
"Chocolate feast". Many kids love chocolate.
Therefore, if no one is against parents, you can make a chocolate holiday. For this you need a chocolate fountain. But if your budget does not imply such expenses, then just put a fondue on the table.
Thanks to this invention of mankind, chocolate throughout the entire celebration can be kept liquid and warm. Plus, we also advise you to arrange sprinkling, which children will be able to sprinkle their chocolate dessert. What you can dip in chocolate: kiwi, bananas, apples, pears, pineapples, marshmallows, cookies, etc.
What can serve as sprinkling: air flakes, crushed biscuits, confectionery decorations-sprinkles.
Waffles If you have a waffle iron at home, then you can not wrestle with dessert for children's birthday party. Homemade waffles are always tastier than purchased ones.
You just need to make a dough and place bowls with yogurt, chocolate, condensed milk, sweet curd or jam to spread them on waffles. Waffle Pastry: Take 5 pieces of eggs, 1 cup of sugar, 200 g of butter and 1 cup of flour.
Beat eggs with sugar. Melt the butter, then mix it with the egg mixture and flour, stir.
You've got the dough for making waffles in a waffle iron.
Video: Children's menu. Festive birthday table