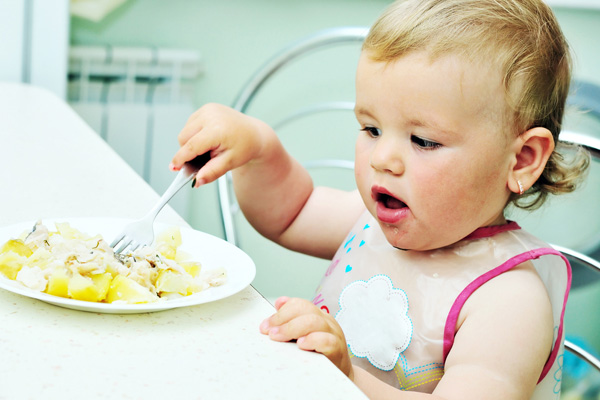 In the year a child can be given cottage cheese, cheese, sour cream, but not with increased fat content. "Weighted foods" can cause digestive problems. In addition, there are as many important nutrients in them as in standard analogues, but the caloric content is many times greater. And another rule: the higher the fat content of the product, the worse iron and calcium are absorbed from it.
But the low-fat options are also not needed for the crumbs, so ideally you need to maintain the traditional bar: for milk and kefir it is 2–3.2%, for cheese – 35–45%, for cottage cheese – 5–9%, for sour cream – 10–20 %
Butter with a fat content of 72−82% can be added to porridge from 5 months from 1−4 g (by the year the volume is brought to 5−6 g).
Duck and goose are distinguished by their high fat content, so they are not offered to children. All other types of meat are not contraindicated for babies, the main thing is to choose the right piece, if you are cooking food for the crumbs yourself.
The younger the animal and the higher the variety of meat, the better. In the class of mammals, the most lean is considered to be tenderloin, in birds – the breast.
In children's meat mashed potatoes the amount of fat is strictly regulated, and there is no need to fear overdose. As a complementary food product, meat is introduced from 6–7 months.
Low-fat varieties (perch, cod, flounder) can be offered to a baby from 8 months. In the ready-made canned food, some manufacturers add salmon, but the amount of fat in them does not exceed the age norm.
In an ordinary kitchen, it is impossible to achieve such a result, therefore it is better to offer homemade salmon not earlier than 6 years, like all other fatty varieties (mackerel, halibut, etc.).
Fatty foods often appear in the child's menu too early, because many mothers are ready to argue that their baby is the thinnest in the world.
The crumb is unlikely to eat the extra portion of meat with vegetables, so parents go to the trick, replacing milk with cream, bread, buns, cod with halibut, and with a clear conscience they treat them to pancakes and dumplings. But high-fat foods are not harmless: they leave no room for healthy food and form harmful taste habits.
Only a doctor can help a baby with a small weight: only by determining the cause of the problem, you can choose an adequate treatment and prescribe a proper diet.