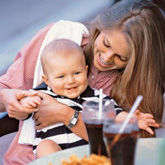 Any fast-food restaurant, as well as ready-made meals prepared industrially, children with allergies and babies who have a tendency to allergies, should not be given – such food can cause exacerbation of the disease. This prohibition is based on several considerations.
Here we will find a lot of chemicals that give products color, enhance or emphasize their taste and do not allow to deteriorate. It is known that many of them have the property of enhancing allergic manifestations, and some are considered to be proven allergens, such as, for example, the yellow dye tartrazine.
Fast food contains a lot of carbohydrates and fats, which is fraught with the appearance of the same "fast" extra pounds. If it comes far and the child becomes obese, the manifestations of allergies will be felt more acutely. For example, a combination of asthma and obesity almost always means that the disease goes hard.
The fact is that metabolic disorders that accompany the acquisition of excess weight, overload the work of the systems – participants of the allergic process.
The fast food category of food is mostly fried and deep-fried food – as you know, it is boiled in oil. After this treatment, a large number of substances remain in the finished dishes that are formed during the frying process. Unfortunately, they all have the property of irritating the mucous membrane of the gastrointestinal tract.
And since this area is also involved in the development of allergies, for babies with this problem, it is already always inflamed. For example, it is known that in asthmatics the level of inflammation of the upper and lower respiratory tract corresponds to the severity of the same process in the gastrointestinal tract.
When the inflamed mucosa is irritated even more, it becomes even more permeable and passes into the blood, without delaying, as it should, even more allergens – so the aggravation of the disease begins.